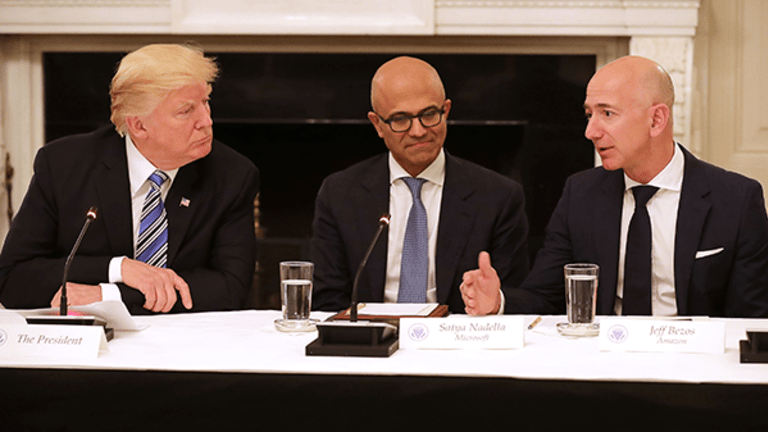 Trump Attacks Amazon, Washington Post on Twitter
The detente between President Donald Trump and Jeff Bezos might be over.
The detente between President Donald Trump and Jeff Bezos might be over.
The detente between President Donald Trump and Jeff Bezos might be over.
The president took a swipe at Amazon (AMZN) - Get Report and The Washington Post, both of which Bezos controls, on Twitter on Wednesday morning. Trump revived an accusation he made on the campaign trail that Amazon doesn't pay its fair share of taxes and, as he often does, slammed the Post as "fake news."
A Post spokesperson declined to comment on Trump's tweet, which comes a day after the newspaper ran a story by Pulitzer Prize winner David Fahrenthold that a fake Time Magazine issue with Trump on the cover hangs at his golf clubs. Spokespeople for the White House and Amazon did not immediately return request for comment.
Trump in an interview with Fox News' Sean Hannity during the election accused Bezos of using the Post, which he bought in 2013 for $250 million, as a tool to influence tax policy. He also accused the company of engaging in illegal monopolistic practices.
"Every hour we're getting calls from reporters from The Washington Post asking ridiculous questions," Trump said during the May 2016 sit-down. "And I will tell you, this is owned as a toy by Jeff Bezos...Amazon is getting away with murder, tax-wise. He's using The Washington Post for power so that the politicians in Washington don't tax Amazon like they should be taxed."
He accused Amazon of having a "huge antitrust problem" as well.
Bezos hit back at Trump soon after at a Post-sponsored event. "I'm very, very comfortable with all of Amazon's approaches and behaviors, the way we pay taxes, the political positions we take are very focused on our business and highly appropriate, and I have [said] I think a company like Amazon also deserves to be scrutinized and examined and criticized, and I have no worries about that, I have absolutely no worries," he said.
The problem Trump is accusing Amazon of having is an outdated one, said Steven Rosenthal, a tax attorney and senior fellow at the Urban-Brookings Tax Policy Center. Amazon years ago avoided collecting taxes because it lacked a presence in many states, but as its business model has shifted, it has a presence in warehouses and physical locations across the country.
It's not clear what the president is referring to with the phrase "internet taxes." Amazon collects taxes on its sales. "The problem has been solving itself," Rosenthal said.
"There always has been a question of the difference between brick-and-mortar companies that collect sales taxes from their customers and internet companies that historically have not," Rosenthal said. "A lot of big retailers just gave up trying to avoid collecting the tax."
Since March, Amazon has been collecting sales taxes on purchase in all 50 states.
Shares of Amazon were up 0.
Trump on Wednesday stopped short of accusing Amazon of engaging in antitrust practices, an argument he has invoked in the past. He has remained silent on the e-commerce giant's $13.7 billion agreement to buy Whole Foods (WFC) - Get Report announced earlier this month.
Treasury Secretary Wilbur Ross said in an interview with Fox Business Network last week that he doesn't perceive any antitrust issues for the deal. "I haven't seen anything that Amazon has done that would qualify remotely for antitrust consideration," he said.
Trump and Bezos after the election tried to make nice, most recently attending a White House summit discussing ways for technology to modernize government. Given Trump's Wednesday tweet, the relationship between the pair may again be cooling.
Read More Trending Articles:
Apple Could Unleash Its Own iPhone Killer, Top Analyst Hints
Walgreens Is Going to Lose Out on Rite Aid -- This Analyst Sees Something Else Playing Out
We Sent a Millennial to a Decaying Kmart Store and Couldn't Believe the Horrors She Discovered