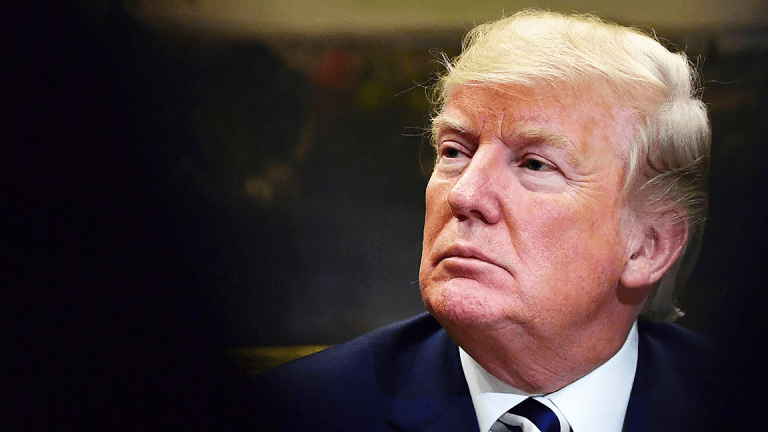 Trump Arrives In London as 'Special Relationship' with U.K. Hangs in Balance
President Donald Trump arrives in London Thursday for a controversial three-day visit that includes tea with Her Majesty Queen Elizabeth and key trade and security talks with Prime Minister Theresa May.
President Donald Trump is set to arrive in London Thursday for a series of high-level meetings with U.K. leaders, including tea with Her Majesty Queen Elizabeth II, amid tight security and gathering protests as the "special relationship" between two of the world's oldest allies is tested as never before.
Trump will meet meet Prime Minister Theresa May in London, as the pair return from the racous two-day NATO summit in Brussels, before heading into the U.K. countryside for meetings at Blenheim Palace, the boyhood home of former Prime Minister Winston Churchill, and his audience with the Queen tomorrow at Windsor Castle. However, with an intense security operation around the U.S. embassy in central London, thousands of expected protesters and new opinion polls showing little support for the President in Britain, Trump's visit also marks a serious risk for Prime Minister May as she attempts to stablize her weakened coalition government and marshal a workable Brexit strategy as Britain attempts to exit the Europe Union next year.
"There is no stronger alliance than that of our special relationship with the US and there will be no alliance more important in the years ahead," May said in a statement. "The UK and the US already have a uniquely close partnership in the fight for democracy and global security and we share a global outlook across the vast majority of foreign policy issues."
"Our trade and investment relationship is unrivalled - we are the largest investors in each other's economies and every day a million British people go to work for US companies in the UK and a million Americans go to work for UK companies in the US."
Trump's comments on arriving in Europe, however, suggest he may not feel as close to the Prime Minster as she would, given that he has described Britain as "somewhat in turmoil" following the resignation of two senior UK lawmakers from her cabinet earlier this week and the increasing suggestion that she is unable to wed the competing interests in her government over the terms of Britain's EU exit.
Trump also appeared reluctant to endorse her Premiership, saying it was "up to the people to decide" when asked if she was the right person to lead the nation. He also said he may meet with Boris Johnson, the former Foreign Secretary and the face of Britain's 'Leave' campaign in the 2016 Brexit referendum, amid speculation he is plotting a leadership challenge to topple May and become Prime Minister.
May was one of the first world leaders to meet with Trump following his inauguration in 2017, but relations between the two have grown frosty, with May criticising the President's decision to share racially-charged Tweets from a far-right group in Britain and his government's policy of separating the children of undocumented immigrants at the U.S. border.
Despite Trump's unpopularity in Britain, where recent polls suggest a 77% disapproval rating, his visit has the potential to impact May's leadership and the broader Brexit strategy, which is expected to be laid out in a so-called White Paper later today by new Foreign Secretary Jeremy Hunt.
"This is one of the biggest decisions that we have taken as a country in our political lifetimes so there's going to be a pretty fierce discussion," Hunt told reporters in Brussels. "But the Prime Minister has found a way forward."
That looks difficult to justify at the moment, given the chaos in her government earlier this week and the fact that Johnson, as well as other high-level lawmakers keen on leaving the European Union, as said to be planning a series of amendments to the government's bill that could threaten its passage and increase the risk of a so-called "Hard Brexit", a term that means Britain would leave the EU without a formal trade deal.
Should Trump meeting with Johnson, or publicly endorse his version of Brexit -- a concept Trump has long supported -- it could embolden the Prime Minister's rivals and increase their chances of a Hard Brexit. However, his support could also push European officials to take a softer tack with the Prime Minister, by offering more concessions on trade and immigration, lest the President be seen to be dictating terms between London and Brussels.
In any event, the President's three-day visit, which includes a visit to his golf resorts in Scotland, is likely to provide a raft of headlines ahead of what is unambiguously considered his most important meeting of this European tour: a July 16 detente in Helsinki with Russia President Vladimir Putin.