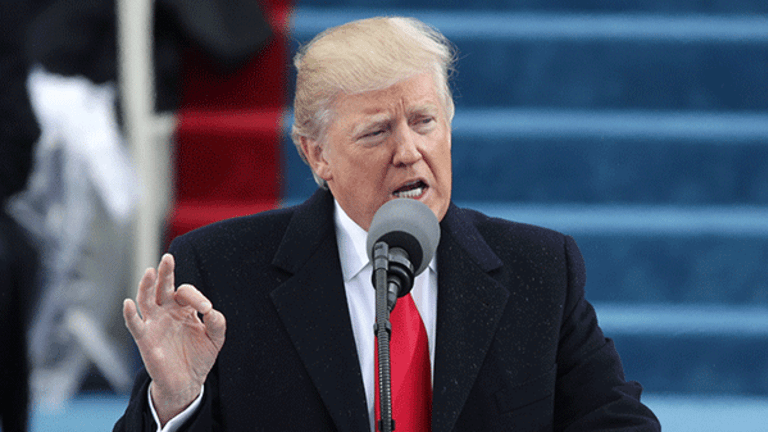 Trump Pulls Out a Brush, Paints Doomsday
In case you missed this one.
Editors' pick: Originally published Jan. 20.
Donald Trump invoked the economic populist message that carried him to the White House during his inaugural address, telling the crowd, "From this day forward, it's going to be only America first."
"We the citizens of America are now joined a great national effort to rebuild our country and restore its promise for all of our people," he said. "Today, we are not merely transferring power from one administration to another or from one party to another, but we are transferring power from Washington, D.C. and giving it back to you, the people."
The real estate magnate and former reality television star was sworn in as the 45th president of the United States in Washington, D.C. in an event expected to draw in as many as 900,000 people and cost $30 million. He honed in on many of the issues he cited while campaigning.
"Every decision on trade, on taxes, on immigration, on foreign affairs will be made to benefit American workers and American families," he said. "America will start winning again, winning like never before."
A light rain began to fall as Trump was speaking.
Trump painted a doomsday picture of the current United States landscape. He described "mothers and children trapped in poverty" in inner cities, "rusted factories scattered like tombstones" across the nation and an education system "flushed with cash" that "leaves students deprived of all knowledge" -- characterizations many would dispute.
"This American carnage stops right here right and stops right now," he said.
The president revived his election-night pledge to boost infrastructure spending, promising new roads, highways, bridges, tunnels and railways. "We will get our people off of welfare and back to work rebuilding our country with American hands and American labor," he said.
The trillion-dollar infrastructure spending plan Trump proposed on the campaign trail has heartened investors, though doubts persist as to whether it is realistic -- or one Congressional Republicans would endorse.
Trump has promised to bring jobs to America, claiming his economic platform will create 25 million jobs over the course of a decade and spur 3.5% annual growth. He has taken a protectionist stance on trade and taxes.
"We will follow two simple rules: buy American and hire American," he said on Friday.
Trump, a divisive figure with a penchant for offensive rhetoric, attempted to strike a unifying tone as well. "Whether we are black or brown or white, we all bleed the same red blood of patriots," he said.
The president closed his address with his campaign slogan.
"Together, we will make America strong again, we will make America wealthy again, we will make America proud again, we will make America safe again," he said. "And yes, we will make America great again."
Senator Roy Blunt, inaugural committee chairman, delivered the event's opening remarks. He hearkened back to past presidents including Reagan, Jefferson, Lincoln, Roosevelt and Kennedy. "We come to this place again, commonplace and miraculous, a national moment of celebration, but not a celebration of victory, a celebration of democracy," he said.
Timothy Michael Cardinal Dolan, Reverend Doctor Samuel Rodriguez and Pastor Paula White-Cain delivered invocations.
Senate Minority Leader Chuck Schumer addressed the crowd as well.
"We live in a challenging, tumultuous time," he said. "I stand here today confident in this country for one reason -- because of you, the American people."
Some of Schumer's comments were pointed at Trump. He emphasized equal protection for all under the law, giving nod to immigrants, the disabled and the LGBT community and highlighting freedom of speech, press and religion, "the things that make America America."
Vice President Mike Pence was sworn in by Associate Justice Clarence Thomas. Chief Justice John Roberts administered the oath of office to Trump.
Earlier in the day, Trump attended a church service at Saint John's Church with his family, followed by a tea reception with President Obama and First Lady Michelle Obama. He and Obama shared a car to the inauguration ceremony on the West Front of the U.S. Capitol.
Attendees included former Presidents Bill Clinton, George W. Bush and Jimmy Carter as well as the Obamas and Trump's former Democratic rival Hillary Clinton. Billionaire investor Carl Icahn, who will serve as special adviser to Trump, was spotted in the audience alongside New England Patriots owner Bob Kraft.
Trump's swearing-in ceremony marked the 58th U.S. presidential inauguration.
After the ceremony, the Obamas departed by helicopter and the newly-inaugurated Trump attended the President's Room signing ceremony and a luncheon.