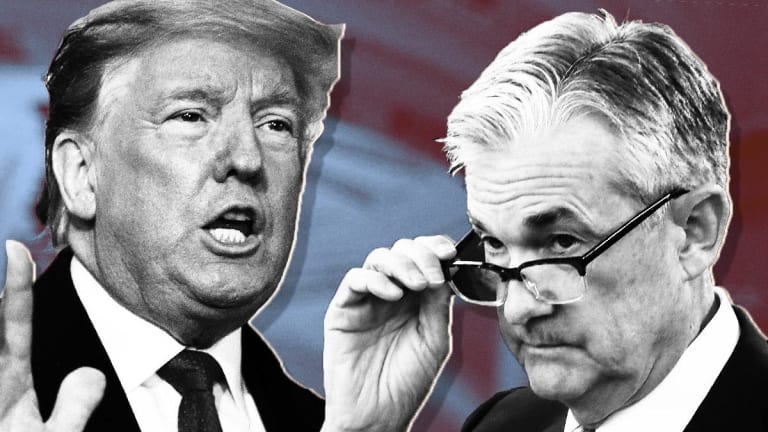 Trump Again Blames Growth on Fed
President says over Twitter that if it weren't for Fed actions, the stock market would have been up 5,000 to 10,000 additional points and GDP would have been over 4%.
President Donald Trump on Sunday again took aim at the Federal Reserve.
"If the Fed had done its job properly, which it has not, the Stock Market would have been up 5000 to 10,000 additional points, and GDP would have been well over 4% instead of 3%...with almost no inflation," wrote Trump in a post on Twitter. "Quantitative tightening was a killer, should have done the exact opposite!"
The president has been slamming interest rate and tightening moves by the Fed, and blaming it for gross domestic product growth and stock market fluctuations. He's took particular aim at the man he had nominated for the top job, chairman Jerome Powell. 
Two weeks ago, for example, Trump and his economic advisers, including Larry Kudlow, teamed up to urge the Federal Reserve to lower interest rates in the wake of lowered GDP growth numbers released in late March. 
At the time, Trump also posted on Twitter implying that the Fed's "mistakenly raised interest rates" and "ridiculously timed quantitative tightening" contributed to the lowered GDP numbers, stock market woes and declines in world markets.
The GDP grew at a seasonally adjusted 2.2% during the fourth quarter of 2018 compared with the third quarter's 3.4% rate.
Trump's weekend comments come as his informal recommendations for spots on the Federal Reserve Board, Herman Cain -- of Godfather's Pizza pizza fame -- and economist Stephen Moore may reportedly face challenges getting confirmation by the U.S. Senate, which must OK appointees for their 14-year terms.