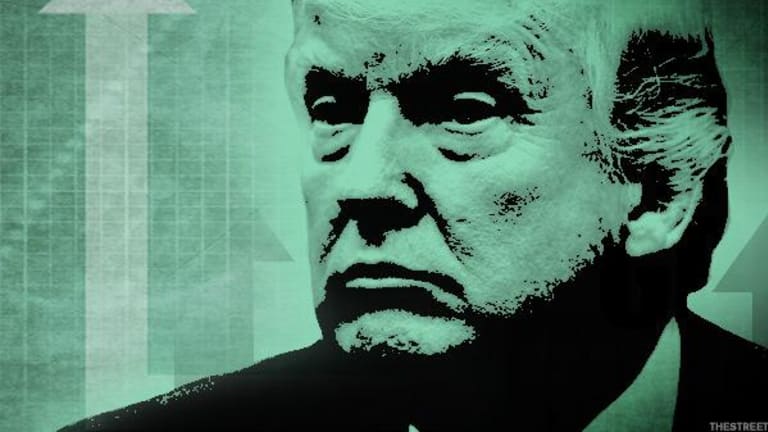 Trump Blames Self for Rising Dollar, Changes Tune on Interest Rates, Yellen
Donald Trump has changed his tune on interest rates and Janet Yellen, and he thinks the dollar is too strong -- thanks to him.
Donald Trump has changed his tune on interest rates and Janet Yellen, and he thinks the dollar is too strong -- thanks to him.
The president told the Wall Street Journal in an interview on Wednesday that he prefers a low-interest rate policy and left open the possibility of re-nominating Federal Reserve Chairwoman Janet Yellen when her tenure expires. He also said he will not declare China a currency manipulator and expressed support for the U.S. Export-Import Bank, breaking with his campaign trail rhetoric on several fronts.
"I do like a low-interest rate policy, I must be honest with you," he told WSJ in an interview at the White House.
Trump while campaigning accused the Federal Reserve of maintaining interest rates artificially low in an effort to aid Obama and prop up the economy.
"What they are doing is, I believe, it's a false market. Money is essentially free," he said in a September interview with CNBC. He said Yellen "should be ashamed of herself" and accused her of playing politics.
The president has previously indicated that he will most likely seek a replacement for Yellen once her term ends in January 2018, but apparently he's warming up to her. Asked if Yellen is "toast" once her term is up, Trump said, "No, not toast."
"I like her, I respect her," he said, adding that they've spoken in the Oval Office. "It's very early."
Trump's affinity for low interest rates and Yellen makes sense. He has characterized himself as a "low-interest-rate person" in the past, and his pledge to introduce a trillion-dollar infrastructure package would benefit from a low-interest-rate environment.
Trump on Wednesday told the Journal that he thinks the dollar is getting too strong. Trump reportedly once called since-ousted National Security Adviser Michael Flynn to ask whether a strong dollar is good or bad. He appears to have since made up his mind.
"I think our dollar is getting too strong, and partially that's my fault because people have confidence in me. But that's hurting -- that will hurt ultimately," he said. "Look, there's some very good things about a strong dollar, but usually speaking the best thing is that it sounds good."
The dollar fell immediately after Trump's comments were published.
The president said part of the problem with the strong dollar is that it makes it hard to compete with other countries, especially those that are devaluing their currencies. He said he will not declare China a currency manipulator, which while campaigning he had said he would do on day one.
"They're not currency manipulators," he said. China hasn't been manipulating its currency for quite some time, he noted, and taking the step now could jeopardize his talks with Beijing on North Korea.
Trump met with Chinese President Xi Jingpan in Mar-a-Lago last week and spoke with him again on Tuesday night to follow up in what the White House characterized as a "very productive" call.
The president also said he plans to fill two vacancies on the Export-Import Bank, a credit agency that finances and insures foreign purchases of U.S. products.
"It turns out that, first of all, lots of small companies are really helped, the vendor companies," he said. "But also, maybe more important, other countries give [assistance]. When other countries give it we lose a tremendous amount of business."
Conservative Republicans have long criticized the Ex-Im Bank as crony capitalism, and Trump while campaigning said it was "featherbedding" for politicians and big companies.
Tim Carney of the conservative Washington Examiner on Wednesday in the wake of Trump's comments slammed him for doing a "backflip" on the bank. "We knew Donald Trump wasn't a conservative. We knew he believed in government picking winners and losers. We knew he had an inordinate infatuation with exports," he wrote.
Trump has on numerous occasions described himself as "flexible," and his Wednesday interview is an example of just how much.