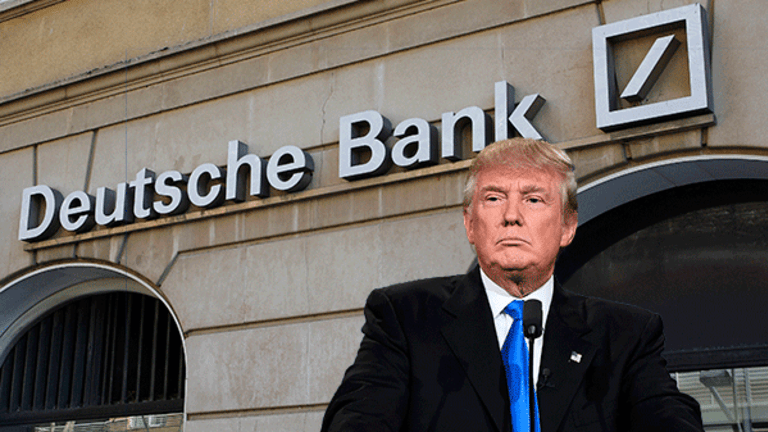 Troubled Deutsche Is One of the Few Banks That Still Lend Donald Trump Money
Most banks stopped lending Donald Trump money years ago. Not Deutsche Bank. The troubled German bank has loaned him millions.
Most banks stopped lending Donald Trump money years ago. Not Deutsche Bank (DB) . The troubled German bank has loaned him millions.
A number of big Wall Street banks no longer work with Trump because of his business practices as well as his shift away from projects requiring financing, reports WSJ. Citigroup (C) , JP Morgan Chase (JPM) and Morgan Stanley (MS) are among those with Trump in the "no" column.
Goldman Sachs (GS) reportedly used Trump as an example of the type of prospective client to avoid during orientation for new employees.
Deutsche has come under heavy fire in recent weeks over growing concerns over its financial health. The catalyst was a $14 billion fine levied by the U.S. Department of Justice following an investigation into its sales of mortgage-backed securities. And Bloombergreported Thursday that 10 of the bank's hedge fund clients doing derivatives business with it have retreated.
CEO John Cryan quickly sought to downplay the report in a memo. "We should consider this in the context of the bigger picture: Deutsche Bank overall has more than 20 million clients," he wrote.
Among them is real estate magnate and Republican presidential nominee Trump.
Deutsche Bank has led or participated in loans of at least $2.5 billion to companies affiliated with Trump, according to an analysis from the Wall Sreet Journalearlier this year. It has also made at least another $1 billion in loan commitments to Trump-affiliated entities.
Since 2012 alone, Trump has borrowed as much as $364 million from Deutsche Bank, reports Mother Jones, on four mortgages on three of his properties: Trump National Doral Golf Club in Miami, Trump International Hotel and Tower in Chicago, and the Trump International Hotel in Washington, D.C. (the newly-opened property where he recently made his media-duping birther announcement). All four of the mortgages will come due before 2024 -- which would coincide with the end of what could be Trump's second presidential term.
Citigroup is a holding in Jim Cramer's Action Alerts PLUS Charitable Trust Portfolio. Want to be alerted before Cramer buys or sells C? Learn more now.
In 1998, the bank lent Trump $125 million to renovate his building at 40 Wall Street in downtown Manhattan. In 2005, it and others gave him $640 million to build his building in Chicago. WSJ reports that in 2008 Trump failed to pay part of that loan, in turn suing Deutsche arguing that an economic crisis constituted a "force majeure" that should excuse repayment until conditions improved. The court rejected the argument, and the two sides settled in 2009.
A Deutsche Bank representative declined to comment on the bank's loans to Trump. 
Despite his rocky past, including with them, Deutsche Bank has continued to lend Trump money -- and that, some observers say, could be a problem if he winds up in the White House. How eager would Trump's Department of Justice be to take on a bank with which he has such a longstanding relationship and owes so much money? And more broadly, might the endebtedness and business ties of the self-proclaimed "king of debt" become a problem once he's in the Oval Office? 
The Trump campaign did not return request for comment on the matter.
Meanwhile, columnist Mike Norman of Real Money, our premium site for active traders, doesn't believe Deutsche Bank represents a systemic crisis for the banking world. Click here to see why.