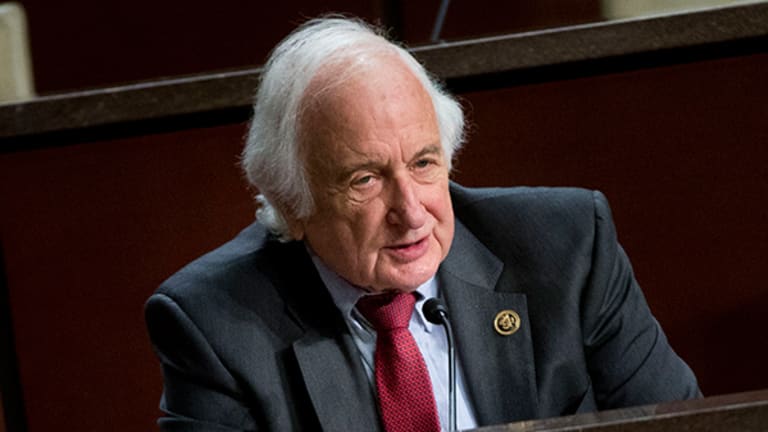 Treasury Department Was 'Targeting' Pfizer-Allergan Deal
Representative Sandy Levin has said that some companies recognize that there is a sense of shame associated with avoiding U.S. taxes through inversion deals.
The day after the Treasury Department made new rules limiting the effectiveness of so-called "tax inversion" deals (legal attempts by U.S. corporations to avoid U.S. taxes), the move killed one of the biggest mergers in history, the $160 billion marriage of Pfizer (PFE) - Get Pfizer Inc. Report  and Allergan (AGN) - Get Allergan plc Report . 
These moves and counter-moves are part of a larger pattern of increased regulatory scrutiny by the federal government over mergers and acquisitions. Using data from the Federal Trade Commission and The Deal, a subsidiary of TheStreet.com, TheStreet has discovered a pattern of increased regulatory actions challenging mergers that dates back to the Reagan administration. Under President Obama, the FTC, DOJ and other regulatory bodies have challenged and blocked a higher proportion of U.S. deals than ever before. At the same time, deals are getting bigger and more complicated. Call it "Big Business vs. Big Government."
Representative Sandy Levin, the top Democrat on the House tax regulation panel, argues that the Obama administration's efforts in recent months to limit cross-border tax-avoidance deals are a good first step. However, the lawmaker from Michigan thinks more needs to be done. Levin took some time to talk to TheStreet about why legislation he introduced to deal with the issue would be much tougher.
TheStreet: Is there more to be done on inversions?
Sandy Levin: Sure. They [Treasury] just changed some of the rules. They weren't able to change the basic standard in the legislation. That's what we need to do. A bill I am a co-sponsor of would go well beyond what they did.
TST: Do you believe the Treasury action in many ways was specifically targeted at New York pharmaceuticals giant Pfizer's $160 billion merger with Allergan, a deal that was scrapped 24 hours after the rules were released?
SL: Sure. The bill in many ways was targeting Pfizer-Allergan. Essentially what the Treasury did was take the history of the inversions by Allergan prior to the Pfizer deal and they came to the conclusion that they fell within the law with their presently structured [administrative action]. The situation with Pfizer-Allergan, where you have inversion on top of inversion, is not the usual situation when it comes to inversion deals. In any event, I think the Treasury took a legitimate interpretation of the law. But we need to change the basic structure.
TST: Any more Obama can do with administrative action?
SL: I don't think so. Same is true on earnings stripping. We need to pass our legislation and the administration would be the first to say they have exhausted how far they can go at least in their judgment. I know there are some that think they could go further.
TST: Will we see more inversion deals if legislation isn't passed?
SL: Sure. Many inversion deals are large on their own without inversion on top of inversion and we'll see more of those.
TST: Do you think the admin action will slow down future inverted deals?
SL: I think what the admin has done has slowed things down. I think some companies aren't sure that the administration has gone as far as it can so they are hesitant. Our legislation is effective the day it was introduced. I think that retrospective element has slowed down potential dealmakers.
TST: Walgreens in 2014 ditched its plans to create an inverted company when it acquired an outstanding 55% stake in European peer Alliance Boots. Some believe that move was partly motivated by public embarrassment around the tax-avoidance scheme. Do you think some companies with large retail components are deciding against inversions because it could hurt their image?
SL: Some are recognizing that there is a sense of shame that they [inverted companies] were skirting the rules. Companies and more and more people in this country say, 'I can't reduce my taxes by simply changing my address why should these large companies be able to do that.' There is an increasing concern in terms of public relations.
TST: Also a bill introduced by Representative Rosa DeLauro, "No Federal Contracts for Tax Deserters" would ban federal contracts for inverted companies. What do you think of that bill?
SL: I support that bill. Republicans hide behind the need to do something broadly and they don't do anything. I think we are trying every possibly approach to get action. We've been working at this for years. It's not only the U.S., Europe is very concerned about tax haven moves. They are worried that some countries were essentially stealing or taking from other countries in Europe. They've started this whole process. I think what's happening is we are gaining some impact but we need to change the law.
-- For Banks, Era of 'Too Big to Fail' Is Also Era of 'Too Small to Succeed'
-- Will the Halliburton-Baker Hughes Deal Survive Government Opposition?
-- Obamacare Has Big Government Fighting Itself Over Hospital Mergers -- And Winning
-- Will the Next President Be as Tough on Mergers and Acquisitions as Obama?
-- Antitrust Regulators Are Getting Smarter and More Aggressive
-- Top Antitrust Regulator Debbie Feinstein Q&A
-- Tax Inversions: Explaining What They Are, How We Got Here and What's Next
-- Are Activist Hedge Fund Managers to Blame for Mega-Deal Failures?
-- Government Oversight on Mergers Is Taking Longer Than Ever, Delaying Deals
-- With New Treasury Department Rules, Is This the End of Tax Inversion Deals?
-- Treasury Department Was 'Targeting' Pfizer-Allergan Deal