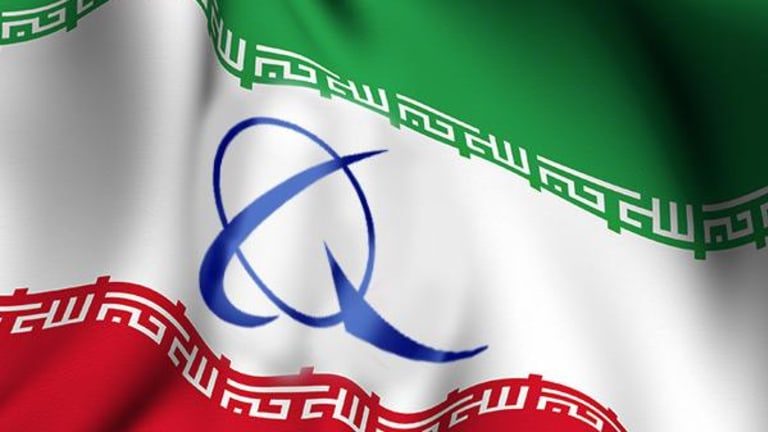 Total's $1 Billion Iran Deal Isn't Likely to Herald More Investment as Banks Balk
French energy giant Total raised eyebrows when it inked a major development deal in Iran, but don't expect many other companies to follow.
French energy giant Total raised eyebrows when it inked a major development deal in Iran, but don't expect many other companies to follow.
French energy giant Total SA (TOT) - Get Report raised eyebrows this week when it inked a major development deal in Iran. The move is a bold one -- and not one many other companies, U.S.-based and otherwise, are likely to follow.
Total will make an initial $1 billion investment to develop the South Pars gas field in Iran in partnership with the China National Petroleum Corporation and Iranian company Petropars as part of a project estimated to be worth almost $5 billion. Chairman and CEO Patrick Pouyanne said the deal signals Total's "return to Iran to open a new page in the history of our partnership with the country" in a statement, noting work will be completed "in strict compliance with applicable national and international laws." The deal marks a major milestone for a country that has been under heavy sanctions for more than a decade, but don't expect the floodgates to open for business in Iran.
"The reality was, business was still quite, quite risky even after the Iran deal, because the Iran deal was a nuclear cooperation deal plus," said Mark Wallace, CEO of United Against Nuclear Iran and former U.S. ambassador to the United Nations. "Big companies operate because of disclosure requirements, listing requirements, registration requirements, etc. on acceptable business risk, and I don't think that there was ever a time...that Iran has been an acceptable business risk."
Iran was given moderate sanctions relief in early 2016 under the conditions of the Iran nuclear accord, orchestrated under the Obama administration the year prior, after international inspectors concluded the country had followed through on promises to dismantle sections of its nuclear program. But U.S. companies are still largely barred from doing business in Iran, and European companies who venture in risk running afoul of the United States.
Non-U.S. banks can do dollar trades with Iran, but those transactions cannot pass through financial institutions in the United States. In turn, non-U.S. companies interested in doing business in Iran have had a tough time finding any financial backing to do so.
"The greatest impediment to [Asian and European] companies doing business in Iran is the lack of second and top-tier European banks willing to act as a corresponding entity," said Crispin Hawes, managing director at Teneo Intelligence. "Any of those banks, their U.S. business is so much more important than Iranian business that they remain incredibly reluctant. That makes it difficult to finance investment in Iran."
Total has identified small European banks that will furnish its local financing needs in Iran, according to The New York Times, and has spent months sending small amounts of euros there to test its banking system.
Business in Iran has become even riskier in the era of Trump. The president slammed the Iran nuclear accord as the "worst deal ever" on the campaign trail and threatened to withdraw the United States from it when he was elected. Since taking office, the Trump administration has stuck with the deal, but the sanctions in place, combined with the volatile president's rhetoric, have been enough to keep companies on edge.
"The trajectory of the Obama administration was very, very slowly positive from the Iranian perspective," said Hawes. "While nobody in the Iranian government thought Hillary Clinton would indulge, Trump's victory in the election has definitely, in the view of the Iranians, deterred European banks."
The White House has thus far continued waiving sanctions eased under the Iran deal, but it has also applied new sanctions to certain individuals and companies connected to its ballistic missile program. Hawes said the entities and individuals named were hardly a surprise.
"I would have already highlighted a huge risk...way before they were added to the list," he said. "The reality is that to continue to frustrate Iranian ambitions to generate large-scale foreign investment, the U.S. doesn't have to do that much."
Boeing (BA) - Get Report in April reached a $3 billion agreement to sell 30 of its 737 Max planes to Iran Aseman Airlines. The company spent months working through the Treasury Department to get authorization for the deal.
"The default setting for U.S. companies or foreign companies that are U.S. owned when it comes to Iran is no unless there's a reason to get to yes," said Christopher Swift, partner and litigator at Foley & Lardner LLP.
Even so, the sale ruffled feathers. Senator Marco Rubio (R-FL) and Representative Peter Roskam (R-IL) urged Trump to suspend aircraft sales to Iran soon after it was announced. Treasury Secretary Steven Mnuchin in May said his department was reviewing licenses for Boeing and rival Airbus to sell aircraft to Iran.
"Boeing continues to follow the lead of the U.S. government with regards to working with Iran's airlines, and any and all contracts with Iran's airlines are contingent upon U.S. government approval," said Boeing spokeswoman Kate Bernard in an email to TheStreet.
"I am still intrigued to observe such a strong desire from Western companies to conduct business with Iran. They do not desire to fall behind Asian companies," said Majid Rafizadeh, a Harvard scholar and president of the International American Council who has advised many companies on conducting business in the Middle East. "Iran is still known as the world's last and largest untapped emerging market."
With about $1.5 trillion in purchasing power parity, Iran is the world's 18th largest economy and the second largest economy in the Middle East and North Africa region behind Saudi Arabia, he said. It has the second largest population of the region after Egypt. And while energy is obviously the primary point of interest, its consumer, mining and tech sectors are very profitable as well.
Total appears to have calculated that Iran is worth the risk, the consequences of which, if any, remain to be seen. BNP Paribas SA in 2015 was slapped by a U.S. judge with a record $8.9 billion settlement resolving claims that it violated sanctions against Sudan, Cuba and Iran.
"Iran would be an enormously important market if it didn't have the political problems that it has," said Swift.
Visit here for the latest business headlines.
Editor's Pick: This article was originally published on July 6, 2017.