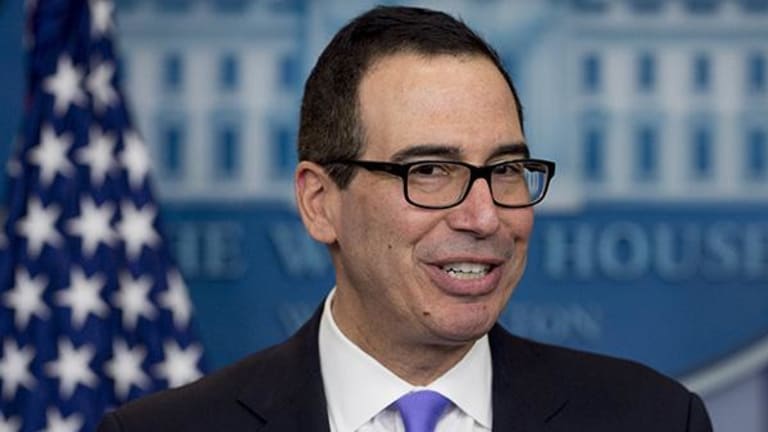 Timeline Tightens on the Debt Ceiling
The timeline for Congress to raise the debt ceiling is tightening.
The timeline for Congress to raise the debt ceiling is tightening.
Executive branch officials have begun to signal that Congress needs to address the issue of the debt ceiling sooner rather than later and increase the limit before its August recess. The Treasury Department hasn't picked up quite as much as it expected in tax revenue this season, damping its ability to keep operations up and running.
Treasury Secretary Steven Mnuchin in a hearing before the House Ways and Means Committee on Wednesday said it is "absolutely critical" that Congress address the matter before its members take a month off later this summer. Congress is scheduled to leave Washington on July 28 and isn't expected to return until September 5.
"We can all discuss how we cut spending in the future and how we deal with the budgets going forward, but it is absolutely critical that where we've spent money, that we keep the credit of the United States as the most critical issue," he said. "It is the reserve currency of the world."
He said he would prefer Congress pass a "clean" debt ceiling, meaning free of any conditions on items such as spending cuts. The conservative House Freedom Caucus hours later said it would oppose a clean debt ceiling hike, demanding it be paired with spending cuts.
Lawmakers last struck a deal to suspend the debt limit in 2015. That suspension expired in March, prompting Mnuchin to make his first push for Congress to address the matter in a letter to House Speaker Paul Ryan.
Congress was initially expected to address the issue in the early fall, around September or October, but it appears the timeline needs to be tightened. Federal tax receipts Treasury is depending on to keep operations going have been lower this year than expected.
Goldman Sachs (GS) analyst Alec Phillips warned in a note on Thursday that uncertainty over the debt ceiling could spook Wall Street.
"While there is little doubt that the debt limit will ultimately be raised, the timing of the deadline is important as the debate over raising it could be temporarily disruptive for financial markets and because it could affect other tax and spending decisions that could affect the real economy," he said.
Goldman previously estimated the debt limit would likely be raised in early October but has now revised that call. "The recent trends in tax receipt growth, along with smaller differences in the spending trend versus expectations, suggest that Treasury's borrowing could come close to exhausting the debt limit by August," Phillips said.
A showdown over the debt ceiling in 2011 caused a major shock on Wall Street. Banks and companies withdrew billions of dollars from money market funds that invest in U.S. Treasury debt over worries an agreement wouldn't be reached, and credit rating agency Standard & Poor's downgraded the United States' credit rating. It culminated in the Budget Control Act of 2011.
Getting Congress to address the debt ceiling before August recess could actually reduce the risk surrounding the debt ceiling, Phillips said, by putting a cushion between the political deadline and the actual date that Treasury would exhaust borrowing capacity and putting space on the calendar between the debt limit and the end of the fiscal year on September 30. Congress will need to pass an appropriations package or temporary continuing resolution to avoid a government shutdown at that point.
"Since a government shutdown poses little risk to financial markets on its own, but could complicate the debt limit debate, separating the issues would reduce the risk to markets from either of these deadlines," Phillips said.
Not that a debt ceiling hike is going to fly through Congress without hiccups in July, either. Lawmakers are still trying to tackle health care and have plans to make progress on tax reform and infrastructure spending as well.
Editors' pick: Originally published May 26.