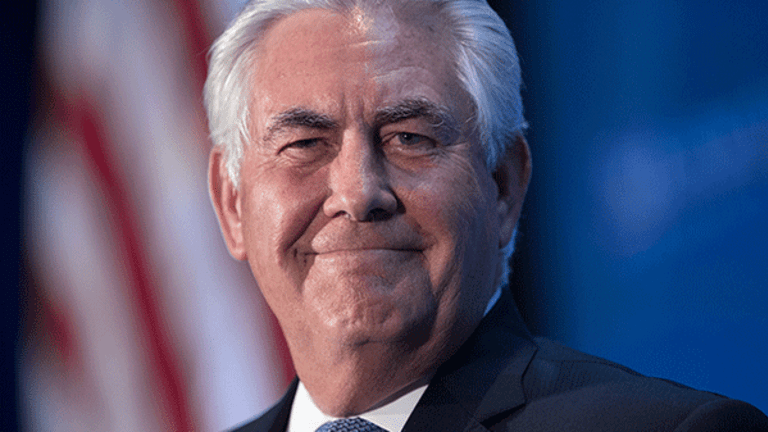 Tillerson Could Keep $150 Million in Exxon Stock if Trump Grants Waiver
President-elect Trump could give his Secretary of State nominee a waiver allowing him to keep $151 million in shares of the energy giant that don't vest for several years.
ExxonMobil Corp. ( (XOM) - Get Report ) CEO Rex Tillerson, nominated by Donald Trump to be the next Secretary of State, may pay a steep price for the privilege of serving his country: forfeiting as an estimated $151 million in Exxon shares that don't vest for several years, unless his new boss manages to grant him a waiver.
Pay research firm Equilar estimates that the value of Tillerson's stock that would vest upon retirement at $32 million while the stock that would vest after retirement at about $151 million.
There is a statute that gives Trump an option of issuing a waiver and allowing Tillerson to keep his shares if the president determines that the interest is not so substantial that it would affect Tillerson's services, said Washington University Law Professor Kathleen Clark. Still, under those terms, it may be a bit of a long shot.
"It would be hard, I think, to say with a straight face that $150 million in stock options is not substantial," Clark said.
Conservative and Democratic transition ethics experts agree that if Tillerson is confirmed, he will need to sever all financial connections to ExxonMobil to avoid concern that he could be acting in his own interest - rather than those of the country. That means selling his equity stake in ExxonMobil stock, forfeiting any unvested shares, and placing the proceeds into a blind trust to invest in the markets broadly. 
They contend that even shares that don't vest for ten years represent an important conflict of interest, in part, because the scope of Exxon's business is so great that it would require Tillerson to recuse himself so frequently that he couldn't do his job effectively. ExxonMobil has operations in dozens of countries, including a few geopolitical hotspots, including Angola, Nigeria, Egypt, Iraq and Saudi Arabia. In fact, many contend that ExxonMobil, led by Tillerson, essentially has pursued an independent foreign policy all over the world in pursuit of its energy needs. 
Norman Eisen, a former special assistant and counsel to President Barack Obama for ethics and government, said that even with a waiver the "taint of conflict" would hang over everything Tillerson did relating to ExxonMobil and all of its business lines, the energy industry, Russia and Iran. "It's just too profound a conflict even if technically waived," he said.
It's also possible that ExxonMobil won't grant Tillerson the unvested shares. The ExxonMobil board will be responsible for determining whether to grant the shares.  According to Equilar's analysis of Exxon compensation, Tillerson is not even eligible for much of the unvested shares until he turns 65 in March 2017. As a result, the energy giant's board compensation committee could take away all of his unvested shares if he is confirmed for the Secretary of State position. However, many believe it is unlikely the compensation committee would take away the unvested shares. In fact, it is possible that they could accelerate the vesting of those shares. An ExxonMobil spokesperson did not return calls for comment. 
The Trump campaign did not respond to a request for comment on the waiver question.
Clark suggested that ultimately Tillerson has to choose-dump his unvested stock or recuse himself from anything Exxon-related.
Otherwise numerous conflicts would come center-stage. Tillerson, as ExxonMobil CEO, has opposed the Obama Administration's sanctions on Russia. Clark suggested Tillerson would need to recuse himself from any negotiations over U.S. decisions on whether to remove Russian sanctions if he continued to hold the unvested shares, based on the financial conflict statute.
"The question is going to be what it is that he does as Secretary of State that could, if he were to retain his Exxon stock, do that would affect the value of that stock," Clark said.
Eisen acknowledges that any move by Tillerson to forfeit his unvested stock would be "a very expensive sacrifice."