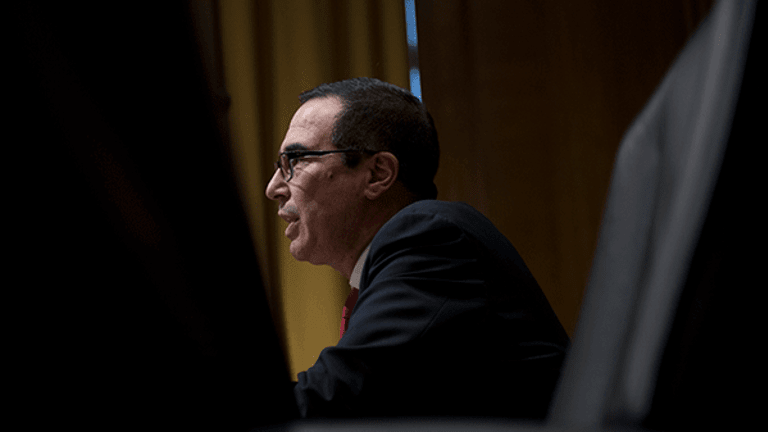 All eyes are on House Republicans Friday as they debate the future of health care in America, but Treasury Secretary Steve Mnuchin has also been on the circuit making market-moving comments.
Mnuchin sat down with new media company Axios on Friday in a wide-ranging conversation about tax reform, the debt ceiling and even artificial intelligence. The former Goldman Sachs executive who has emerged as one of the White House's most prominent voices provided insights into the administration's thinking on a number of matters that could swing the stock markets and affect the economy.
Here is a look at five points he made, and why they might matter.
Tax reform is "much simpler" than health care reform.
Trump marveled recently that no one knew health care could be so complicated, and as the future of the Republican health care plan in Congress appears increasingly perilous, his administration appears to think -- or at least hope -- tax reform will be easier.
The New York Times reported late Thursday that the president has told people close to him he regrets going along with House Speaker Paul Ryan's plan to push health care over tax cuts, which he believes will be more politically palatable to the GOP. Goldman Sachs analysts this week said they believe tax reform is coming, regardless of what happens with health care.
Like health care, tax reform could be easier said than done for Republican lawmakers. The GOP is still deeply divided on items like border adjustment and interest deductibility -- and even the tax rates themselves. Trump ran on a plan to reduce the corporate tax rate to 15%, while House Republicans put forth 20%. On Friday, Mnuchin declined to reiterate Trump's goal.
"This is something, because we are designing it from scratch and running through a lot of scenarios we've needed the last two months to work on. We would not have been ready to go a month ago on tax reform, and now we are," he said.
The debt ceiling is a "somewhat ridiculous concept."
Mnuchin earlier this month sent a letter to Speaker Ryan asking for him to increase the debt limit, which expired in mid-March. He reiterated his stance again on Friday.
"This isn't a limit of what we can spend," he said. "It's a payment limitation."
Lawmakers last struck a deal to suspend the debt limit in 2015, when Barack Obama was in the White House and John Boehner was Speaker of the House. The Congressional Budget Office has estimated Treasury won't run out of cash until the fall of 2017, meaning a deal isn't necessary right this moment. But it could spook markets in the meantime -- it certainly has in years past.
Administration won't be protectionist ... unless trade deals can't be renegotiated.
"So long as we can renegotiate [trade] deals that are good for us, we won't be protectionist," Mnuchin said on Friday. "Otherwise we will."
The Trump administration is reportedly planning a sweeping review of trade deals, even though this week the debate over health care, the Supreme Court and Russia's meddling in the U.S. elections sucked all of the air out of the room. Reuters reported on Thursday that the White House is preparing an executive order to re-examine all 14 U.S. free trade agreements and review government procurement policies to aid American companies.
Trump has employed protectionist rhetoric throughout his campaign and since his election, though others in his administration have employed more moderated rhetoric. Commerce Secretary Wilbur Ross this month, for example, expressed hope that a "sensible" agreement with Mexico would be reached.
Mnuchin Friday reiterated that emphasis on "good" trade deals.