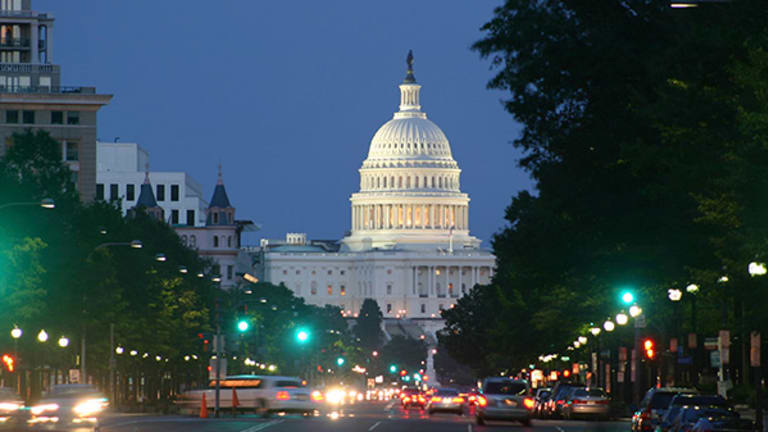 Publish date:
Threat of Government Shutting Down Recedes but Congress Has Plenty of Work to Do
When Congress returns after Labor Day, it will need to raise the debt limit and pass funding for federal agencies to help relief efforts after Hurricane Harvey.
When Congress returns after Labor Day, it will need to raise the debt limit and pass funding for federal agencies to help relief efforts after Hurricane Harvey.
There will be no time to waste when the House and the Senate return from recess on Sept. 5. Congress will have 12 days to negotiate and pass several bills to ensure that the government avoids a shutdown and defaulting on the national debt.
Congress is facing a Sept. 29 deadline to raise the debt limit and a Sept. 30 deadline to fund the government to avoid a shutdown. But the effects of Hurricane Harvey have reduced the possibility the government will shut down or delay the raising of the debt ceiling, according to Goldman Sachs.
"Allowing a partial government shutdown when federal relief efforts are underway would pose greater political risks than under normal circumstances, raising the probability that lawmakers will find a way to resolve disagreements," wrote Goldman Sachs analysts in a research note on Tuesday. The firm pegged the probability of a shutdown in early October at 35%, down from its previous estimate of 50%.
Still, the analysts said that a shutdown or delayed debt ceiling hike is "clearly possible." President Donald Trump threatened a government shutdown over border wall funding, but downplayed that threat this week, insisting that Mexico will pay for the wall.
House Speaker Paul Ryan (R-WI) said last week that he doesn't think a shutdown is necessary.
"I don't think a government shutdown is necessary, and I don't think most people want to see a government shutdown, ourselves included," Ryan said in a press conference in Hillsboro, Oregon.
Treasury Secretary Steven Mnuchin indicated last Friday that nation's debt ceiling will be raised.
"My strong preference is that we have a clean debt ceiling (increase), but the most important issue is the debt ceiling will be raised in September," Mnuchin told reporters at the White House.
"I have had discussions with the leaders in both parties in the House and Senate and we are all on the same page," he continued. "The government intends to pay its debts and the debt ceiling will be raised."
In addition to raising the borrowing limit and approving a short-or long-term budget, Congress must also reauthorize programs for flood insurance and children's health insurance, both of which will be critical after Hurricane Harvey devastated Texas, leaving at least 30 people dead in its wake.
Furthermore, Goldman noted that the Federal Emergency Management Agency (FEMA) will need additional funding, as the primary source of FEMA's funding, the Disaster Relief Fund, has a balance of $3.3 billion, which will likely be "drawn down fairly quickly over the coming weeks." The firm does expect Congress to provide additional funds in September. Hurricane Harvey is projected to be the costliest natural disaster in U.S. history, around $190 billion, USA Today reported citing private weather firm AccuWeather.
"Congressional leaders are apt to combine this with legislation to extend federal spending authority and/or raise the debt limit if possible," the Goldman analyst team wrote. "If they do, a combined package would be more likely to pass and less likely to be vetoed."
Aside from the debt ceiling and funding federal agencies, Congress also has tax reform on its plate. Amid ongoing rescue efforts in Texas, the president spoke in Missouri on Wednesday urging Congress to overhaul the tax system but provided few specifics of what the tax plan should look like.
"I want to work with Congress - Republicans and Democrats alike - on a plan that is pro-worker and pro-American," President Trump said.
"I don't want to be disappointed by Congress, you understand?" he added. "I think Congress is going to make a comeback."
More of What's Trending on TheStreet: