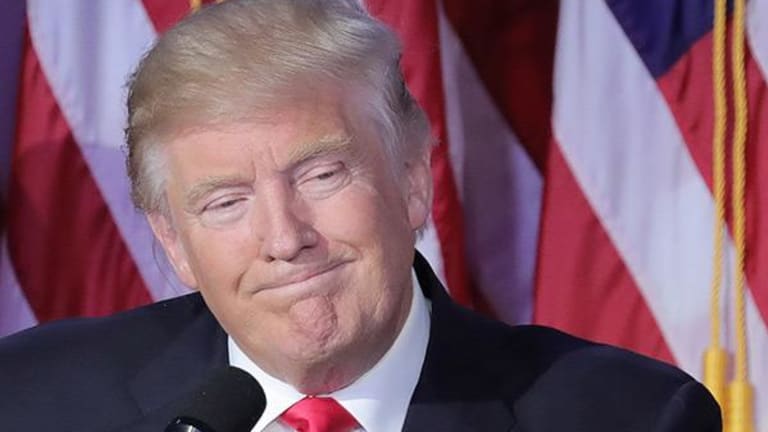 Thought Trump Would End the Oligarchy? Not Likely, Since He's Part of It
Wake up, America. We just elected another oligarch who will continue the trickle-down economic policies that perpetuate slow growth. Any stimulative policies he backs will likely get blocked in Congress.
This isn't about Democrats or Republicans, race or religion. This is about something Donald Trump apparently grasped all along: the frustration of a wide swath of Americans with what they see as wealthy, powerful elitists manipulating the U.S. economy for their own ends.
How the president-elect convinced those voters that he's an "anti-establishment" outsider who would be their advocate, though, is considerably less clear.
By his own admission, he's an establishment insider who uses his money and connections to build greater wealth and power. When people like Trump give donations, the self-described billionaire bragged during the campaign, politicians are willing to "do whatever the hell you want them to do." In other words, Trump can pay for the political outcome he wants.
And that, far from making his campaign or his election a populist departure from the norm, marks it as a continuation of a centuries-long status quo. The U.S. has, since its birth, danced between democracy and oligarchy, defined by Merriam-Webster as a government in which "a small group exercises control," especially for selfish purposes. Oligarchs often achieve their power through inherited titles, as in 19th-century Great Britain; wealth, military control or education.
"Donald Trump is and always has been an oligarch," Jeffrey Winters, a Northwestern University political scientist who specializes in the study of such systems, said in a phone interview. "His primary base of power until this point has been his wealth."
Indeed, Trump's entire public image is built around displays of pomp and riches, from his private helicopter, jet, and yacht to his Rolls Royce, mansions, penthouses and high-powered friends.
Although he championed populist causes such as halting free trade, slowing globalization and deporting immigrants, "it's almost unbelievable that anybody in society would actually think that this oligarch is going to deliver policies that threaten American oligarchs," Winters said. "There's no reason to think it."
Oligarchical policies in the U.S. have, to date, been blamed for slower growth and a widening chasm between the ultra-wealthy and average or lower-income voters. One often-cited gripe is "trickle-down" economic policy, under which benefits are funneled to the rich in the expectation that they will spend it in ways that create jobs and buoy the economy.
But let's get something straight: If the U.S. system is "rigged," as Trump put it, in favor of the powerful, it's at least in part because voters allow that. The country isn't a total oligarchy like Russia or Saudi Arabia.
"There's no doubt that we have free and fair elections," said Winters, the author of Oligarchy, published in 2011.
"In the sense that we have competitive elections, we have competitive candidates, we have more than one party, we have a free press, people are allowed to assemble, all of those things definitely make us a democratic country," he said. "And yet, oligarchs in the United States have a tremendous amount of power within the system."
And they always have. When the country was formed, the only people who could vote were property owners who paid taxes -- typically, white men.
"Economic elites and organized groups representing business interests have substantial independent impacts on U.S. government policy," a Princeton University study found in 2014. "Mass-based interest groups and average citizens have little or no independent influence."
Two U.S. Supreme Court rulings in the past decade only served to expand that imbalance. The Citizens United decision, in 2010, lifted restrictions on corporate and union spending in election campaigns, while the McCutcheon ruling removed a $123,000 cap on individual political contributions.
Together, said former President Jimmy Carter, the two rulings turned the U.S. into "an oligarchy with unlimited political bribery being the essence of getting the nominations for president or being elected president." It's a situation U.S. voters don't like.
A Reuters/Ipsos election day poll of 10,000 people showed that 75% believe that "America needs a strong leader to take the country back from the rich and powerful," 72% believe the country is rigged in favor of the elite, and 68% said that "traditional parties and politicians don't care about people like me."
Populist rhetoric aside, Trump hasn't made visible moves since winning the election to change those perceptions.
Members of the mogul's presidential transition team include billionaire PayPal (PYPL) - Get PayPal Holdings Inc Report  co-founder Peter Thiel; Rebekah Mercer, the daughter of hedge-fund magnate Robert Mercer; and money manager and SkyBridge Capital founder Anthony Scaramucci. Former hedge-fund manager and Goldman Sachs (GS) - Get Goldman Sachs Group, Inc. (GS) Report partner Steven Mnuchin's name has been floated for Treasury secretary and billionaire investor Wilbur Ross is being reviewed for commerce secretary. 
Congress, meanwhile, is already controlled by the wealthy: House and Senate members average a net worth of $1 million or more, according to a Center for Responsive Politics' analysis of members' 2013 financial disclosure forms.
That's nearly 20 times the the median household income in the U.S., which the U.S. Census Bureau pegged at $56,516 in 2015.
"The oligarchy has been conveniently divided into two very boring, but roughly consistent groups, the Republicans and the Democrats, funded by now, at least over the last 30 or 40 years, by literally the same banks, high-tech companies, and energy companies," Richard Wolff, economics professor emeritus at the University of Massachusetts, Amherst, said in a phone interview.
Trump knows he was elected only because "he's riding a wave of massive social discontent with the end result of the last 50 years of the musical chairs between the Republican 1% and the Democratic 1%," Wolff said.
Trump was able to channel that discontent in part with nearly $5 billion in free media coverage. He used it to further publicize a political persona solidified by his friend, former Fox News CEO Roger Ailes, allowing him to question continuously, on air, whether President Obama -- portrayed by the right as a liberal elitist -- was born in the U.S.
Why all the free coverage? Partly because Trump has money and access to the financial and political elite. He has bragged, for instance, that Democratic rival Hillary Clinton and her husband, former President Bill Clinton, attended his 2005 wedding to his third wife, Melania.
"He's admitted that he has used his wealth-power all throughout his career," Winters said. "I think people should be skeptical because everything we're seeing in terms of his policies are oligarch-benefiting, not average American-benefiting, starting with his tax plan."
How many average Americans, after all, have enough money lying around to afford the $10,000 bracelet worn by his daughter Ivanka during a post-election 60 Minutes interview? It's a piece of jewelry her company marketed afterward.
Trump, and millionaires and billionaires like him, use their excess money not only to buy luxuries like that -- which the working class can only fantasize about -- but to pay for lawyers and accountants, manipulate politics and pay as little as possible in taxes. Such spending funds what Winters calls a wealth-defense industry. 
"Everything about his behavior for decades has been about defending his wealth," Winters said. "About undercutting the capacity of the U.S. government to be able to tax the wealthiest."
An important goal for oligarchs, Winters said is to maintain control of their cash so that the government can't redistribute it, and decreasing the number of income-tax brackets is a step in that direction. Trump's plan proposes three tax brackets of 12%, 25%, and 33%, less than half the current number.
"One of the standard techniques of oligarchs who don't want to pay high taxes is to actually gut what the government is able to do just by cutting the total amount of revenue that comes in," Winters pointed out.
By trimming the number of brackets, Trump could lower the taxes of married joint-filers making $487,650 or more from 39.6% to 33%. 
Couples making $96,000 and $105,000 might receive the largest tax break, with rates falling from 25% to 12%.
Taxes for Americans making $30,000 to $39,250, however, would likely go up.
Overall Trump's tax proposals -- which include a reduction in the corporate to 15% from 35% -- would cost $6.2 trillion over the next decade. Including interest, that shortfall would add $7.2 trillion to an existing national debt of more than $19 trillion, the Tax Policy Center found.
"Just so people have no illusions, every policy that he is proposing, at least concretely, and the most obvious is his tax policy, is going to lighten the tax burden on the wealthiest," Winters said.
In fact, although Trump promised to create jobs and "make America great again," his policies favor capital over labor and markets over wages, Janus Capital investment guru Bill Gross said in his monthly investor outlook. His continuation of the status quo is likely to prove damaging "for jobless and low-wage American voters."
Paid sick leave, increases in minimum wage, universal healthcare, financial regulations and curbing financial influence on U.S. politics don't seem to be issues high on Trump's agenda. Still, he has backed six weeks of maternity leave for women and improvements in childcare.
Trump has also proposed term-limits for Congressional members, banning lobbyists from his transition team, and restricting free trade, which he says would bring back jobs.
Those proposals, which alienated some corporate leaders and traditional Republicans, tapped into Americans' growing frustration with globalization, which they blame for some of their economic difficulties.
"Trump is different in being willing as a political leader to stick his finger in the eyes of the Republican and Democratic leadership and say, 'No, I'm not a friend of globalization, I'm not a friend of free trade, I'm going to protect the American,'" Wolff said.  "Big corporations have been investing abroad and they count on an open ability to ship their stuff anywhere in the world, to bank internationally without a problem, to convert currencies from one to another, without a problem."
Corporations are starting to join forces with Trump, however. IBM (IBM) - Get International Business Machines (IBM) Report  CEO Virginia Rometty says the president-elect's "tax reform proposal will free up capital that companies of all sizes can reinvest in their U.S. operations."
And the stock market has rallied, with the Dow Jones Industrial Average and the S&P 500 hitting record highs post-election due to Trump's call for a temporary "moratorium" on new financial regulations.
His proposal to repeal the Dodd-Frank financial reform law, meanwhile, drove gains for Wall Street banks such as JPMorgan Chase (JPM) - Get JPMorgan Chase & Co. (JPM) Report  , Well Fargo (WFC) - Get Wells Fargo & Company Report , Citigroup (C) - Get Citigroup Inc. Report  and Bank of America (BAC) - Get Bank of America Corp Report . 
The U.S. is "objectively speaking, far more democratic than it began, but here's the troubling parallel: It is also far more stratified economically than it ever was," Winters said.
"When people are up against economic pressures, when things are tight, when people feel their economic security is slipping away, very often the politics get channeled not into direct economic messages but get channeled into anger about other things," he said.
EXCLUSIVE LOOK INSIDE: Wells Fargo and Citigroup are holdings in Jim Cramer's Action Alerts PLUS charitable trust portfolio.Want to be alerted before Cramer buys or sells these stocks? Learn more now.