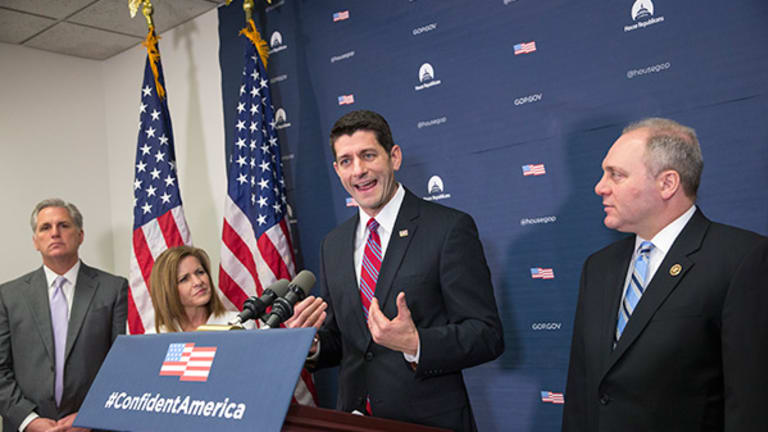 Those Who Know Him Best Confirm It: Paul Ryan Won't Be Running for President. Here's Why
Paul Ryan says he's not running for president. Those from his home state of Wisconsin say we should take him at his word.
House Speaker Paul Ryan said he wasn't going to run for vice president, and then he did. He said he wasn't going to be speaker of the house, and now he is. 
Just this week: "Let me be clear: I do not want, nor will I accept, the nomination," he said during a speech planned for the purpose of denying persistent rumors that he might, again, do what he has repeatedly said he wouldn't.
With Donald Trump, an outsider who has aggravated the GOP establishment, and Ted Cruz, a U.S. senator who is roundly hated by his party, the only two declared candidates with a reasonable path to the nomination remaining, Ryan has found himself caught in the rumor mill again, with countless Republicans wishing he would solve their political problems and run for president.  
It is technically possible for Ryan, or another undeclared candidate, to emerge as the candidate from an open Republican National Convention in Cleveland this July. And billionaire Charles Koch reportedly supports a Ryan nomination behind-the-scenes.
So, you could be forgiven for not believing him when he says he's not going to do it. But here's why you should take him at his word: Those who know him best say that he means it this time. 
"I understand why there might be some skepticism after the 'I'm not going to run for vice-president' and 'I'm not going to run for speaker of the House,' but 'no' means 'no' here, I think, pretty clearly," said Jeff Wagner, conservative radio host at WTMJ in Milwaukee.
"He truly does not want to run for president," said Vicki McKenna, a conservative radio host at WISN Milwaukee/WIBA Madison. "He's trying to tamp down what are just persistent, probably aggravating, rumors to the contrary."
"He's said a million times he's not running for president," said Mark Belling, a conservative radio host at WISN in Milwaukee. 
Wagner, McKenna and Belling are among a group of Wisconsin talk radio hosts who shot to national fame earlier this month by asking Republican frontrunner Trump tough questions prior to the Wisconsin primaries and who know Ryan very well from years in Wisconsin politics. 
Why He Won't Run: It's a 'Suicide Mission'
"He's smart enough to know that this whole notion of trying to emerge from a brokered convention is a suicide mission," said Belling.
With Trump and Cruz far ahead in the delegate lead, anyone who isn't them who accepts the nomination could be fairly accused of usurping it from the will of the people, most of whom voted in primaries or caucuses for Trump or Cruz. 
"I've known Paul since he first ran for Congress. He's always had a great sense of timing," said Wagner, who considers himself part of the #NeverTrump crowd. "If you look at the political landscape this year, whoever comes out of the convention, it's going to be a mess. There's going to be a lot of bad feelings, and I think Paul makes the calculation it's probably best to stay above the fray."
McKenna, who is backing Cruz, says when she last spoke with Ryan just a couple of weeks ago, he showed no indication a presidential bid was on his mind.
"There's this constant push and pull from people who seem to think that there is some sort of third option of drafting someone from the floor [at the Republican convention]. Paul Ryan recognizes that is not impossible, but certainly extraordinarily unlikely. I do think he not interested at all in being the guy in the highly unlikely event that happens," she said.
Besides, Ryan knows it would look bad. 
"He absolutely cannot look as if he's interfering with the presidential election," said Christian Schneider, a conservative columnist for the Milwaukee Journal Sentinel. "It's got to be a free and fair election, and the delegates are going to have to decide."
Why He Won't Run: He Likes Being Speaker of the House
Ryan likes his job as speaker, according to Wagner.
"I've talked to him enough that I think he's got this desire to be a policy guy and try to guide policy through the House," said Belling.
"I think his immediate future is to try to alter the way the House has been doing business and instead of putting the House Republicans always in a reactionary position, what he is trying to do is he's trying to more action-orient the house towards promoting conservative principles through legislation. That's his immediate goal," said McKenna.
"Republican members of Congress look to Ryan and they look to their legislative agenda that is coming up, I think the speaker wants to make sure he can have as many votes for his package as possible. If he's really running for president, I think in his mind, that would be hard to do," said Brandon Scholz, a longtime Wisconsin lobbyist and Republican strategist who is a partner at the Capitol Group.
Why He Won't Run: He Needs to Defend His Congressional District
Paul Nehlen, a businessman from Delavan, Wisconsin with an anti-establishment flare, recently launched his own bid to represent Wisconsin's 1st congressional district, challenging the seat Ryan has held since 1999.
Nehlen's candidacy is certainly a long shot, but he appears to be both organized and well-funded. The pair will likely face off in the state's Republican primary in August.
"The more Paul makes it clear to the people in his district that he intends on being a member of the House, the easier it is to put that thing aside," said Belling. "He's going to have to campaign."
Why He Won't Run: He Doesn't Want to
While it's impossible to look inside the heart of Ryan, many who know him well believe they have seen his soul on the matter.
"He's frustrated with what's happened with Trump, but I've never had any sense that he wanted to run for president this year. If he wanted to run for president, he would have run for president," said Belling, who backed Senator Cruz in the Wisconsin primary.
"Paul Ryan is not going to run and does not want to run," said Scholz. "He doesn't need this outside effort to create a candidacy that doesn't exist."
"He truly does not want to run for president, or he would have done that," said McKenna.
While all those we spoke to agreed they don't think Ryan will make a last-minute White House bid, they don't expect speculation to stop, nor do they think Tuesday will be the last time the speaker addresses the issue in public.
"This is turning into a Barbara Streisand farewell tour, where it's the farewell tour until he has to do it again. He's got to make a pronouncement that he's not interested in being president until two weeks from now, until he has to do it again," said Schneider.
But even then he kept the door open just a sliver that maybe, just maybe, Ryan may respond to a desperate call at the convention.
"I have no doubt that he is not interested in being president. If he was, he would have run," he said. "But, the presidency may end up being very interested in him. And at what point, then, can he deny what he would think is his duty to his country and to his party for it to not completely fall apart?"