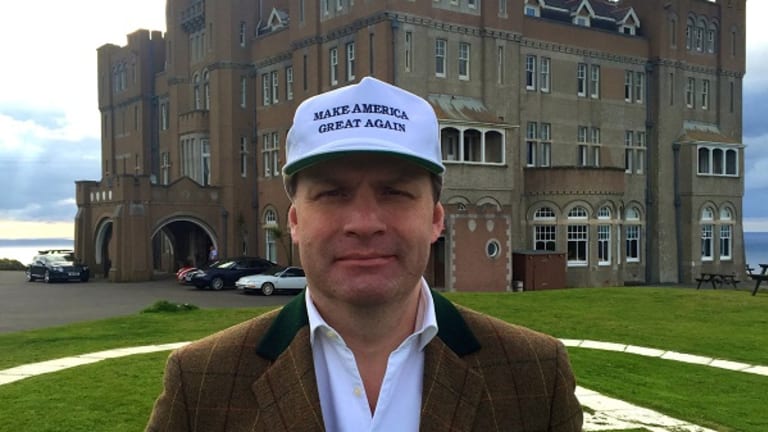 This British Scientologist Will Make $100,000 If Donald Trump Becomes President
When Donald Trump announced his White House bid, most onlookers wrote him off. Not John Mappin, and soon, his foresight may have him laughing all the way to the bank.
When Donald Trump announced his White House bid last June, nearly everyone wrotehimoff. Not John Mappin, and soon, his foresight may have him laughing all the way to the bank.
Mappin, a 51-year-old British media and technology investor who owns and lives at Camelot Castle, a hotel in Cornwall, U.K., has made a series of bets on the boisterous billionaire winning the U.S. presidential election. He has made upwards of two dozen wagers with London-based bookmaker William Hill on Trump to win the Republican nomination and general election, and if the real estate magnate comes out victorious in November, Mappin will rake in upwards of $100,000.
Not bad for a bet he describes as "just a bit of fun."
While the pundits and politicians thought Trump a non-factor for the first few weeks and months of his campaign (a decision they've since come to regret), Mappin recognized early on that there was something to his candidacy, tied both to Trump himself and to the current political and media environment.
"His rise marks a paradigm shift in media, really," he said, citing Trump's estimated 14 million social media followers across Twitter, Facebook and Instagram. "What I could see was that the pundits in America hadn't woken up to that."
Mappin has put his money where his mouth is.
According to William Hill, he has bet just over £6,810 (About $9,475) on Trump since last July, placing 10 different wagers on the billionaire to win the GOP nod and 16 bets on him winning the general election. The longest odds where Mappin locked in a bet for Trump to win the nomination are 20-to-1 (Trump is now at 1-to-6), meaning that if Mappin's bet pays off, he'll win $20 for every $1 that he put in on this particular wager. Mappin also has bets in for Trump to win the general election with his longest odds (and therefore highest payout potential) at 33-to-1 (Trump is now at 2-to-1). The longest odds ever on the site for Trump to become president were 200-to-1.
If Trump becomes the Republican nominee, Mappin stands to make about £9,400 ($13,000). If he takes the general election as well, his total winnings would be near £75,000 (about $104,500). He has no plans to cash out on any of his bets, locking in gains and assuring profit before November. (He could probably sell some of his stake to at least cover his initial bet but has chosen not to do so; if Trump loses, Mappin will win nothing.)  
"It's an unusual betting pattern," said Graham Sharpe, a spokesperson for William Hill. "It's correspondingly unusual as well for somebody who's done that to allow the details we've publicized."

Mappin standing in front of his hotel, Camelot Castle, wearing a Trump "Make America Great" trucker hat.
A self-described "strategic investor," he is the heir to Mappin & Webb, a silver and jewelry maker that dates back to the 18th century. He says his great grandparents squandered his family fortune due to a serious problem with gambling and that the family investment interests he now manages, including construction companies in Kazakhstan and various media entities, are self-made. 
He currently owns and resides in Camelot Castle, a hotel he describes as having a Downton Abbey-like appeal, from which he helms a private family office services and consultancy firm. Among the services offered, according to a brochure, are "philanthropic yield analytics," "survival planning," "local and international conflict resolution," "artistic rehabilitation" and "spiritual technology." 
His most recent venture is Camelot Castle TV, a television network launched on January 31. Its videos are currently largely housed on social media, via Facebook, Twitter and YouTube, and Mappin pointed to a website for the entity that appears to still be unfinished. He says that he is evaluating exactly where and how to structure broadcasting in the future as the idea evolves and is currently in negotiation with satellite channels in Europe.

Camelot TV Network logo.
Mappin is a known Scientologist (his hotel was the subject of a BBC investigation into claims that it pushes Scientology ideology onto guests and local residents, which he and his business partner Ted Stourton denied; the report itself is no longer available online). He previously worked in the Hollywood film industry -- his IMDB page lists rolls in 1990s films Dark Secrets and Waxwork II: Lost in Time as well as television series Sweet Valley High. His Facebook account features pictures of his wife, son and family, promotions for Camelot Castle and its television network, homages to Trump and Nazi imagery. (Mappin says that the imagery is there to illustrate the evil of the Nazi Party and the current problems of psychiatry in the world, not to support Nazis.)
"I'm not somebody that worries about what other people think," he said.
Mappin made the initial decision to bet on Trump last summer when he noticed that "the odds for Trump were completely out of kilter" with where he believes the American mindset is. "I could see this huge grassroots support for him, but also people that were running companies, Wall Street and friends of mine who are really, really major players in America were completely behind him, even though they weren't publicly behind him," he said. 
Trump marks new territory for Mappin, who says he is not a speculator and opened his betting account just to wager on Trump -- something he admits may have "freaked William Hill out."
He perceives Trump's rise as part of a larger shift toward a culture of celebrity, to a world where someone like Kim Kardashian has just as much -- or more -- influence as a U.S. senator. In this age of the icon, individuals who achieve such status can wield their power to draw attention to a product or an idea, which is what Trump is doing.
"People say, 'Well, this is ridiculous, he's a reality TV show star.' But hang on, he's an icon. He can use his power as an icon to attract attention," he said. "We've moved into a new media age, which is the age of icon control. And somebody with a Twitter account has effectively more power, perhaps unjustly, than somebody who perhaps has been sincerely working their whole life doing something really, really good."
He also offered up an astute observation to the naysayers who continue to insist Trump cannot win the nomination and believe an unknown something will lead to his downfall. It's also directed to Republicans who fear losing control of their party.  
"In a democracy, everybody has a vote," he said. "There's a great liability to democracy if you don't agree with what people are thinking. That's one of the liabilities, the people change their mind, and you didn't want them to change their mind, but you've got a democracy." 
His bet on Trump is not only one of strategy, but also one of conviction. He believes the real estate magnate will win the U.S. presidential election -- and also that he should.
Mappin sees Trump as the only candidate fully equipped to address today's biggest problems: $19 trillion in U.S. national debt and what Mappin says are over a quadrillion dollars in derivatives debt worldwide.
"[Trump is] really the only person, I think, that can confront the level of debt that America has," he said. 
One of his Facebook posts from late December displays what he says is a signed copy of Trump's Crippled America, which he calls "a work of literary genius."
Mappin says he especially admires Trump's dedication to war veterans, like his decision to skip a Republican presidential debate in January to host a rally to raise money for vets, and considers the billionaire's emphasis on the issue a "very, very noble deed." In turn, he made the decision to grant Trump honorary knighthood from Camelot Castle, which he says has been knighting people for many years (actor Nicolas Cage has previously been considered for the honor, which is not an official designation of the UK government).
According to a press release put out by Mappin, Camelot Castle has made Trump a Knight of the Round Table and awarded him the Excalibur Award, a "noble, very rarely granted honor," and the Arms and Colors of Camelot Castle in a presentation carried out by Mappin and his wife Irina in their home at the castle. "Henceforth Donald J Trump shall be known at Camelot Castle as Sir Donald Trump of Camelot. The Camelot Knighthood and honour is hereditary with the title passing to each of his children and in turn their grandchildren. His wife Melania will be known at Camelot Castle as Lady Melania of Camelot," the press release reads.

Mappin and his wife Irina.
Mappin said that there is a "very interesting debate" around the validity of Camelot Castle's declaration of knighthood, which traditionally can only be granted by the Queen of England or members of the royal family.
A Trump spokesperson declined to comment on Mappin and the knighthood. 
At the moment, much of Mappin's focus is on growing Camelot Castle TV, the idea for which he says came together during a conversation with a journalist about his support for Trump. 
"I decided to turn Camelot Castle into a social media hub, very much because I'd been sort of observing how Trump had been running his entire campaign from Twitter," he said. The Camelot Castle TV Twitter account, which appears to formerly have been Mappin's personal handle (it has been active since 2011 at @johnmappin), has over 700,000 followers.
"Spiritually, it's like [Trump] has a duty. One of the things I'm certain is that he's not doing it for the money. He's doing it from a deep, deep sense of duty, which I don't think you can say of all the other politicians in Washington. And I think that completely verifies him," he said.
In fact, someday we may see a Trump-inspired run for public office by Mappin.
"I would say exactly what Mr. Trump said when he was first asked: It's not something I would like to do at all, but if things got really, really bad here, and somebody needed to do something, then of course I would, from a duty point of view," Mappin said.
Mappin Isn't Alone Betting on Trump
When Trump first announced his candidacy, he was considered an enormous long-shot in the U.K. betting markets.
"To be honest, we thought it was a bit of a joke, unlikely to go anywhere," said Matthew Shaddick, head of political betting at online betting and gambling company Ladbrokes. "He seemed completely unsuitable, or at least very untypical as far as presidential candidates go."
As a result, Shaddick explained, many of those betting on Trump early in the election cycle weren't "the typical people" betting in politics. 
One such example is Robert S. Dove, a 60-year-old retired chauffer from London. He has been following U.S. elections since 2008, making a few small bets against President Obama in both 2008 and 2012. This election cycle, he has made two wagers on Trump to become the next President of the United States, placing his bets back in July when the real estate magnate's odds were at 66-to-1.
"I thought something's going on with the American electorate," he said in a phone interview. "At the time, I thought the real odds should have been about 5-to-1; 66-to-1 was just too good. I saw it as an opportunity."

Robert Dove's betting slips.
Should Trump win the election, Dove will make £5,000 (about $7,000) from his bets of £10 (about $14) and £66 (about $92) at bookmaker Betfred. 
Like Mappin, he has no plans of trading in any of his bet before November. He's also a fan of Trump. When asked whether he agrees with the billionaire's politics, he replied: "Absolutely."
Adam Korsin, a 30-year-old New Yorker who currently resides in San Diego and works in acquisitions at an investment firm, has already profited from Trump's political endeavors with his bets on PredictIt. The platform is one of the only prediction markets legal in the U.S., having received the go-ahead from regulator Commodity Futures Trading Commission by way of a no-action letter issued in 2014 allowing it to receive individual bets of up to $850 per contract (the Iowa Electronic Markets run by the University of Iowa have a similar agreement). So, the stakes are relatively low.
Korsin estimates having made about $1,500 thus far by betting on Trump's victories in the primaries and landing the nomination and believes he may have another $1,800 to go on the general election. 
"As soon as he announced, I was convinced, there's no way these other people are going to beat this guy," said Korsin, who says he has been trading in the stock markets for many years but is new to prediction markets.
He isn't just betting on Trump -- he might be voting for him as well: "I want to see Trump win, because I want to see the whole system just get blown up."