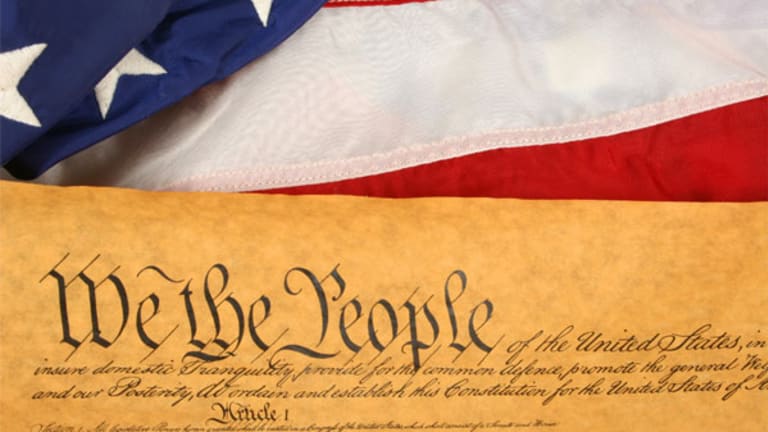 Think Tanks Slam Dodd-Frank for 'Crushing Impact'
Dodd Frank has had the perverse impact of crushing local economies and entrepreneurs, a report says.
NEW YORK BankingMyWay -- If banks and consumers use a new think tank analysis as a baseline to measure the impact of Dodd-Frank, they'll find plenty of reason to wish the financial reform was never enacted by Congress.
According to the Georgia Public Policy Foundation and Competitive Enterprise Institute, Dodd-Frank, especially its new rules on merchant debit card interchange fees, aren't simply costing the big, greedy banks plenty of profits.
In its report, "Government Barriers to Georgia's Growth: How Dodd-Frank Price Controls Poach the Peach State's Prosperity," author and economic analyst John Berlau has particularly harsh words about the landmark financial reform act, writing of its "crushing impact" on banks and businesses. Berlau is a senior fellow for finance and access to capital at the Competitive Enterprise Institute, which recently joined a lawsut challenging the constitutionality of Dodd-Frank.
Here are some of the statements made in the report:
Georgia has fixed its bank branching law restrictions, but the federal government has yet to fix its disastrous housing policies. And unfortunately, in 2010 the federal government produced a 2,600-page law called the Dodd-Frank Wall Street Reform and Consumer Protection Act that not only does nothing to rein in Fannie and Freddie but adds hundreds of costly new regulations that had nothing to do with the crisis.
Most of these regulations are to satisfy politicians' insatiable appetite to say they have "done something" about the crisis. However, one especially destructive amendment - for Georgia banks and credit unions in particular - comes at the behest of some powerful players in the business community. Some of the nation's largest retailers - including some based in Georgia - lobbied successfully for the Durbin Amendment, which places price controls on interchange fees that merchants pay for debit card transactions.
In terms of sheer cost and intrusiveness, the Durbin Amendment threatens to eclipse most other Dodd- Frank provisions combined. The American Action Forum estimates that direct compliance costs of all the regulations so far pushed through from the law as a whole to be $7 billion a year. Yet, on top of this, the price controls from the Durbin Amendment impose on banks a loss of revenue of at least $8 billion a year.
Most Georgia banks were already struggling to recover from "souring" mortgage loans, the report states, and Georgia consumers were especially hard hit by the Great Recession. According to the foundation, the average unemployment rate in Georgia is 9%. In addition, the Federal Deposit Insurance Corp. has closed 80 Georgia banks since 2008.
The critical downside to Dodd-Frank, and especially the Durbin Rule, is that banks are facing a cash crunch and can't afford to extend credit to customers. That sets off a chain of events where the regional economy doesn't have the capital to grow.
"Without healthy banks with money to lend, it will be much harder for local entrepreneurs to find the funding they need to grow their business," writes Berlau. "Georgia's banks were already weakened by the recent, harsh recession. New regulations coming out of Washington, like the Durbin Amendment, are making it even harder for the banks to recover and do their part to kick-start the state's economy."
The report also notes that, contrary to merchant industry data, the Durbin Amendment costs banks $15 billion ($8 billion in reduced revenues and $7 billion in compliance costs), and any savings on debit card fees have not been passed on to consumers.
"This is a bad time for Washington to burden businesses with more regulations," notes Kelly McCutchen, president of the Georgia Public Policy Foundation, in a statement. "The Durbin Amendment has already hurt small and large banks, and it isn't helping consumers. It should be repealed before it does any more harm to the businesses that rely on them for loans and lines of credit to make payroll, open new locations and hire more employees."
--By Brian O'Connell
Follow
TheStreet
on
and become a fan on