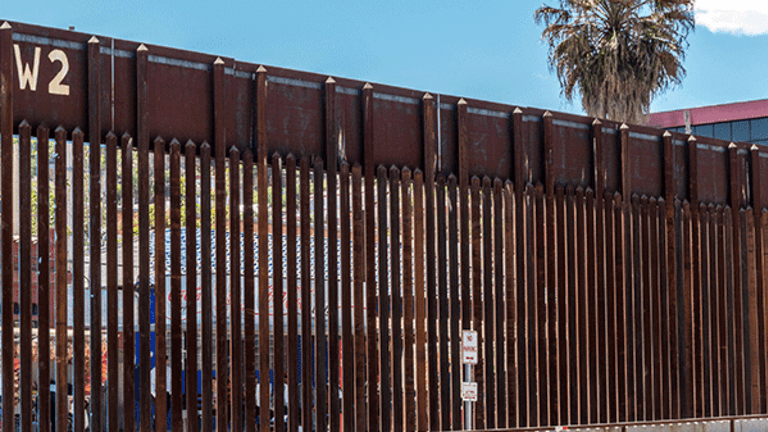 14 Stocks That Could Skyrocket From Trump's Border Wall With Mexico
Donald Trump's border wall could mark a major payday for some companies -- if it gets built.
Donald Trump's border wall could mark a major payday for some companies -- if it gets built.
Donald Trump's plan to build a wall along the United States-Mexico border could mark a major payday for some companies -- if it ever gets built.
The president revived one of his most infamous campaign lines at a rally in Phoenix, Arizona, on Tuesday and threatened to shut down the government if Congress doesn't provide funding for his big immigration idea. "We are building a wall on the southern border which is absolutely necessary," he told the crowd. "Believe me, one way or another, we're going to get that wall."
"Build that wall! Build that wall!" supporters chanted back in a now-familiar refrain.
While Trump on the campaign trail insisted Mexico would somehow foot the bill for the wall, a transcript published by The Washington Post in August of a conversation between Trump and Mexican President Enrique Peña Nieto signaled he knows that is not the case and is using the wall as a political tool instead of a policy one.
Trump is now threatening shutting down the government if Congress, not Mexico, doesn't include the project in its budget. "If we have to close down our government, we're building that wall," he said on Tuesday.
This isn't the first time the Trump administration has suggested it might shut down the government over funding for the construction of a wall at the U.S.-Mexico border -- Office of Management and Budget Director Mick Mulvaney in April made a similar threat.
To be sure, it is unclear whether Trump's border wall project will ever come to fruition. But if it does, there are a number of companies that could benefit. 
Shares of Granite Construction (GVA) - Get Report and Tetra Tech (TTEK) - Get Report   have declined year-to-date but could turn around if they get wall contracts. Both were hired by the U.S. Army Corps of Engineers (USACE) to work on construction of the fencing currently at the U.S.-Mexico border, according to U.S. Customs and Border protection. On its website, Granite makes note of its work in upgrading remote Monument 250 at the California border, including roadways and fencing. Tetra Tech helped build the border wall near San Diego.
Other fence contractors are private: Cerrudo Services, Hal Hays, Kiewit, RMA Construction and Weston, among others. Arizona-based Sundt has worked on 10 border fence projects, according to its website.
Cerrudo Services, Fluor (FLR) - Get Report , KBR (KBR) - Get Report and ARSC Federal Primus have received contracts to provide maintenance and repair services under the Border Patrol's Comprehensive Tactical Infrastructure Maintenance and Repair program. 
Trump has said his wall would be made of hardened concrete, rebar and steel.
Materials companies that could be enlisted are Martin Marietta Materials  (MLM) - Get Report  and Eagle Marterials  (EXP) - Get Report . Oldcastle Inc. or France's Lafarge (LFRGY) could be involved as well. Construction equipment company Deere & Co. (DE) - Get Report , which brought in $12.5 million in government contracts in 2015 and Caterpillar (CAT) - Get Report   are in the mix, too. Both could see an uptick in business, as well as German cement-maker HeidelbergCement, which has said it stands to profit from Trump's wall.
Steel for the wall could be acquired from companies including U.S. Steel (X) - Get Report , Nucor (NUE) - Get Report and Steel Dynamics (STLD) - Get Report . 
While the president-elect's plan has been to build a physical wall, there have been suggestions the structure will be digital instead. Former Texas Governor Rick Perry, who Trump has tapped as Energy Secretary, made such a suggestion in July (he has since backed off the claim).
If Trump's wall not physical but instead virtual, Elbit Systems (ESLT) - Get Reportwould be a place investors want to look. The Israeli company was in 2014 awarded a $145.3 million contract by the Department of Homeland Security to erect a virtual detection system at the U.S.-Mexico border in Arizona.
Boeing (BA) - Get Report was awarded a multibillion-dollar contract in 2006 as part of a Bush-era law to build a high-tech surveillance system at the border (the same law that could give the Trump team authority to build its structure). The project was eventually abandoned in 2011 after over $1 billion were already spent, and the project was widely criticized as inefficient and costly.
Trump set his sights on Boeing's government contracts even before entering office, taking to Twitter to criticize the pricing of its Air Force One project.
Prior to his inauguration, the Trump team said it was working with Congress to address the cost and logistics of the wall through the appropriations process. The plan, they say, is for the U.S. to pay for it initially and for Mexico to reimburse America later. (Mexico does not agree.)
Trump has said building the wall will cost $5 billion to $10 billion, though some estimates put the cost much higher. According to a recent report from Politico, current estimates for construction alone range from a few billion dollars to $14 billion, and that doesn't include other expenses like maintenance, border patrol agents and purchasing private property from affected landowners. The Committee for a Responsible Budget estimates the project could cost $95 to $120 per American household, based on a $12 billion to $15 billion estimate put out by Congressional leaders.
The Government Accountability Office in 2009 estimated that building fencing at the border -- which some say Trump's "wall" will actually be -- costs somewhere between $2.8 million and $3.9 million per mile on average.
The American tax payer may wind up paying for the project, though details of funding remain unclear and a hot topic of debate. The Trump administration is proposing budget cuts of $18 billion to programs such as medical research, infrastructure and community grants to pay for the structure, according to the AP -- a move not being overwhelmingly welcomed in Congress.
"The administration is asking the American taxpayer to cover the cost of a wall -- unneeded, ineffective, absurdly expensive -- that Mexico was supposed to pay for, and he is cutting programs vital to the middle class to get that done," Senate Minority Leader Chuck Schumer told the AP. "Build the wall or repair or build a bridge or tunnel or road in your community? What's the choice?"
"I'd like to hear the details. What is this wall?" asked Senator John McCain.
We don't yet know the what, how or when of Trump's Mexico wall plan, but the wheels appear to be in motion. 
More of What's Trending on TheStreet:
Salesforce Unfortunately Now Has This in Common With Microsoft and Google