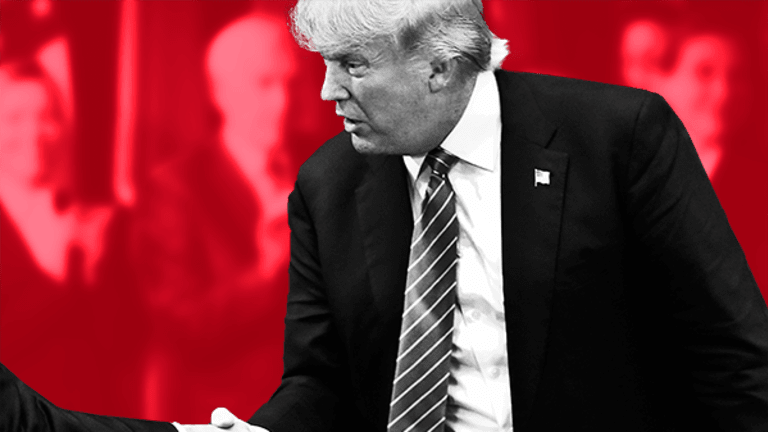 These Stocks Could Soar if and When Trump's Infrastructure Package Becomes a Reality
The White House's renewed push on infrastructure stands to revive investors' hopes for portfolio-boosting legislation.
The White House's renewed push on infrastructure stands to revive investors' hopes for portfolio-boosting legislation.
President Donald Trump this week will seek to refocus the conversation away from damaging headlines on Russia and his Twitter habits and draw attention to one of his less controversial agenda items: infrastructure. He will on Monday roll out an initiative to privatize air traffic control functions and over the coming days participate in a handful of events centered on reviving America's roads, bridges, railroads and waterways.
This week will hardly see new details on what Trump has in mind for infrastructure -- a detailed proposal is still weeks, if not months, away. And given all that Congress has on its agenda already, including healthcare, tax reform, the debt ceiling and funding the government, it is highly unlikely an infrastructure bill will be passed this year.
"It seems like that effort is going to push into 2018," said Peter Cohn, analyst at Washington, D.C.-based research firm Height Securities.
Trump campaigned on a promise to infuse $1 trillion into infrastructure in the United States, though the amount of a direct federal investment into such an initiative is likely to be much lower. The White House budget, unveiled last month, calls for $200 billion in infrastructure spending over the course of a decade, the argument being that investment would be a catalyst for billions of additional private dollars and states and cities would infuse capital, too.
"We want to talk to them and make sure we're partnering with them to make sure that they can use their tax dollars as efficiently," White House National Economic Council Director Gary Cohn told reporters Friday, according to the Wall Street Journal.
Despite a lack of detail or legislative timeline, Trump's infrastructure pledge has spurred enthusiasm among investors. When he mentioned infrastructure in his election-night speech in November, futures markets that had until then been plunging began to relax. A number of companies that would stand to benefit from an initiative saw their stocks climb in the wake of Trump's victory.
Wall Street analysts are cautiously optimistic about the prospects of infrastructure spending.
Compass Point Research's Isaac Boltanksy in a note on Monday said he remains bearish about Trump's $1 trillion infrastructure push, but he still sees a "path to modest infrastructure spending increases in this Congress."
Cohn acknowledged that it will be tough for any legislation to get through on Capitol Hill in 2018, an election year. "[But] if anything can get done, in our view, it would be an infrastructure package," he said, noting it is an issue that generally gets bipartisan support.
If an infrastructure package does become a reality in Washington, investors should look to materials, engineering and construction companies to potentially benefit -- firms such as Tutor Perini Corp. (TPC) - Get Free Report , Aecom (ACM) - Get Free Report , Terex (TEX) - Get Free Report , U.S. Concrete (USCR) - Get Free Report , Granite Construction (GVA) - Get Free Report , Eagle Materials (EXP) - Get Free Report , Summit Materials (SUM) - Get Free Report , Martin Marietta Materials (MLM) - Get Free Report , Vulcan Materials (VMC) - Get Free Report and U.S. Steel (X) - Get Free Report .
But just as such stocks could take off as infrastructure spending gets closer to becoming actual legislation, they could also move in the opposite direction should it start to look like a deal won't get done.
Senate Majority Leader Mitch McConnell (R-KY) in December told reporters he would oppose a massive infrastructure spending bill. "What I hope we will clearly avoid, and I'm confident we will, is a trillion-dollar stimulus," he said.
Height analysts noted at the time that McConnell's comments sent infrastructure stocks downward.
Read More Trending Articles: