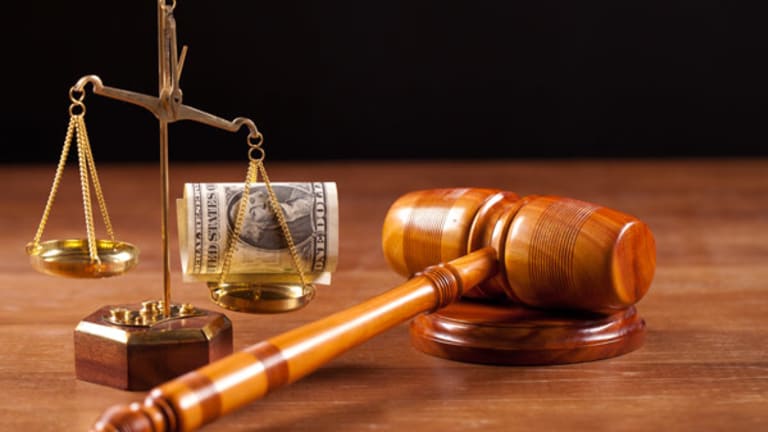 U.S. Chamber of Commerce Tops the List of Dark Money Groups Spending on Elections
The U.S. Chamber of Commerce increased spending after the 2010 Citizens United Case. The group has spent more than $18 million this year but kept its donor list secret.
When it comes to secret donors spending money to influence elections in the wake of 2010's Citizens United Supreme Court decision, there is perhaps no group more aggressive than the U.S. Chamber of Commerce. 
The Supreme Court's 2010 Citizens United ruling allowed super-PACs and dark money groups to spend freely on political elections provided they did not coordinate with candidates. Both advocate for or against candidates and ballot measures through huge spending on advertisements and other media.
But there are several fundamental differences between the two. Among them, while super-PACs have to publicly disclose the sources of funds, dark money groups like LLCs and political non-profits do not. That has created problems of transparency and accountability and given wealthier individuals increasing influence over elections.
In the aftermath of Citizens United, the conservative-leaning U.S. Chamber of Commerce has spent aggressively in campaigns by keeping its donors secret. The Chamber first attempted to sway voters in the 2012 election cycle through sponsored ads. These are listed as independent expenditures.
The Chamber of Commerce spent $32.26 million on 2012 Federal Elections. It spent $35.46 million in 2014, according to the Center for Responsive Politics.
With just over two months before the presidential election, the group seems to have backed off in 2016. Still, the $18.65 million it has spent is more than any other group. The Chamber of Commerce has also spent $52.32 million on lobbying, more than any other group. Since 1998, it has spent close to $1.3 billion in lobbying for large corporations and smaller businesses.
Chamber critics say that it represents the narrow interests of a few industries. Journalist Alyssa Katz writes in her book "The Influence Machine: The U.S. Chamber of Commerce and the Corporate Capture of American Life that the group mostly represents the interests of a small number of "legacy industries" like fossil fuels, firearms, oil, banking and tobacco. Katz is a member of the New York Daily News editorial board.
The Chamber is a trade association under 501 (c)(6), which allows it to remain tax exempt. As long as the association does not have politics as its primary purpose, it can continue to spend freely on elections. 
A bulk of the total money raised by the Chamber has either gone to support of Republicans or oppose Democrats. In 2016, the Chamber raised $9.89 million against Democrats and $9.82 million for Republicans, according to the Center for Responsive Politics. Only a small amount ($199,861) was raised against the Republicans, and no money was used to support Democrats.
Compared to Republicans, Democrats are more vocal about addressing the issue outside spending groups and their anonymous donors. The Democratic Party Platform includes campaign finance reforms, such as overturning cases like Citizens United and Buckley v. Valeo. Both cases helped lead to the formation of dark money groups. The platform clearly outlines the problems of unaccountability and secrecy of anonymous sources of funds and promises to eliminate Super-PACs and outside spending abuses.
The 1976 Supreme Court decision Buckley v. Valep eliminated provisions to the Federal Election Campaign Act. The decision eliminated restrictions on spending by campaigns and citizens. 
Republicans have favored the Citizens United decision and oppose restrictions on spending by outside groups.  This is despite Republican presidential nominee Donald Trump saying in a conference last year that he "loves the idea of campaign finance reform".
This article is commentary by an independent contributor. At the time of publication, the author held no positions in the stocks mentioned.