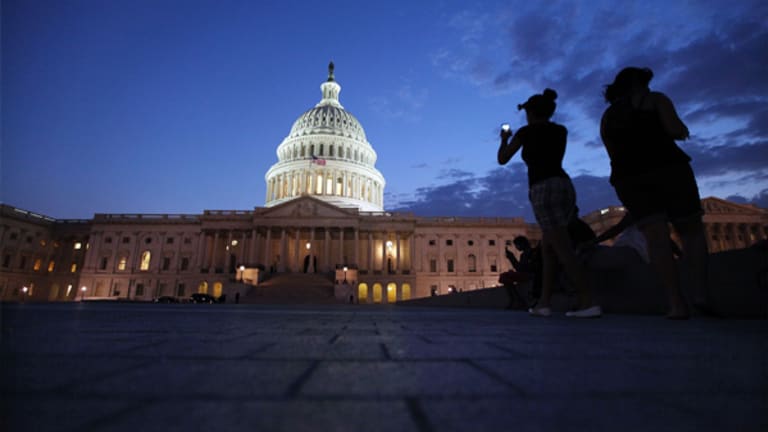 The Second Presidential Debate Will Move Energy Stocks
Jim Cramer says you can't count President Obama out of the second debate; and you shouldn't be betting on coal stocks.
NEW YORK (TheStreet) -- Jim, we are lining up for our second presidential debate. Obviously pretty much everybody realizes that Mitt Romney had a great showing the first time out. Obama did not.
Jim Cramer:
No.
Debra Borchardt:
So what do you think we're going to be looking for this time?
Jim Cramer:
Well, it is a town hall so it's not as...
Debra Borchardt:
Formal.
Jim Cramer:
Yeah, or as aggressive for Mitt. But Obama's got a good touch. I do believe that you should sell the coal stocks. They are up gigantically off the last win. We are having a, so far, a very mild fall, so nat-gas it's going to fall in price. I still like the nat-gas stocks but...
Debra Borchardt:
Yeah, because nat-gas stocks had been...nat-gas prices were moving up.
Jim Cramer:
There's not a lot of drilling, rig counts down 40 percent. It's almost entirely in nat-gas and I feel like if you take a look at the chart of Peabody you'd see that that looks like a Gallop Poll after the debate.
Debra Borchardt:
So it seems like you're making energy calls based on the debate, on the Tuesday debate.
Jim Cramer:
That's exactly what I'm doing. That is the fulcrum, not defense because defense is fiscal cliff. They can't really do much. But they can do EPA and EPA's the agency. You can take the people who are anti-coal out of it or you can give them more strength. There is a subtext to Obama's presidency that people think that he actually is comfortable with higher energy prices because that means there will more conservation. I don't know. To me it's out of whack with his support for the downtrodden. But, gee, the green movement's powerful.
Debra Borchardt:
And we saw Ryan really attack Biden on green energy jobs. I expect we'll see more of that.
Jim Cramer:
Yes, I think that resonates but I still think Obama could be the comeback kid here and you've got to get out of coal.
Debra Borchardt:
Well, he never gives up.
Jim Cramer:
No, he doesn't.
Disclosure: TheStreet's editorial policy prohibits staff editors, reporters and analysts from holding positions in any individual stocks.