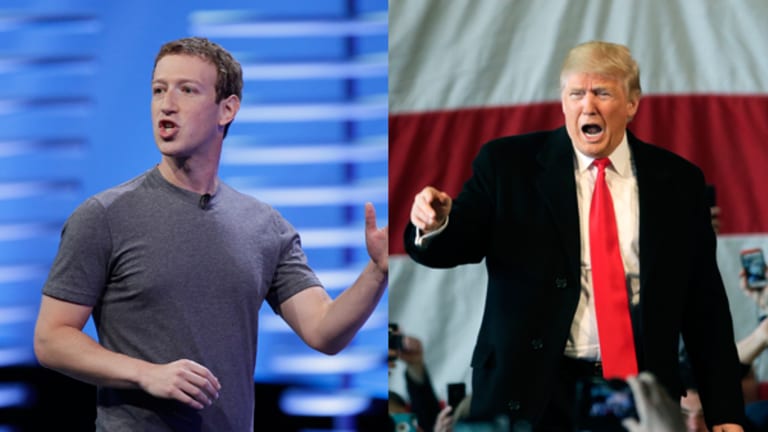 The Real 'Facebook Election' Is 2016
Social media stands to have an enormous impact on Election 2016, and the advertising dollars will be rolling in.
Editors' pick: Originally published June 8.
Social media stands to have an enormous impact on Election 2016, and the advertising dollars will be rolling in.
Social media ad spend is expected to reach more than $570 million this election cycle, over 100 times the amount spent in the 2008 "Facebook election" and 10 times the amount spent in 2012, according to advertising tracking firm Borrell Associates. And by 2020, it is anticipated to surpass the $2 billion mark -- double the total amount believed to go to digital this entire election cycle. Deep dive: Breaking down the first $1 billion digital election
The reason social media has taken off so much, strategists say, is simple: targeting.
Social platforms enable campaigns and committees to reach who they want, when they want with what they want with unprecedented accuracy. And it's not just about reaching millennials, it's everybody. According to Pew Research Center data, 65% of adults now use social networking sites, a nearly tenfold jump since 2005.
"It's across all demographics because of the ability to micro target. You've got grandmothers using Facebook now," said Evan Siegfried, a New York-based Republican strategist and author of GOP GPS: How to Find the Millennials and Urban Voters the Republican Party Needs to Survive.
Traditionally, strategists have depended on mass television buys, working to get ads in front of as many eyeballs as possible in hopes that at least a portion of viewers might react. The tactic might be effective in smaller markets where audience size is limited, but in larger markets, it means hitting voters with ads that are often entirely irrelevant to them.
Social media, on the other hand, allows campaigns to tailor and target ads by age, gender, interests and even zip code. It often means getting a better bang for their buck.
"I look at it as a return on investment, because campaigns naturally have to operate on a shoestring budget. You need to get the best results for your money," said Siegfried.
Facebook (FB) - Get Free Report is likely to be the social space's biggest winner this election cycle. The company saw a massive lift in ad revenue in the fourth quarters of both 2012 and 2014, said Wedbush Securities analyst Michael Pachter. Advertising revenue jumped 41% for the quarter year-over-year in 2012 and 53% year-over-year in 2014. He anticipates 2016 could be even bigger.
"This time around is going to be more contested than Obama-Romney was," Pachter said. "I think you're going to get record spend." The company is expected to rake in some $350 million on political advertising this cycle.
Facebook's most attractive attribute is its audience, said Bianca Prade, senior vice president at Democratic political consulting firm SKDKnickerbocker. According to Pew, 72% of online American adults use Facebook, including some highly-coveted voter demographics: 77% of online women, 82% of those online ages 18-29, and 75% of online Hispanics.
"Their audience is enormous, and it spans multiple generations and particularly hits that voter demographic," said Prade.
The company has also rolled out numerous products and options that cater to advertisers, political and otherwise, including Facebook Live and reactions. It boasts powerful targeting and analytics tools as well.
"Facebook has done a tremendous job of creating a tool set that is very easy to control where your inventory plays, the cost you're willing to pay, who sees it, how long they see it, and the further that they're able to provide those services into more networks, I think it's just going to be all the more powerful for them," said Ken Dawson, president of Eleventy Marketing Group, who ran digital media marketing and strategy for Ben Carson's presidential campaign.
Twitter (TWTR) - Get Free Report is likely to see a boost from the election season as well, though politicos still appear to be figuring it out, and it them. Deep dive: 2016 is a make-or-break year for Twitter
Some strategists see the 140-character platform as a way to reach journalists and influencers rather than the wider voter base. Others say while it use useful for big moments, like debates and conventions, it's not seen as much as a relevant ongoing partner, like Facebook is.
One GOP strategist was more cutting in his assessment. "The micro targeting isn't that great, the ROI is terrible, the pricing they have is through the roof," he said.
But even if Twitter has some kinks to work out, it's still going to see at least some of the multi-billion-dollar ad spend buy in 2016.
"I don't think it matters if you're Twitter or you're Facebook, you're going to get your share, you just are," said Pachter.
He added that presumptive Republican nominee Donald Trump's affinity for the platform makes him quite bullish on the company's prospects. "Trump's use of Twitter and the media's reporting of his use of Twitter has made people intellectually curious about Twitter, so it really wouldn't surprise me if Twitter was the biggest beneficiary of this big boost," he said. Deep dive: The Trump effect
Snapchat, one of the newest players in the social media game, is angling to get ad dollars as well during Election 2016. The company boasts reach among millennials and younger voters, and some camps have already been trying it out.
"Snapchat is great because you can use filters to get into the public consciousness," said Siegfried. 
But the platform isn't for every advertiser, and it's not yet clear that it's especially effective. Deep dive: How Pandora is politics' secret weapon
Advertising on Snapchat can be very expensive, so while it may fit into a national campaign budget, it isn't accessible for local, smaller-budget campaigns, which opt for more wallet-friendly options on Facebook and Twitter.
Moreover, there is no proof yet whether advertising on the platform actually works. "Their analytics haven't caught up with their pricing model," said Prade. She added that Facebook-owned Instagram is in a somewhat similar situation, where political advertisers are still figuring out where and how it is useful. "Instagram's an interesting one, it's still super visual. There are things going on...but we are not yet seeing that translate at all to this election cycle."
But even with their shortcomings, Snapchat, Instagram, Facebook, Twitter and others are on the right side of momentum in 2016 and beyond.
"Not only are we going to have massive political spend, but we're also in the midst of a share shift to internet, and within internet, you're in the midst of a share shift to social media," said Pachter.