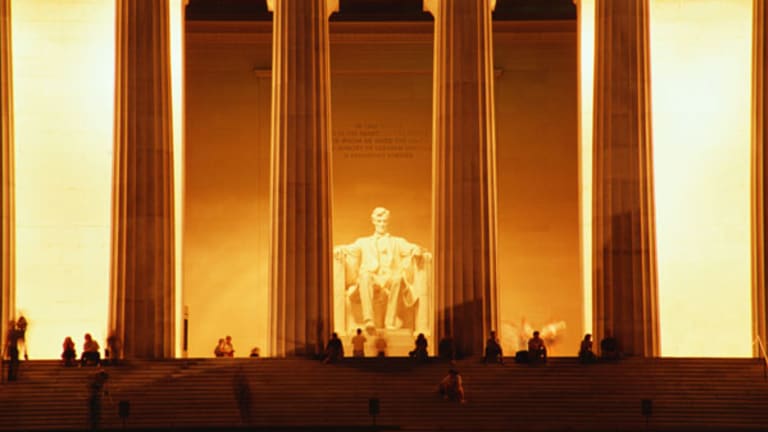 The New Look of the U.S. Congress
Democrats rode on the coattails of president-elect Barack Obama to extend their majorities in the House and Senate but appear unlikely to win 60 seats in the Senate for a super majority.
The U.S presidential election ended Tuesday night with a decisive win for Democratic Sen. Barack Obama, who will take office Jan. 20., 2009. However, several Senate races remain too close to call, leaving in doubt the balance of power in the Congress. Those races include four embattled Republican incumbents: Sen. Norm Coleman (battling Al Franken) in Minnesota, Sen. Saxby Chambliss in Georgia, Sen. Gordon Smith in Oregon and Sen. Ted Stevens in Alaska.
Democrats have gained a greater majority in the House and also added five sure seats in the Senate. However, they are unlikely to hit the magic number of 60 in the Senate to give them a so-called super majority in the executive and legislative branches.
The certain seats gained by Democrats in the Senate number five. In the Congress, Speaker Nancy Pelosi (D., Calif.) will add to her majority despite 11 races still to be called.
Congressional Quarterly
forecasts a minimum gain of 21 seats. The likely makeup of the House would be 256 Democrats to 174 Republicans, with five seats still a toss up.
Early Tuesday night it was clear the Democrats would gain seats. Sen. Elizabeth Dole (R., N.C.) lost to challenger Kay Hagan, although the announcement was offset by Senate Minority Leader Mitch McConnell holding on to his seat in Kentucky. In addition, it would seem that Sen. Ted Stevens (R., Alaska), who was convicted of corruption last month, will return to the Senate.
The other three races may not be known until later Wednesday. However, all three of the Republican incumbents presently lead by small margins. It is possible the Democrats could win one or two of those races, but they won't reach 60. Of course, this means that Republicans would maintain enough members to filibuster bills in the Senate despite passage in a Democrat-controlled House.
A New Mandate
What would this Congress look like? In some ways the environment would be similar 1992. Former President Bill Clinton had majorities in the Congress and 57 Democratic senators. The major difference would be the mandate. Clinton won a race where third-party candidate Ross Perot garnered 19% of the vote, effectively muting the effect of a strong mandate.
Furthermore, Clinton had a rocky start in his first term. He decided to take up the cause of passing NAFTA, which had been agreed upon by President George H.W. Bush but not ratified in the Senate. The battle cost Clinton the support of many progressive Democrats and labor unions, making it much more difficult for him to work on other agenda items. He and his wife Hillary soon after faced defeat in their attempts at reforming health care.
Obama can learn from this history. He has a stronger mandate than Clinton, though he faces a much more challenging environment. His first initiatives have to address the economy. He needs to focus on the appointment of a Treasury Secretary and his plan to pass a stimulus package.
Obama's stimulus package would likely be distinct from the tax cuts passed last year by President Bush and the Congress. Obama and the Democrats in Congress have been pushing for aid to go directly to Americans in need, including an extension of unemployment benefits and food stamps. Democrats point to research that has shown Americans often save the money given to them in the form of tax cuts and spend money received from programs like unemployment and food stamps.
Hurdles Remain
Obama has vowed throughout the campaign to work in a bipartisan fashion. He has also said he would name Republicans to his Cabinet. Time will tell.
House Republican Minority Leader Rep. John Boehner (R., Ohio) remained defiant after winning his re-election bid. According to reports in
The Wall Street Journal
, he plans to fight Obama's agenda in the House, calling it a "troubling policy roadmap." His strong words might be good news for those in the market who have expressed concern over an unbridled liberal agenda.
But Boehner has to confront the fact that Republicans need to rebuild their party. He has vowed to do this, saying:
"We will rebuild our party the way it was originally built by President Lincoln and renewed nearly three decades ago by President Reagan: by fighting for the principles of freedom, opportunity, security and individual liberty."
Senate Democratic Majority Leader Harry Reid downplayed talks of any mandate. ""This is a mandate to get along, to get something done in a bipartisan way. This is not a mandate for a political party or an ideology," he said in comments to Politico.com.
For now, Democrats have the upper hand and the momentum. What they don't have is the super majority to push through all of their legislative proposals.
For more articles like this, check out our Political Pulse section.