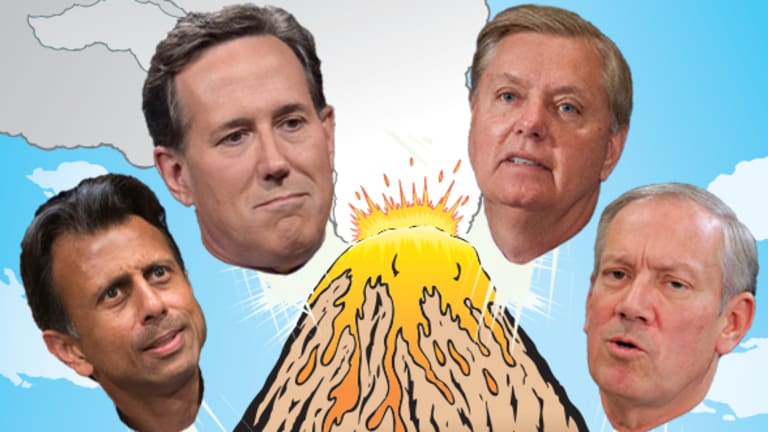 The GOP Warmup Act Is Going to Be Seismic
If by seismic we mean slow, grinding and ending with a tremor.
Given Republican primary voters' apparent disdain for candidates with insider credentials, most of the GOP field will spend Wednesday night's debate portraying themselves as the real outsiders. But Bobby Jindal, Lindsey Graham, Rick Santorum and George Pataki have the best claim this time around. They are the real outsiders -- as in outside the debate hall, clawing pitiably at the door to get in.
Sure, the Feeble Four will have their own mini-debate two hours before the main event. But the debate hall could be the only refuge from a raging apocalypse and no one, not even Jim Gilmore, would want to get in.
Speaking of Earth-rending events, whatever happened to Jim Gilmore? The former Virginia governor declared his candidacy in July, then disappeared into what we can only surmise was sinkhole that led straight down to the planetary core, where he spends his days live-tweeting continental drift.
Despite Gilmore's absence, the undercard debate will feature some outsized personalities, if by outsized we mean completely without size.
Start with the current officeholders: Jindal is the governor of Louisiana and Graham is the senior senator from South Carolina. Jindal has been the more prominent of the two, despite Graham's status as a favorite of the Sunday talk-show circuit. The Louisianan infamously delivered the rebuttal to Barack Obama's first State of the Union address, earning nearly universal derision. Among the lowlights: A Gilmorean dismissal of a federal monitoring and warning system for volcanic activity. Just weeks later, Alaska's Mt. Redoubt erupted, scorching Jindal with a new round of criticism.
Jindal got the speech gig because he was regarded as a rising GOP star -- a youthful conservative who was smart and youthful and articulate and youthful. Also, he was young. After Obama's re-election in 2012, Jindal attempted to reclaim his status as the intellectual future of the GOP, calling upon his fellow Republicans to avoid becoming the stupid party -- at least in matters unrelated to magma.
Primary voters are apparently smart enough to assess Jindal's record in Louisiana. For example, when he took over in 2008, the state's budget was in surplus. After years of Jindal cutting taxes while preserving corporate subsidies -- including one for the "Duck Dynasty" reality show -- Louisiana this year is more than $1.5 billion in debt. In Baton Rouge, the red ink is flowing like lava, burying Jindal's electoral hopes: He's dead last in the RCP polling average at 0.3%. If only he'd been warned.
Graham fares slightly better. At 0.5%, he shares "frontrunner" status with Santorum among the backrunners.
Graham has pitched himself as unreasonably hawkish on foreign affairs and reasonably dovish on domestic issues. Under President Graham, the U.S. would never tire of fighting wars and the government would never be shut down over partisan disagreements. Oddly, that combination of issues, along with the confirmed bachelor's plan to employ a rotating First Lady, has failed to ignite much enthusiasm. Even the state he has served in Congress since 1994 hasn't cottoned to him: Graham polls at just 4% in South Carolina.
Former Pennsylvania senator Rick Santorum is the only member of this group who has actually won any Republican presidential primaries. In 2012, he was declared the winner of the Iowa caucuses by a 34-vote margin two weeks after Mitt Romney had seemingly earned an eight-vote triumph. That was followed by victories in nine more states, not nearly enough to deny Romney the nomination.
Santorum hasn't been able to build on that success. He's sitting at just 0.5% in the RCP averages. At least he still has his good name.
What can be said about former New York governor George Pataki's quiet campaign? Anything? No? OK, then.
So this group isn't exactly setting the world on fire. And even if they were, Bobby Jindal would make sure no one knew about it until it was too late.
But these things sometimes produce a new star. Carly Fiorina earned a promotion to the main stage on the strength of a breakout performance in a junior varsity event earlier this season. And with little to lose, one of these four might just pull out all the stops in an attempt to impress poll respondents. So go ahead. Tune in for a while. What's the worst that could happen?
The next Republican Presidential debate starts at 8 p.m. ET this Wednesday, 10/28, but TheStreet.com is covering it all week! Tune in for stories, videos, and more, and make sure to follow us at @TheStreet on Twitter for live commentary during the debate.