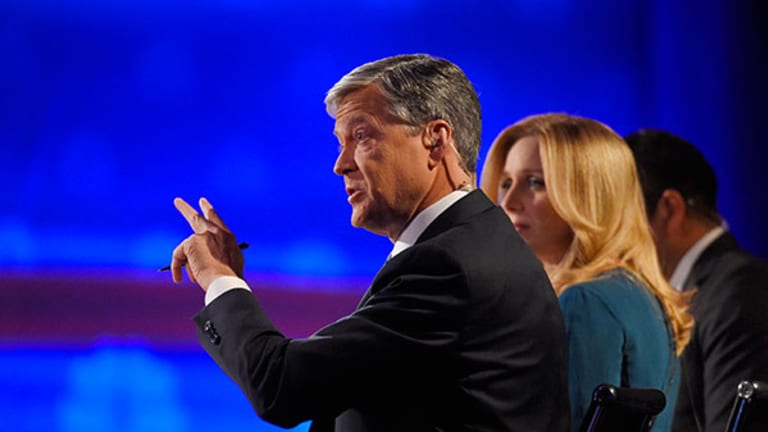 The Biggest Loser of the #GOPDebate? CNBC
Hoping for a shot in the arm from the Republican debate, the business network was instead castigated for its moderators' questions and side remarks.
And Hillary Clinton thought she had it bad.
While 10 Republican candidates for the party's presidential nomination traded punches in Boulder, Colo. on Wednesday, the debate's moderators from Comcast's (CMCSA) - Get Comcast Corporation Class A Common Stock ReportCNBC were the ones who ended the night black and blue.
Becky Quick, John Harwood and Carl Quintanilla were all blasted on social media for allegedly hurling sniping comments, nasty digs and trying to show they were smarter than the candidates. Accusations of liberal or Democratic Party bias were ubiquitous on Twitter, and elsewhere. Though CNBC was extolled in some corners for asking tough questions, the candidates and their supporters maintained that Quick, Harwood and Quintanilla failed to ask substantive questions.
At one point, Quintanilla was even booed by the audience when he pointedly asked Ben Carson, the Baltimore neurosurgeon, about his 10-year corporate relationship with
, a maker of nutritional supplements.
"They offered claims that they could cure autism, cancer," Quintanilla said. "They paid $7 million to settle a deceptive marketing lawsuit in Texas. And yet your involvement continued. Why?"
Carson countered that such allegations were "total propaganda" while admitting that he did "a couple of speeches for them," and saying that he "takes the product, and I think it's a good product." When Carson said that he wasn't aware of appearing on the company's home page, Quintanilla shot back, "Does that not speak to your vetting process or judgment in any way?"
For that comebacker, the audience booed loudly. Quintanilla could do little more than shrink into his chair as the network went for a commercial. Turns out Quintanilla may have been on to something. But this audience would have nothing of it.
It was that kind of evening for
CNBC
.
Early on, Harwood asked Trump about rationalizing his proposals for immigration and lowering the deficit on the grounds that "your greatness would replace the stupidity and incompetence of others," adding "let's be honest, is this a comic book version of a presidential campaign?"
To that, Trump smirked and wagged a proverbial finger, countering that "it's not a nicely asked question the way you say that." Later, the New York-based real estate developer, who has never held public office, slammed the moderators for a series of "ridiculous questions."
A bit later, Harwood and Trump got into a bit of a yelling match when the CNBC moderator said his network had never wanted the debate to extend over two hours. Trump and Carson had objected to the Boulder debate running more than two hours, threatening not to participate if it did. Infuriated by Harwood's insinuation that he had made a mountain out of molehill, Trump barked "that's not true, that's not true."
No one seemed to be happy.
In the days leading up to the debate, the event was viewed as a big night for CNBC, a network seeking to widen its audience during prime-time hours. The chance to sell commercials for a major television event was seen as a chance for the network to bolster its declining cash flow. For the third quarter, CNBC and the rest of Comcast's cable networks showed a decline in operating income, a major reason shares of the Philadelphia-based company fell Tuesday on the release of the company's most recent earnings report.
For all its grief, CNBC attracted 14 million viewers for its telecast, a record for the business-focused network, despite going head-to-head with the World Series featuring a large market team, the New York Mets. Owing to its smaller, the CNBC debate trailed the first Republican face-off on the Fox News Channel in August that attracted 24 million viewers, and the CNN-hosted event in September that generated 23 million people.
Yet even in the days following the debate, CNBC continued to take criticism for the tone or type of the questioning. Texas Senator Ted Cruz received kudos for seeming to speak for the collected assembly when he accused the CNBC moderators of trying to foment internal dissent rather than focus on the topics of public interest.
"This is not a cage match," Cruz said, staring down the CNBC gang. "And you look at the questions -- Donald Trump, are you a comic book villain? Ben Carson, can you do math? John Kasich, will you insult two people over here? Marco Rubio, why don't you resign? Jeb Bush, why have your numbers fallen?
"How about talking about the substantive issues people care about?" 
The Republican National Committee, still stewing, told NBC News that it would no longer participate with the network at a planned debate at the University of Houston on February 26, 2016. Committee Chairman Reince Priebus, in a letter posted on the RNC's website, charged the CNBC moderators with seeking to discredit and embarrass the party's nominees.
"CNBC's moderators engaged in a series of "gotcha" questions, petty and mean-spirited in tone, and designed to embarrass our candidates," Priebus wrote. "What took place Wednesday night was not an attempt to give the American people a greater understanding of our candidates' policies and ideas."
The network stood by its anchors, declaring in a statement that "People who want to be President of the United States should be able to answer tough questions." 
Quintanilla, co-anchor of
Squawk on the Street
and
Squawk Alley
, Quick, co-anchor of
Squawk Box
, and Washington, D.C., chief correspondent John Harwood are all widely respected in business circles for their knowledge and easy rapport. Though they're less well-known than
Fox News
debate moderator Megyn Kelly or
CNN's
Anderson Cooper, they do know stocks, bonds and corporations.
But for one night anyway, they didn't know politics.