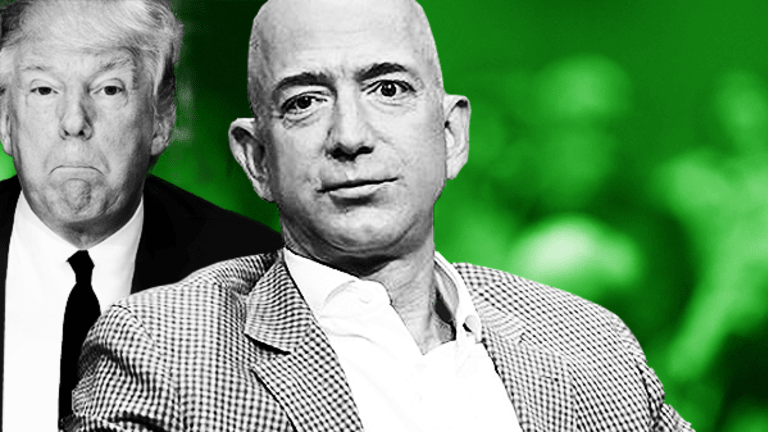 Taxes Won't Deter Amazon's Whole Foods Deal, But Trump's Hate for It Could
Trump's tax accusations against AMZN and Jeff Bezos probably won't mean much for the e-commerce giant's pending deal with Whole Foods WFM, but his animus towards the company might.
Trump's tax accusations against Amazon.com Inc.  (AMZN) - Get Amazon.com, Inc. Report and Jeff Bezos probably won't mean much for the e-commerce giant's pending deal with Whole Foods Market Inc.  (WFM) , but his animus towards the company might.
The president took a swipe at Amazon and The Washington Post, both of which Bezos controls, on Twitter Wednesday morning, accusing Amazon of skirting taxes and slamming the Post as "fake news." Trump's latest attack may have some on Wall Street itchy about potential antitrust issues surrounding Amazon's $13.7 billion Whole Foods acquisition, but there's not an overwhelming amount Trump can do.
Trump's tweet, in which he accuses Amazon of not paying "internet taxes," appears to be a reference to sales taxes collected by online companies, said New York-based tax analyst and former Lehman Brothers managing director Bob Willens.
Historically, companies that sell products in states in which they have no physical presence have not been required to collect sales taxes, thanks in large part to a Supreme Court case Quill Corporation v. North Dakota in 1992. But as Amazon's business model has shifted and the company has developed a presence in warehouses and physical locations across the country, the point has largely become a moot one.
"There always has been a question of the difference between brick-and-mortar companies that collect sales taxes from their customers and internet companies that historically have not," said Steve Rosenthal, veteran tax attorney and senior fellow at the Urban-Brookings Tax Policy Center. "A lot of big retailers just gave up trying to avoid collecting the tax."
Since March, Amazon has been collecting sales taxes on purchase in all 50 states.
The issue of taxes should not, in and of itself, derail the Whole Foods deal. If anything, the Whole Foods acquisition will help Amazon expand its brick-and-mortar footprint, where paying state taxes is a given.
But Trump's hostility towards Amazon and Bezos could have an effect.
"[If the antitrust review of the case] is in the Department of Justice, he is the chief executive, so he could in theory say, 'I don't like that one,'" said New York University trade regulation professor Eleanor Fox. "It would be pretty awful for the president to be intervening in that way, but it would not be illegal."
"I don't see how this has had anything to do with [the] Whole Foods acquisition except to the extent that President Trump 'instructs' the Justice Department to be especially tough on amazon during its evaluation of the Whole Foods deal and to come up with a reason, any plausible reason, for withholding approval of the deal," Willens said. "Stranger things have happened."
Makan Delrahim, Trump's nominee for assistant attorney general for antitrust, has said he will not play politics if confirmed. "That's at least helpful," Fox said. "But the problem is you never know what kind of intervention there might be."
President Richard Nixon intervened in an antitrust settlement with International Telephone & Telegraph Co. in the 1970s.
Whatever sort of detente between Trump and Bezos that took place after the election might soon be off. CNBC Washington correspondent Eamon Javers said in a tweet on Wednesday when he asked the president whether he was prepared to take steps against Amazon following his early-morning tweet, "he smiled and nodded...but did not respond."
Spokespeople for the White House and Amazon did not immediately return request for comment on the matter. A Post spokesperson declined to comment on Trump's tweet, which comes a day after the newspaper ran a story by Pulitzer Prize winner David Fahrenthold that a fake Time Magazine cover featuring Trump hangs at his golf clubs.
Amazon is predicting its Whole Foods deal will close in the second half of 2017, suggesting it thinks regulators will carry out the standard one-month review of the transaction and won't issue a second request for information.
Scott Cleland, president of consultancy Precursor LLC, recently told TheStreet that he views that as a mistake, citing potential antitrust concern relating to wholesaling. "I wouldn't be surprised if Amazon had to commit to some conditions to gain antitrust approval, so that Amazon could not leverage the market power it has online through Amazon Prime into the offline grocery-delivery and retail markets," he said.
California Congressman Ro Khanna (D-CA), whose district encompasses part of Silicon Valley, also raised antitrust concerns about the acquisition soon after it was announced.
But Commerce Secretary Wilbur Ross said in an interview last week on Fox Business Network that he doesn't perceive any antitrust issues for Amazon, contra President Trump's comments on the campaign trail that Amazon has a "huge antitrust problem."
"Well I haven't seen anything that Amazon has done that would qualify remotely for antitrust consideration," Ross said in an appearance on FBN's Varney & Co. "And that really would be the only reason for doing it. Take their acquisition of Whole Foods. I think that's a very clever move to marry together a very good, high quality, niche retailer with the very broad brush approach of marketing everything that Amazon has done so well. But I surely don't see any antitrust implications in that."
Editor's pick:This article was originally published at 1:56 pm ET and has been updated.
More of What's Trending on TheStreet:
Apple's iPhone Triggered Mind-Blowing Changes to How Investors Trade Stocks
Amazon Could Easily Own Whole Foods and Rite Aid or Express Scripts, This Top Analyst Says