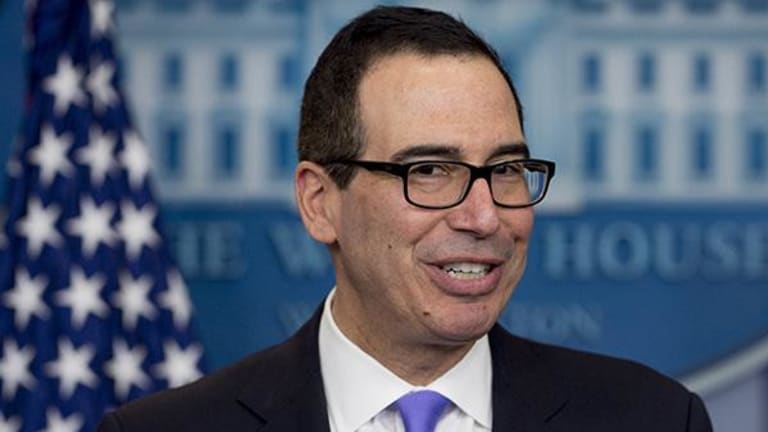 Tax Reform a Must for Restoring Vibrant Growth, Mnuchin Insists
There is growing skepticism the White House can push through its plan to slash taxes.
Amid rising skepticism about the Trump administration's ability to push through one of its highest economic priorities, Treasury Secretary Steven Mnuchin said Thursday that enactment of tax reform and deregulation are essential to achieving the president's target of 3% growth in gross domestic product.
"The president and I fundamentally believe that tax reform is critical to growing the economy and getting back to sustained economic growth," Mnuchin told the Senate Banking Committee in his first hearing since being sworn in as secretary. "It has been more than 30 years since we have had comprehensive tax reform in this country. Combined with often imprudent regulations crafted in the midst of the crisis, the entire American prosperity has slowed. I believe that a goal of 3% GDP, or higher economic growth, is achievable if we make historic reforms to both taxes and regulation."
While campaigning, Trump said his policy plans would lead to GDP growth of 4% a year, but he recently said he'd settle for 3%.
At the same time, Mnuchin was promoting tax reform in the Senate, U.S. CEOS were pushing the idea before tax writers of the House Ways and Means Committee.
The White House issued an outline of its tax plan in April, calling for corporate and pass-through business rates to be cut to 15%. On individuals, today's seven tax brackets would be reduced to three: 10%, 25%, and 35%. The Alternative Minimum Tax would be repealed, but so would a lot of popular deductions.
Such dramatic changes to the tax code would be difficult in any environment, but with Trump's administration increasingly mired in scandals and political distractions, the chances of success seem even smaller.
Jim Cramer and the AAP team give their analysis on Cisco's (CSCO) - Get Cisco Systems Inc. Report fiscal-third-quarter results. Find out what they are telling their investment club members. Get a free trial subscription to Action Alerts PLUS.
Mnuchin also reiterated Trump's assertion that he'd accept a temporary increase in the deficit in order to revive strong growth, on the premise that with a vibrant economy, the government would be in a better position to address the shortfall.
"The president does believe that we need to create economic growth and that we are willing to have lower tax revenues in the short term if that will create economic growth," he said.
Current GDP growth in the U.S. is roughly 2%. "The difference between 2% and 3% GDP is roughly $2 trillion over a 10-year period of time," Mnuchin said. "It's a lot of money, and economic growth will help us deal with a lot of other complicated economic issues we have."
Some of the most heated discussion over tax reform was sparked by Mnuchin's call for the use of "dynamic scoring" in calculating the impact of the president's tax plan on the deficit.
Rather than simply conclude that any tax cut would cause a corresponding reduction in government revenue, proponents of dynamic scoring say government number-crunchers should also take into account additional income that would be generated by the plan's economic boost.
Sen. Jon Tester, D-Mont., said that traditional static budget calculations indicate that the plan Trump officials are drafting would could cut government revenue by $5.5 trillion dollars.
"I don't think any of us here think that that's a good idea, saddling the kids with additional debt," he noted. " I think even Senator McConnell has recently said the plan cannot add to the debt." Mitch McConnell, a Kentucky Republican, is the Senate's majority leader.
Mnuchin assured him, "We would never propose a plan that we thought would cost $5 trillion."
Mnuchin added that the plan is still being drafted and, therefore, cannot be responsibly scored yet. Any proposed plan should be paid for through economic growth, the secretary added, though he's concerned "as to whether some of the models will attribute enough growth in dynamic scoring."
Tester countered that he's "very suspicious of dynamic scoring, because it's been done before, and . . . the end product looks really good but then when reality hits it, it's not that way at all."
Scoring of the tax plan, as result, "needs to be done very prudently," he said.
Mnuchin said the administration will provide scoring for the plan in three ways -- a static score, one done with the congressional Joint Tax Committee staff and one with the administration's own model.
"We absolutely believe we need to generate revenue," Mnuchin said. "We are very concerned about the debt, OK? And we will go through the math and show you."
Many companies are paying much less than the top 35% tax rate, he said, and others are parking foreign profits outside of U.S. borders.
Some Democrats said that their willingness to support White House tax changes is tied to the final result of health-care reform. They complained that the plan passed by the House is little more than a tax cut for the wealthy and businesses that will shift the greater costs of health insurance coverage to the poor, the middle class and the elderly.
Maryland Democrat Chris Van Hollen noted that the Congressional Budget Office has calculated that the House proposal includes $900 billion in tax cuts, including $270 billion that will go to higher-income families.
"The analysis of that tax cut is that millionaires will get, on average, $50,000 a year in tax cuts," he said, pointing out that the House bill repeals capital gains- and income-tax increases used to help pay for Obamacare as well as Medicare taxes and levies on very high-income individuals' investment proceeds.
"What's been interesting about this healthcare debate is that you've got this major tax change masquerading under the cover of health care," Van Hollen said. "Why is there a big tax cut in a health-care bill?"
Separately on Thursday, Carlyle Group co-founder David Rubenstein told hedge fund managers at the SALT conference in Las Vegas that he isn't optimistic about Congress passing broad tax-reform legislation any time soon.
 "I don't think you will see a lot of tax reform or a lot of health-care reform," Rubenstein told hedge fund managers and buyout shop executives, arguing that the partisan divide is too great to overcome.
Meanwhile, over on Real Money, Cramer explains why he likes defensives and the defense stocks. Get his insights or analysis with a free trial subscription to Real Money.