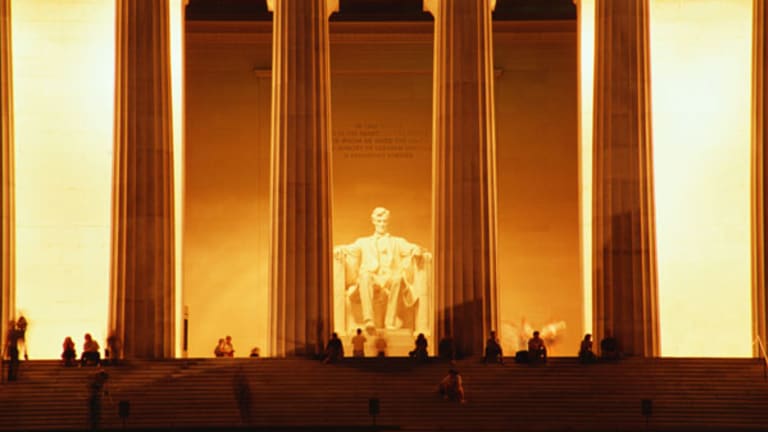 Super Committee Failure: You Sound Off
<I>TheStreet's</I> readers are outraged at the super committee's failure to reach a compromise.
NEW YORK (
) --
TheStreet's
readers were
as the congressional super committee failed to reach an agreement to reduce the federal deficit.
Below you'll find a sampling of readers' ire at the Washington politicians who flunked bipartisan compromise.
On Facebook,
TheStreet
asked readers:
Should the 12 members of the super committee be re-elected to Congress by their constituencies?
Chris McGrath:
Nope. And I can think of a few hundred others that can go with them
.
William Boyce Cheek:
Congress and the White House should have been on an automatic 100% budget cut unless they got this job done. Although I don't agree with the current leadership of the White House, that is where the buck stops. There is no leadership and WE are the reason why!
Royce Nugent:
No, none of the wannabe dictators should be re-elected. They should all be thrown out. They couldn't even accomplish a simple task when given total unconstitutional control over it.
Kevin Copeland:
If their constituents approve of their actions -- well yes. That's what happens in a republic like ours. Note that since we cannot see the individuals' positions and proposals (personal efforts) made to fellow members of the committee, one can only judge based on the collective result, which potentially might be extremely unfair to the individual member ... this is a mess.
What financial/investing moves will you make in light of the super committee impasse?
John Jayme:
Too late. Cross fingers and wait. Luckily, I'm familiar with the formula.
Jeremy Brown:
I'm investing in myself, that's the only true profit.
Rob Gillin:
A lot of cash and some equity in growth companies with ridiculously low valuations.
Ron Hilton:
Buy solid companies that get beaten up for no good reason when it all bottoms. Nothing as far as earnings and growth has changed for the good companies.
Matt Smith:
A bottle of whiskey so I can just get through the rest of this year.
The super committee fails to come to an agreement to cut $1.2 trillion from the federal deficit.
Phillip Hodge:
The budget problem belongs to the electorate. We vote in politicians and then don't hold them accountable. Remember this in 2012.
Kathy Marsh:
Here we go again. Go ahead, 1%, suck more money out of the market. What a joke the "Super Committee" is. Tax cuts -- we've had them for years. We've lost jobs, not gained jobs. Time to RAISE TAXES, not reduce!
Jack McDevitt:
Since this group of twelve could not complete their assignment, they should all resign. They do not represent the American people!
The failure of the super committee may continue to roil markets for some time. Are you still angry? We want to hear more of your outrage, so tell us below.
-- Written by Joe Deaux in New York.
>Contact me here:
.
>Follow me on Twitter:
.