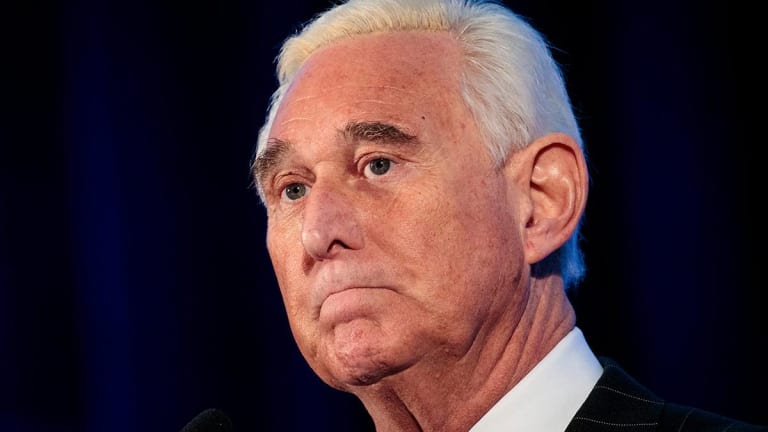 Street Exclusive: Roger Stone Dishes on Arrest, Sen. Warren, Trade War
Following indictment, Roger Stone says he is ready to fight back against what he claims are 'police state tactics' from the FBI and speaks his mind to TheStreet on trade with China, the Fed and more.

Roger Stone is speaking out, even as a judge considers a gag order on the media savvy political operative who was indicted last month on seven charges including obstruction, making false statements, and witness tampering.
In an exclusive interview with TheStreet, Stone dished on a host of topics including former President Richard Nixon, the trade war between Washington and Beijing, Democratic U.S. Sen. Elizabeth Warren of Massachusetts, Federal Reserve Chairman Jerome Powell, and, of course, Stone's recent indictment by Special Counsel Robert S. Mueller.
He even questioned the raid on his home late last month.
"Why, if I am dangerous, was a CNN truck allowed to be 25 feet away from my door to film the whole [raid] other than poisoning the jury pool? Which I think was the goal, to paint me as public enemy No. 1 prior to having a fair trial." Stone told TheStreet. "I think the government seeks to defame me and humiliate me."
Stone was arrested in an early morning raid by FBI agents on Jan. 25 on the charges, which include allegedly attempting to intimidate a witness, Randy Credico. Credico, a radio personality, is claimed to be Stone's information source from WikiLeaks, which had leaked information harmful to Hillary Clinton's presidential campaign in the run up to the 2016 election. 
Stone is also accused of providing false statements to the House Permanent Select Committee on Intelligence during the committee's inquiry into Russian interference in the election,  according to his indictment. Stone has pleaded not guilty to the charges.
While not able to comment on specifics of the charges against him due to the ongoing case's proceedings, Stone called into question the motives behind the government's efforts and accused the special counsel's office of trying to humiliate him with their heavy handed tactics.
The "police state tactics" as Stone called them have also caught the attention of sitting senators such as South Carolina's Lindsey Graham and even President Trump.
"Although I am sure these tactics would be standard procedure for the arrest of a violent offender, I have questions regarding their necessity in this case," Graham wrote in a letter seeking an explanation for the methods. "The American public has had enough of the media circus that surrounds the Special Counsel's investigation. Yet, the manner of this arrest appears to have only added to the spectacle. Accordingly, I write to seek justification for the tactics used and the timing of the arrest of Mr. Stone."
President Donald Trump echoed the questions raised in an interview with The Daily Caller on Thursday.
"I'm speaking for a lot of people that were very disappointed to see that go down that way. To see it happen where it was on camera, on top of it. That was a very, very disappointing scene," Trump said.
Still, others pointed to the risk of Stone tampering with or destroying evidence as cause for the show of force.
"Was the FBI's show of force too heavy-handed, as has been alleged? Absolutely not," Jimmy Gagliano, a former SWAT Team Leader and former member of the FBI's elite Hostage Rescue Team wrote in a column for the Washington Examiner earlier this week. "In the FBI, we tend to defuse situations by removing the fight-or-flight inclination, via our overwhelming presence. To arrest one, we bring 10. For 10, we'll bring 100."