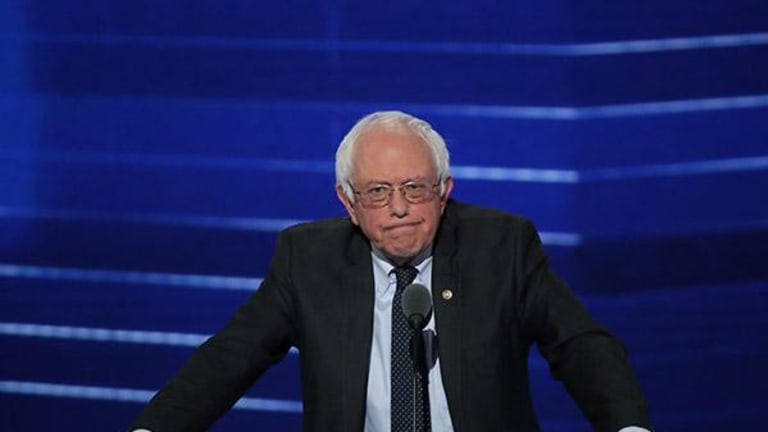 When Democratic stars to the party's liberal base like Senators Elizabeth Warren and Bernie Sanders took the stage at the Democratic National Convention last night at the Wells Fargo Arena in Philadelphia, they were not given the attention usually afforded such figures as they speak. Protest chants could be heard throughout the arena and by those watching on TV: "Stop TPP." 
Opposition to the Trans-Pacific Partnership has become a rallying point for many at the DNC.
The 12-country trade deal was signed by President Barack Obama in February and currently awaits congressional approval; but it has already met with disapproval from political candidates in both parties and many of their supporters. Hillary Clinton initially backed the agreement but later shifted her stance to say it did not meet her standards. Bernie Sanders and Donald Trump have consistently railed against it.
There is no specific language opposing the TPP in the Democratic Party platform, but many in the convention are bent on making their hostility to the deal known.
Signs and pins reading "No TPP" and "Stop TPP" are clearly visible in the convention arena and in downtown Philadelphia this week, and the excitement surrounding the issue isn't likely to die down anytime soon.
The crowd shouted, "No TPP!" over convention speakers like Representative Elijah Cummings, Warren and Sanders, shaking their signs in the air.
"TPP gives away too much. The free trade agreements that America has negotiated have given away too much -- labor unions across the board are generally against TPP, it's bad for labor," said Chad Nodland, a super delegate from Bismarck, N.D. inside the Wells Fargo Arena on the first day of the convention. Nodland decided to support Sanders about a year ago and is one of the few super delegates to do so.
"I believe in actual free market economics in that Adam Smith kind of way," said Mark Lasser, a delegate from Denver, referencing The Wealth of Nations author. "And in order to do that, everybody has to have the same information going to the market and be operating on a level playing field. When you have a trade agreement and some countries' governments subsidize an industry massively and they can import that product, we are dealing not with a true supply and demand equilibrium point."
Lasser, a Sanders supporter who says he will never cast a vote for Clinton, emphasized that the TPP isn't the only trade deal he takes issue with.
"I can't think of one of them that has worked well in favor of the American middle and working class, and even to some degree, I'm not sure how well they even work for the wealthy class," he said.
New Jersey delegate Wayne Lewis took a less economy-focused tack in explaining his opposition to the TPP. "If you're serious about climate change, you have to oppose the TPP, because it's very friendly to the fossil fuel industry," he said.
He also pointed to investor-state dispute settlements that allow investors to dispute settlement proceedings against a foreign government. "What it essentially does is it grants more rights to transnational corporations, which aren't loyal to any particular country, than it does to sovereign nations," he said.
Brian Ertz, a member of the DNC rules committee from Idaho sporting a Robin Hood hat, outlined his case against the TPP.
"The TPP would establish a regime which by 40% of the world economy is governed by corporate interests, or by private interests, who would be able to remove labor achievements, would be able to remove environmental achievements and force democratic governments to pay for the insistence or for the profits lost as a result of environmental regulation, as a result of labor benefits, as a result of other substantive public interest accomplishments that communities achieve through their own democratic processes," he said.
Some have simpler feelings on the matter. "Stop TPP, that's what we want right there," said one woman, spotting buttons laid out at a table.