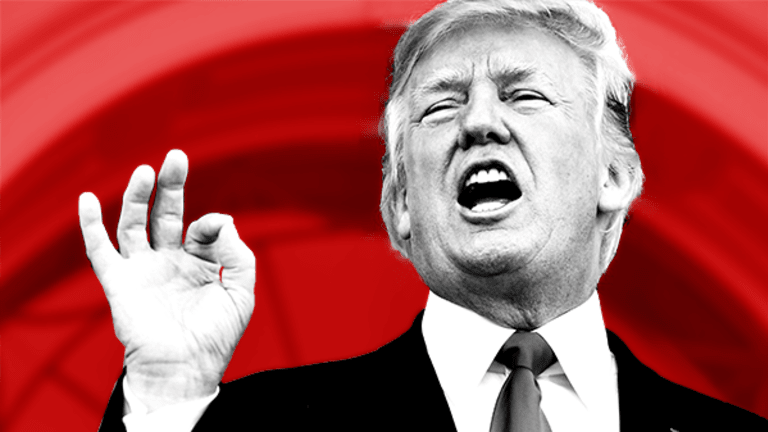 Stock Prices Say Things Are Not Going Great For President Trump
A day after Donald Trump had his worst day of the year, the S&P 500 and the Dow had their second-worst.
A day after Donald Trump had his worst day of the year, the S&P 500 and the Dow had their second-worst.
Growing uncertainty out of Washington, D.C. and the brewing crisis surrounding the president's equivocal response to racist violence in Charlottesville, Virginia, weighed on stocks on Thursday. The Dow Jones Industrial Average fell by 1.25%, the S&P 500 declined 1.54%, and the Nasdaq dipped 1.94%. Safe-haven gold rallied 0.87% and the CBOE Volatility Index jumped over 30%. Investors worried what chance, if any, remains for Trump's pro-growth agenda becoming reality.
The president has gotten himself into a hole and won't stop digging, further inflaming racial tensions and a divide in the Republican Party. He fired off a series of morning tweets attacking Republican Senators Jeff Flake (R-AZ) and Lindsey Graham (R-SC) and expressing his support for "beautiful" Confederate statues and monuments. By the afternoon, he had moved on to tweeting a dubious, anti-Muslim legend about a former general.
Republican Senator Bob Corker (R-TN) said he thinks there must be "radical changes" within the White House in a video posted by website Nooga.com. "He has not demonstrated that he understands what has made this nation great and what it is today, and he's got to demonstrate the characteristics of a president who understands that," he said.
Stocks were rattled early in the day on rumors National Economic Council Director Gary Cohn might head for the exit. The former Goldman Sachs (GS) - Get Goldman Sachs Group, Inc. (GS) Report chief operating officer is widely perceived as a leading figure in shaping tax policy under Trump and is one of the top contenders to become next chairman of the Federal Reserve.
A White House official said Cohn intends to stay on in his position, despite reports that he was disturbed by Trump's remarks on Tuesday on Charlottesville. "Nothing's changed," she said.
But even if Cohn stays on, ripples of concern are spreading throughout Washington and Wall Street that this week's events have even further hindered Trump's already limited ability to get anything done, policy-wise. If Trump is a lame duck president just seven months after his inauguration, it doesn't bode well for the deregulation, infrastructure spending and tax reform investors have been hoping for.
"There was already an awareness and resignation that he was just not going to be able to help in the traditional ways that Ronald Reagan was able to help or even George Bush," said veteran Wall Street political forecaster and Capital Alpha president Chuck Gabriel in an interview Thursday morning with TheStreet. "He really can't be your evangelist."
Tuesday's presser where Trump went off the rails defending permit-wielding white nationalists and neo Nazis was supposed to be about infrastructure.
Jack Ablin, chief investment officer at BMO private bank, said Wednesday's CEO council exodus and accompanying statements dinging Trump may be a sign corporate America isn't as bullish about a tax bill as it used to be.
"If they felt that corporate tax reform were imminent, many would have stayed onboard to try to shape the legislation," he said. "Having that group kind of walk away suggests that perhaps tax reform isn't as close as we may have thought."
To be sure, markets have become increasingly impervious to Trump's antics since his inauguration. But as the landscape surrounding his young presidency becomes increasingly hazardous, that could change. And if it does, it might be a while before Trump is back to tweeting about stocks.
Don't miss these top stories on TheStreet:
Cocoa Prices Are Plunging. Here's What It Means to Hershey
These 10 Office Catch-Phrases Will Drive Your Coworkers Absolutely Insane
Editors' pick: Originally published Aug. 17.