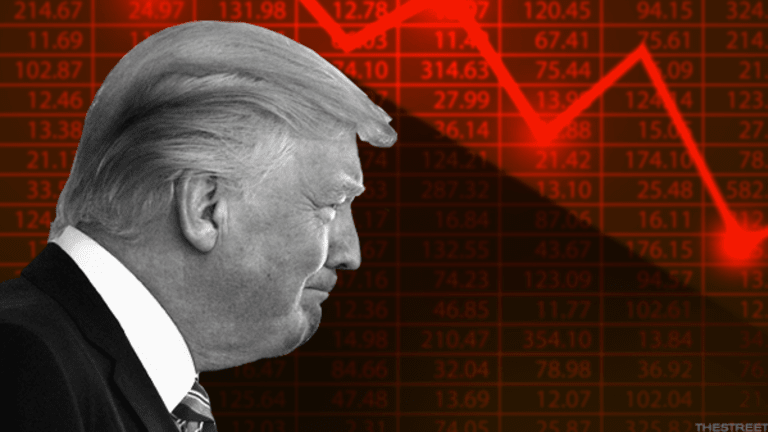 Stock Market Still Betting on Trump as Tax Debate Looms
President Donald Trump has developed a habit of touting the stock market as a measure of his success. It's a risky proposition.
President Donald Trump has developed a habit of touting the stock market as a measure of his success. And as attention turns to the thing really driving investor optimism -- tax reform -- it becomes a risky proposition.
Eyes on Wall Street have turned to tax legislation as healthcare efforts on Capitol Hill have faltered. The prospect of Republicans in control of both houses of Congress and the White House buoyed investor confidence in the wake of the 2016 election that corporate tax cuts and a repatriation holiday could be on the horizon. Now it's time to deliver.
The S&P 500 has climbed about 15% since the day after the election. The Dow Jones Industrial Average, which reached the 20,000-point milestone five days after Trump's inauguration, has rallied nearly 18%, and the Nasdaq has gained around 22%. Stocks have added about $3.2 trillion since Election Day, per the Wilshire 5000, which tracks all of the stocks actively traded in the United States. (The president recently rounded that up to $4 trillion.) 
President Trump tweeted about the market over the weekend in between tweets about the women's golf tournament hosted at his New Jersey course.
Tax reform is widely perceived as a must-win issue among Republicans and, to a certain extent, on Wall Street. And the markets could be in for a correction should efforts falter.
"Because many things factor into market valuation, you can't pinpoint it on any one thing," said Robert Keiser, vice president at S&P Global Market Intelligence. "The market is clearly more highly-valued today than it was at year-end or before the election. Some of that optimism reflects hope that tax reform and tax cuts will be delivered by the White House."
The forward price-to-earnings ratio of the S&P 500 was 16.5 on November 4, 2016, the Friday before the election. By December 30, 2016, it had climbed to 17.7. Currently, it's about 18.4.
"This is only a high-level, broad-based market observation, but there remains a good deal of Trump-agenda optimism priced into the stock market, from the forward P/E ratio perspective," Keiser said.
"Market multiples take into account all sorts of things in determining the market multiple, like interest rates, economic growth, commodity prices, individual companies' prospects, flows into mutual funds and ETFs, and other political risks, just to name a few," said Ed Cissold, chief U.S. strategist at Ned Davis Research Group.
While opinions vary on whether a tax reform failure would really spur a major market correction, there's little doubt investors would rather have tax cuts than not.
JPMorgan Chase (JPM) - Get JPMorgan Chase & Co. Report CEO Jamie Dimon last week in a profanity-laced rant on the bank's earnings call last week expressed frustration at inaction in Washington on taxes and elsewhere. "It's almost an embarrassment being an American citizen travelling around the world and listening to the stupid s--- we have to deal with in this country," he said. "And you know at one point we all have to get our act together."
Blackstone Group (BX) - Get Blackstone Inc. Report CEO Stephen Schwarzman in an interview with CNBC on Tuesday said he might not echo Dimon's "language choice" but understands the sentiment, though he remains optimistic. "I'm much more hopeful in terms of tax reforms or a tax cut because that's something that is achievable on some basis," he said.
Schwarzman, who is an adviser to Trump, said he expects the cylinders to start firing on the president's pro-growth agenda in the first quarter of 2018 and reflected on the markets. "The stock market was pretty fairly valued, so whenever there's anything that's discordant, you feel it," he said.
"The market hasn't given up yet," Keiser said.