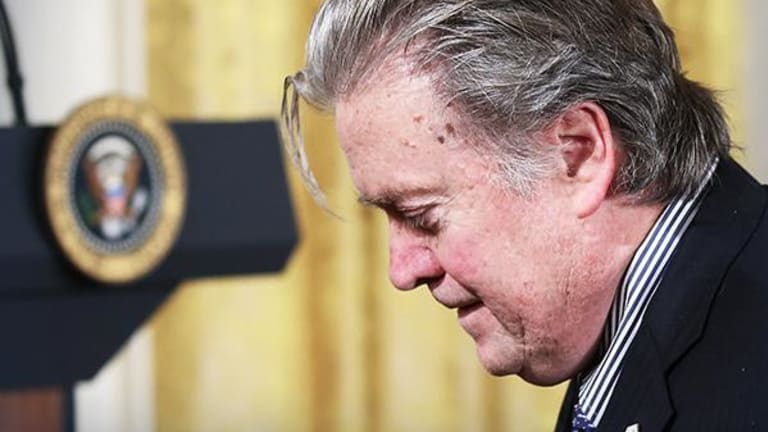 Steve Bannon Is Out as White House Chief Strategist
White House chief strategist Steve Bannon is out.
White House chief strategist Steve Bannon is out.
Chief of Staff John Kelly and Bannon "mutually agreed" that Friday would be his last day, according a statement from White House Press Secretary Sarah Huckabee Sanders. "We are grateful for his service and wish him the best," she said.
President Donald Trump previously told senior aides that he had decided to remove Bannon, The New York Times reported on Friday. Matt Drudge was first to report Bannon's exit.
Speculation has mounted in recent days that Bannon, the former executive chairman of Breitbart News, might be on the way out. The normally press-shy figure granted a series of on-the-record interviews in recent days, including one with the liberal-leaning American Prospect. 
The Times reported Bannon submitted his resignation to the president on August 7 and planned to announce it at the start of this week. However, the events in Charlottesville, Virginia, over the weekend delayed the announcement.
The president speaking to reporters at Trump Tower on Tuesday called Bannon a "good man" but declined to say whether he still has confidence in him. "He's a friend of mine, but Mr. Bannon came on very late," he said. Bannon became chairman of the Trump campaign in August 2016.
Bannon, 63, has been one of the most controversial figures in Trump's orbit. A right-wing nationalist, he was widely perceived as the keeper of Trump's economic populist agenda. 
Breitbart announced on Friday afternoon that Bannon would return to the outlet as executive chairman.
Bannon is the latest in a string of top officials to exit the Trump administration in recent weeks, including Sean Spicer, Anthony Scaramucci and Reince Priebus. 
- Updated with Bannon's return to Breitbart.
Don't miss these top stories on TheStreet:
Tesla's Many Would-Be Rivals Are Chasing a Speeding Target
These 10 Office Catch-Phrases Will Drive Your Coworkers Absolutely Insane