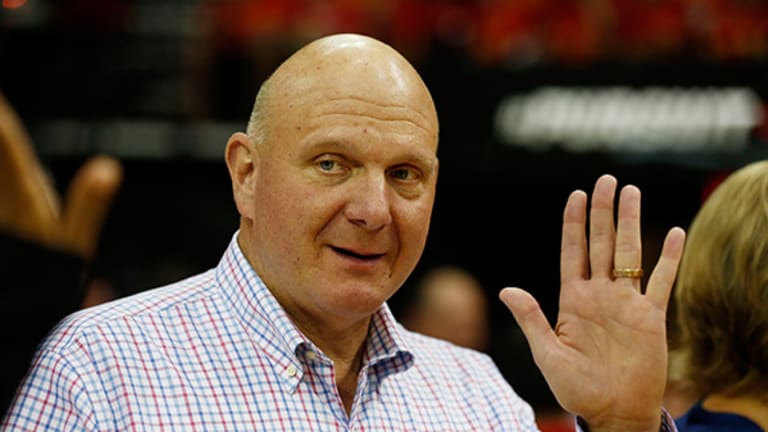 Steve Ballmer Looks to Make Facts Great Again in Era of Trump
"Numbers don't know whether they're liberal or conservative," Steve Ballmer declared at a luncheon in Midtown Manhattan on Tuesday -- a bold statement in the era of Trump.
"Numbers don't know whether they're liberal or conservative," Steve Ballmer declared at a luncheon in Midtown Manhattan on Tuesday -- a bold statement in the era of Trump.
The former Microsoft (MSFT) - Get Microsoft Corporation (MSFT) Report CEO addressed the New York Economic Club to present his newly-launched USAFacts, a project three years in the making that seeks to improve political disclosure and make government financial data easier to access. Characterized as a sort of 10-K for government (annual filings made by publicly-traded companies), the endeavor gathers public data to help the American people see where their tax dollars are going.
"Government's kind of big," Ballmer told the crowd of about 200. "Across government, there's a lot of shared responsibility for getting things done, but there's a lot of distributed authority and, in many ways, very weak alignment."
USAFacts is a nonpartisan effort to create a fully-integrated database of revenue and spending across local, state and federal governments. It draws from the preamble of the U.S. Constitution to identify four missions by which the government can be measured:
Establish justice and ensure domestic tranquility
Provide for the common defense
Promote the general welfare
Secure the blessings of liberty to ourselves and our posterity.
It separates those missions into sub-missions for measurement -- what the government is doing and where it's spending on items like economy and infrastructure, education, crime and disaster, foreign affairs, and the American dream, among others.
"If you want to have comprehensibility, you need a structure," Ballmer said. "This is our fundamental framework, and we think it comes simply out of the Constitution."
Ballmer, 61, spoke with Charlie Rose following his presentation on USAFacts and, despite the veteran journalist's best efforts, declined to weigh in on whether the platform's findings were good or bad. USAFacts has released reports of varying sizes and has a searchable database. (The unexpected popularity of the site's launch on Tuesday caused some technical difficulties.)
"Value judgments by me are not that important," Ballmer said, adding he is not running for office and never will.
He sought instead to highlight "surprising insights" -- for example, home fires are down 50% since 1980 while the population has grown by 42%, and about 6% of military spending is on durable goods.
"It's not important that we all agree, it's important that we engage," he said.
The launch of USAFacts comes at a unique political moment, with many Americans unable to agree on even the most basic truths and many wondering whether we now live in a "post-fact" world.
Presidential adviser Kellyanne Conway made headlines just a few months ago for coining the term "alternative facts." A Wisconsin poll this week showed wild swings in Republicans' and Democrats' opinions of the state of the economy since Trump's election, despite no significant changes.
Ballmer said he has shared the project's findings with both Democrats and Republicans and gotten no feedback that it's partisan. He also noted USAFacts is being launched on Tax Day, which he said reflects a "certain poetic justice."
Ballmer served as CEO of Microsoft from 2000 to 2014, succeeding company founder Bill Gates. He left behind a mixed legacy at Microsoft. He oversaw the successful buildout of the company's Xbox videogame business and its $8.5 billion acquisition of Skype. He also faced fierce criticism for failing to capitalize on new technologies as growth slowed and Microsoft stock stagnated.
Ballmer acknowledged that he had a "tough year" after exiting the company when asked by Rose, recalling playing over 100 rounds of golf during that time. He said he had hoped to stay at the company for another couple of years but had always planned for a second phase.
"If we couldn't agree on strategy, it made sense for me to go," he said. "My life plan had been to work and then have a second phase of life."
He bought the Los Angeles Clippers basketball team in 2014. On Tuesday, he spoke animatedly about the team, which will face off against the Utah Jazz in the NBA playoffs this evening.
"Thank goodness the LA Clippers were forced to be sold," he said. 
Editor's pick: Originally published April 18