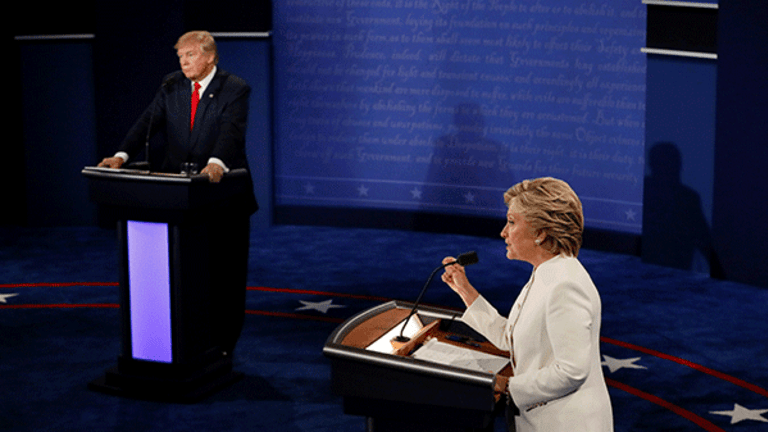 Publish date:
Steady as She Goes Clinton Beats Wildcard Trump, Economic Report Says
Hillary Clinton may not bring radical change to Washington, D.C., but she is better than the alternative, according to a new report from the Official Monetary and Financial Institutions Forum.
Hillary Clinton may not bring radical change to Washington, D.C., but she is better than the alternative, according to a new report from the Official Monetary and Financial Institutions Forum.
Editors' pick: Originally published Oct. 28.
Hillary Clinton will likely perpetuate President Barack Obama's economic policies if she wins the White House, while Donald Trump's plans could herald trade wars around the globe and the loss of millions of jobs at home, according to a
new report
from the Official Monetary and Financial Institutions Forum.
"A series of paradoxes lies at the heart of the candidacy of Hillary Diane Rodham Clinton," wrote David Marsh, managing director of the London-based research network, in its third report of its presidential election series, released Friday. While the former secretary of state is the more conventional and predictable candidate, her policies "provide the steady hand that American and world economic and political circumstances require."
A Clinton victory is both "realizable and, on balance, desirable," Marsh wrote in the report. Trump, on the other hand, represents a risk the U.S. and the world should not take, he and the other report authors advise.
The real estate magnate has had the benefit of being able to criticize the Democratic approach to inequality over the past eight years under the Obama administration, wrote Ron Haskins, senior fellow in economic studies at Washington, D.C.-based think tank the Brookings Institution. His policies, however, appear unlikely to address the underlying challenges at the root of rising poverty and inequality.
The GOP nominee insists that reducing immigration, deporting illegal immigrations, lowering tax rates and reforming the nation's trade policies are the key to stimulating economic growth and reducing competition from foreign workers. Haskins points out that "structural factors play a significant role in poverty and inequality in the U.S., and must be tackled directly by active policies," something Trump's approach would not do.
"Trump's fiscal arithmetic fails to add up," wrote Jeffrey Frankel, professor of capital formation and growth at Harvard University.
Trump has proposed to cut the corporate tax rate to 15% from 35% and reduce taxes on the wealthy without broadening the tax base, resulting in a significant loss of revenue. Trump insists his plans will lead to 3.5% economic growth annually, but as Frankel pointed out, he fails to offer "any good reason to expect it to happen."
Frankel isn't the first person to make this argument.
The Committee for a Responsible Budget estimates Trump's plans would increase the federal debt by almost $16 trillion over a 20-year period, while Clinton's plans would reduce it by about $500 billion. A Tax Policy Center analysis concludes Trump's platform would lead to a $6.2 trillion decline in federal revenue over the course of a decade -- a figure the Trump camp disputes -- and the Tax Foundation estimates revenue would fall by $4.4 trillion to $5.9 trillion over 10 years, depending on Trump treats the pass-through business tax rate.
The OMFIF report points to several other Trump-related red flags.
Global markets appear jittery about the prospect of a Trump presidency, as noted by a recent report from economists Justin Wolfers and Eric Zitzewitz. During the first presidential debate, where Clinton was widely considered to best Trump, U.S. equity markets rose, apparently heartened by a perceived improvement in her chances at winning in November.
Trump's protectionist trade policies are worrying to many as well. "Higher import costs associated with Trump's policies would probably stoke inflation and impede an orderly normalization of interest rates," wrote Desmond Lachman, resident fellow at conservative think tank the American Enterprise Institute.
He cited research from the Peterson Institute for International Economics indicating Trump's trade policies could lead to the loss of almost 4.8 million private sector jobs as a result of trade wars.
Otaviano Canuto, executive director at the Board of the International Monetary Fund at the World Bank, echoed trade-related concerns. "When one considers the possibility of stricter US protectionism, reciprocal reactions abroad and subsequent trade wars, the economic threat to the US and the rest of the world accelerates. The negative impact would be particularly felt by those low-skilled, low-income workers who are more likely to believe they would benefit from curbing trade," he wrote.
Canuto notes that both Trump and Clinton have proposed trade policies that depart from U.S. tradition, but the report casts doubt as to how hard of a line the former first lady will take on the issue once actually in office. Clinton previously supported the Trans-Pacific Partnership but says now that she opposes it in its current form, arguing that it does not meet her standards. Should it be amended later down the line, she may very well change her tune.
Clinton's presidential bid has by many been perceived as largely a third term for President Obama, and on that front, the OMFIF authors appear to agree.
"Hillary Clinton's economic policies would be in continuity with those of Barack Obama -- broadly Keynesian neo-liberal," wrote Meghnad Desai, an economist at the London School of Economics. "The neo-liberal dimension forces budgetary discipline and urges caution about incurring more debt, even in the case of sound infrastructure spending. The Keynesian aspect emphasizes that a high level of employment has priority over fighting inflation. Luckily for Clinton, inflation is currently low, so she can concentrate on keeping unemployment down."
He predicts Clinton will focus on three main structural issues: infrastructure, labor force participation and productivity.
To be sure, it comes as little surprise that a group of elite economists and researchers would prefer a Clinton presidency to a Trump one. The rejection of the elites and the overthrow of the establishment is at the very foundation of Trump's campaign.
"I want the entire corrupt Washington establishment to hear and to heed the words I am about to say. If we win on November 8th, we are going to Washington, D.C., and we are going to drain the swamp," Trump said in prepared remarks delivered in Ohio on Thursday, repeating a line he has adopted in the final weeks of his campaign.
A Trump spokeswoman did not respond to request for comment on the OMFIF report.