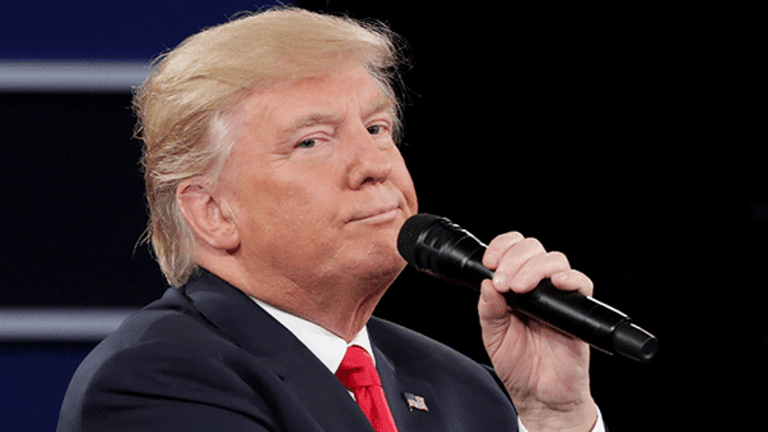 So Far, Donald Trump Is All Talk and No Action on Media Threats
Donald Trump has spent much of the past 24 hours lashing out at media reports of sexual misconduct. But thus far, he appears to be all bark and no bite.
Editors' pick: Originally published Oct. 13.
Donald Trump has spent much of the past 24 hours lashing out at media reports of his sexual misconduct, going as far as to threaten a lawsuit against The New York Times. So far, he's been all talk and no action.
Trump went on the attack Thursday after a slew of stories on women accusing him of inappropriate sexual behavior. He took to Twitter to refute the allegations and insisted at a Florida rally that the claims are "totally and absolutely false." His lawyer sent a letter to Times editor Dean Bacquet threatening to sue the newspaper, which Wednesday evening published the accounts of two women who say Trump groped them years ago.
The phony story in the failing @nytimes is a TOTAL FABRICATION. Written by same people as last discredited story on women. WATCH!
- Donald J. Trump (@realDonaldTrump) October 13, 2016
"These claims are all fabricated, they're pure fiction, and they're outright lies," he told a crowd of supporters in Palm Beach. He called the reports "slander and libels" orchestrated as part of a "concerted, coordinated and vicious attack" by Hillary Clinton's campaign and the media.
In the letter to the Times, Trump lawyer Marc Kasowitz demanded a retraction and an apology.
"Your article is reckless, defamatory and constitutes libel per se," he wrote, citing the timing of the article -- just days after a video emerged of Trump making lewd comments about women -- as proof that it is politically motivated. "Clearly, The New York Times is willing to provide a platform to anyone wishing to smear Mr. Trump's name and reputation prior to the election irrespective of whether the alleged statements have any basis in fact."
Kasowitz's letter doesn't cite any factual errors in the Times' article.
Trump is known for his litigious nature -- a USA Todayanalysis found he and his businesses have been involved in at least 3,500 legal actions over the past 30 years. Some of the people he's sued in the past include reporter Timothy O'Brien and comedian Bill Maher.
The Times is standing by its story, which a spokeswoman said "falls clearly into the realm of public service journalism." It responded with a letter of its own Thursday, essentially daring Trump to sue.
"We did what the law allows: We published newsworthy information about a subject of deep public concern. If Mr. Trump disagrees, if he believes that American citizens had no right to hear what these women had to say and that the law of this country forces us and those who would dare to criticize him to stand silent or be punished, we welcome the opportunity to have a court set him straight," wrote Times lawyer David McCraw.
If Trump were to go through with his threats and sue the Times, he would be facing a likely impossible battle, said Robert Dreschel, professor of journalism and mass communication at the University of Wisconsin.
"He could sue, of course, but he would lose," Dreschel said.
It would be up to Trump to prove that Times' allegations were false, and neither the newspaper nor the women involved would have to prove they were true. Even if he were able to do so, he would also have to produce showing that the Times knew the allegations were false and published them anyway.
"There is virtually no chance whatsoever that he could succeed in a libel suit," Dreschel said.
People Magazine, which Wednesday evening published a journalist's first-hand account of being accosted by Trump in 2005, also faced the self-described billionaire's wrath on Thursday. He attacked the outlet and accuser at the Florida rally and on Twitter, asking why she hadn't reported the incident years ago.
Why didn't the writer of the twelve year old article in People Magazine mention the "incident" in her story. Because it did not happen!
- Donald J. Trump (@realDonaldTrump) October 13, 2016
People, like the Times, is standing by its story. "We are grateful to Natasha Stoynoff for telling her story. Ms. Stoynoff is a remarkable, ethical, honest and patriotic woman, and she has shared her story of being physically attacked by Donald Trump in 2005 because she felt it was her duty to make the public aware. To assign any other motive is a disgusting, pathetic attempt to victimize her again. We stand steadfastly by her, and are proud to publish her clear, credible account of what happened," said editor in chief Jess Cagle in a statement.
A Trump spokeswoman denied the claim in a statement to People, arguing "there is no merit or veracity to this fabricated story." The Trump campaign has not taken any subsequent action.
"You take look, look at her, look at her words, you tell me what you think," CNN reported Trump said about Stoynoff at a rally in West Palm Beach, Florida, on Thursday afternoon. "I don't think so."
A BuzzFeed News spokeswoman said the Trump campaign did not respond to requests for comment on their report that Trump visited beauty pageant dressing rooms (something the candidate bragged about to Howard Stern).
"My first thought is that this is a way of getting attention for his denial and perhaps attacking the liberal media, or something of that nature," said Dreschel. "But I don't think that there is any validity to the actual legal threat here, no."