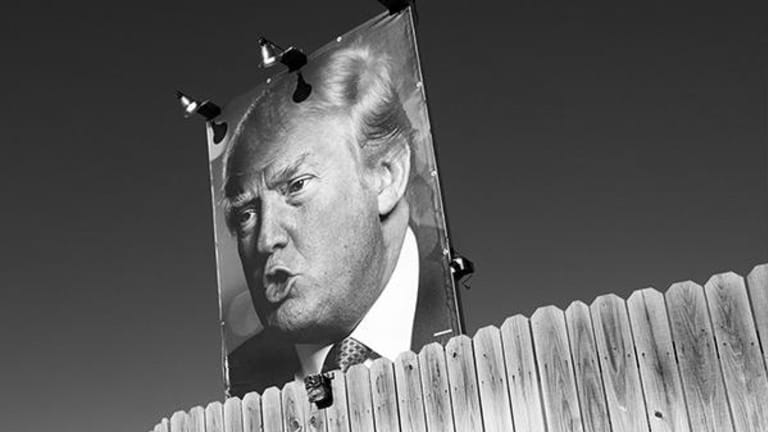 Publish date:
Small Caps Soared on Trump Rally, Now Fizzling Out
The Trump rally made small cap investing really fun for a while -- and is now making it much more precarious.
The Trump rally made small cap investing really fun for a while -- and is now making it much more precarious.
The Trump rally made small cap investing really fun for a while -- and is now making it much more precarious. The Russell 2000 index, which tracks small-cap stocks, declined 2.5% on Tuesday, marking its worst performance in six months.
Donald Trump's November election pushed small cap stocks' price-to-earnings ratios to near-record levels thanks to expectations for tax reform and economic growth under the new administration. The Russell 2000 index climbed 16% in the back half of the year. Small-cap ETFs saw $12 billion in inflows in the fourth quarter of 2016 and an additional $3 billion in in the early months of 2017. But in recent weeks, investors have begun to waver as the stock-boosting activity anticipated from Capitol Hill appears farther out on the horizon than expected. The Russell 2000's Tuesday decline wiped out all of its 2017 gains.
"While outsized domestic exposure, leverage to stronger economic growth and tax reform are clear positives, the timing and magnitude of the boost are unclear, with increasing risks that reform is pushed out," wrote Goldman Sachs analysts in a note on Friday. "Indeed, the muted performance of the Russell 2000 thus far in 2017 suggests that expectations may be catching up with reality."
The S&P 500 fell more than 1% on Tuesday, its biggest drop since October, as investors appear increasingly doubtful that Trump's promised tax reform, infrastructure spending and deregulation will come to fruition.
Corporate tax cuts have been the biggest driver of small-cap optimism, and with that being pushed back farther than initially anticipated, the scenario is looking less rosy.
Trump campaigned on a plan to reduce the corporate tax rate to 15%, while House Republicans proposed a 20% rate. Either would be significantly lower than the current rate of about 35%.
Small-cap companies are among those that stand to benefit most from a corporate tax rate reduction.
"The tax reform potential could be much more beneficial to small caps because they already pay higher taxes than the large caps do," said Ryan Detrick, senior market strategist at investment advisory firm and broker LPL Financial. "Any major cuts to the tax code could really help small caps exponentially over large-caps."
The market appears to have priced in tax cuts as though they would come in the first half of 2017, if not in the first 100 days. But now, tax reform is looking like it will come in the fall at the earliest and perhaps not even until 2018 has lawmakers have settled on attempting to tackle healthcare reform first.
"We don't see what [Trump's] going to get done, and yet the market expected him to do a lot, and it's not going to be the case, or it hasn't been the case yet," said Jefferies analyst Steve DeSanctis.
Beyond the question of when tax reform might happen is also what it might look like. DeSanctis said a corporate tax rate reduction to 22% could result in earnings growth of 20 percentage points in small caps to over 30% -- but that doesn't account any revenue-raising measures that could be included as well.
The border-adjustment tax, which taxes imports and exempts imports, could have a major effect on small-cap retailers, for example. So could interest deductibility, which the current House GOP plan disallows.
"There are so many other lines," DeSanctis said.
Small caps' exposure to economic growth could be another hurdle. U.S. GDP growth was 1.9% in the fourth quarter of 2016, and the Atlanta Federal Reserve recently revised its first-quarter economic growth forecast to 1.2% -- a far cry from the 3.5% Trump has promised to deliver.
The Federal Reserve raised interest rates on March 15 and is on track to do so again twice more this year, signaling that the economy is doing well but also seeking to slow it down.
"Small caps were the most expensive they had been in going into a Fed hiking period. That doesn't bode well," DeSanctis said. "People are going to get nervous based on the fact that if we don't get GDP to pick up, we don't get earnings up, then we don't justify that small cap is at 18-times earnings."
To be sure, not all recent sluggishness among small cap stocks or in general can be blamed on wavering faith in the Trump rally. 
"With the massive run that small caps saw the last two quarters of last year, some potential consolidation, maybe even a little underperformance in the first quarter is not too much of a surprise to us," said Detrick.
Investors do appear to be entering into a phase where a more active approach to investing is preferable, due to higher rates, the potential for more volatility and a low-return environment.
"Probably of all years that you'd want to have an active strategy, it would be this year," said DeSanctis, pointing to technology and financials as potential areas for opportunity as opposed to materials and telecom. 
"Clearly for the last five years, you could have been passive," said Detrick. "Trends don't last forever, and to have multiple years of passive doing so well, times do change."
He pointed to tech as a sector his firm likes despite what he deemed over-the-top worry about the industry right after the election. As to what to avoid, he suggested telecoms and utilities.
"The small-cap backdrop remains difficult to navigate with the index trading near all-time highs, earnings estimates moving in the wrong direction and increased uncertainty around the timing/boost from policy reform," said Goldman analysts on Friday. "We prefer stocks with 1) idiosyncratic drivers, 2) valuation support and 3) potential positive revisions."
As the Trump rally begins to waver as the reasons that drove it appear less certain than before, it is small cap stocks that did the most climbing recently that could be the riskiest bet, at least in the short-term.
"The intraday news, you can get some volatility, but clearly just the overriding uncertainty of when the tax reform will hit has definitely put a cap on them," Detrick said.
-- Updated with Tuesday stock performance.