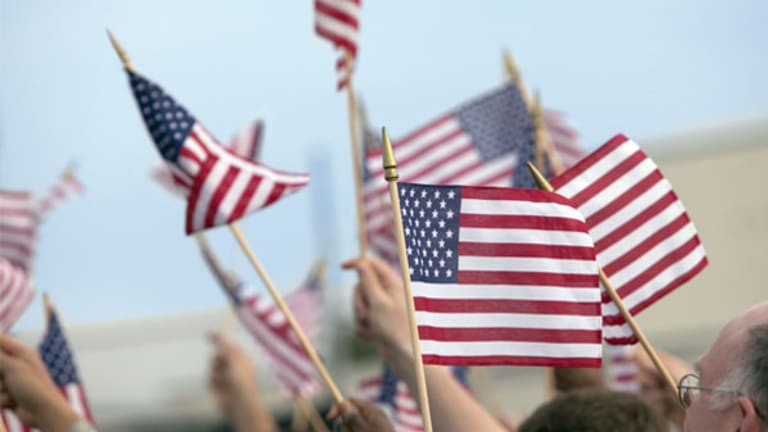 Silicon Valley: John Thompson for Commerce
America's tech heartland wants to see the outgoing Symantec CEO in a top Washington role.
America's tech heartland wants to see the outgoing Symantec CEO in a top Washington role.
Silicon Valley is keen to see
Symantec
(SYMC) - Get Report
CEO John Thompson assume one of the top jobs in President Obama's Cabinet after Republican Sen. Judd Gregg recently turned down the role of Commerce Secretary.
Gregg withdrew his name from the Commerce Secretary nomination last week, citing disagreements over the president's economic stimulus package and the Census. The New Hampshire senator is the second person to bow out of the Commerce Secretary's role after New Mexico governor Bill Richardson withdrew his own nomination last month following an investigation into his business dealings.
In the weeks leading up to Gregg's nomination, Thompson was rumored to be one of the front-runners for the Commerce Secretary job, and attention is again being focused on the Symantec CEO.
"John understands business and the economy
and as a long-time successful Silicon Valley CEO, he knows the innovation economy," wrote Carl Guardino, president of the Silicon Valley Leadership Group, which aims to bring together top executives and officials in America's technology nerve-center.
Guardino told
TheStreet.com
that he would like to see Thompson heading the Department of Commerce, citing his proven ability to run large organizations and his existing links to Obama.
"The Department of Commerce is a large agency with thousands of employees, and John is an inspirational leader that motivates employees, sets clear goals and helps employees understand how their roles help achieve those goals," he said.
Thompson, a vocal supporter during Obama's presidential campaign, will
as Symantec CEO in April, prompting much speculation about his
. The 59-year-old has said that he has
no political aspirations
, although his name has repeatedly been linked with top Washington jobs.
Silicon Valley is certainly keen to see one of its own in a key leadership role within the Obama Cabinet.
"John Thompson offers the Obama administration an entrepreneurial spirit and understanding of market conditions that is informed by the digital age," wrote Thom Bailey, director of product management at networking giant
Citrix
(CTXS) - Get Report
, in an email to
TheStreet.com
. "His grasp of industry trends, business life cycles, and a relentless pursuit of consensus-building will make him an excellent Washington insider."
During his 10 years as Symantec CEO, former
IBM
(IBM) - Get Report
veteran Thompson oversaw the company's growth from a small consumer-oriented outfit to become one of the world's
largest security
and storage software firms.
Thompson already has strong links with Washington, and, at 59, has plenty of time to pursue new opportunities. In 2002, president Bush appointed him to the National Infrastructure Advisory Committee to make recommendations regarding the security of critical U.S. infrastructure. The executive has also served as chair of the Silicon Valley Blue Ribbon Task Force on Aviation Security and Technology.
A graduate of Florida A&M University and MIT's Sloan School of Management, Thompson also serves on the boards of
UPS
(UPS) - Get Report
and storage specialist
Seagate
(STX) - Get Report
.
Citrix's Bailey feels that appointing Thompson Commerce Secretary would spell good news for the U.S. tech sector at a time of increasing competition from emerging markets such as China and India.
"It may yield a boon for Silicon Valley and other US tech sectors as John Thompson helps to shape policy which includes emerging IT technology and practice," said the executive, who spent 12 years at Symantec earlier in his career.
A spokesman for Symantec said that the company does not "have any information to share" on the possibility of Thompson swapping Cupertino for Commerce Department.
Obama has largely opted for political rather than industry experience in his Cabinet, as reflected in the appointments of Hillary Clinton as Secretary of State and Robert Gates as Secretary of Defense. Whether the president will choose a Washington insider over a CEO for the Commerce Secretary's role remains to be seen, although his predecessor George W. Bush was keen to recruit from all sectors.
Paul O'Neill, the former chairman and CEO of aluminum giant
Alcoa
(AA) - Get Report
, for example, served as Bush's Treasury Secretary between 2001 and 2002 and his successor John Snow was CEO of railroad company
CSX
(CSX) - Get Report
prior to his Treasury appointment.
Donald Evans, Bush's Commerce Secretary between 2001 and 2005, also had a background in the private sector, where he had worked as CEO of energy company Tom Brown. Former Vice President Dick Cheney also spent time in the corporate world, where he had been CEO of
Halliburton
(HAL) - Get Report
, but had also served as Secretary of Defense during George Bush senior's presidency.