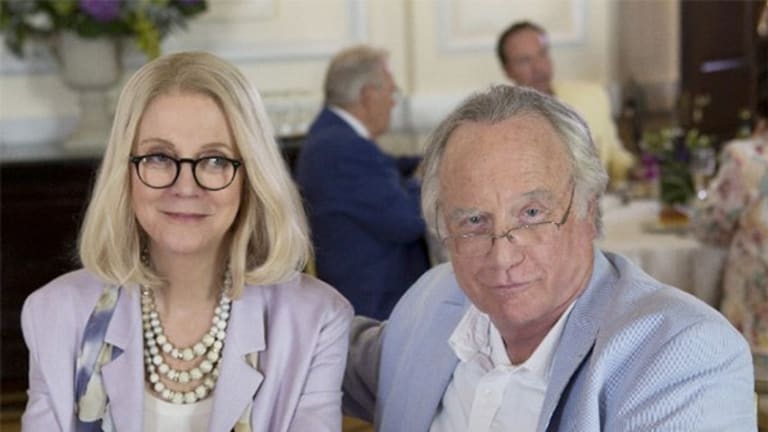 Publish date:
Should Regulators Have Known About Madoff? Richard Dreyfuss Thinks So
At the red carpet premiere of ABC's "Madoff," Richard Dreyfuss and cast talk about greed, betrayal and Wall Street regulators who missed clues about the world's largest Ponzi scheme.
At the red carpet premiere of ABC's "Madoff," Richard Dreyfuss and cast talk about greed, betrayal and Wall Street regulators who missed clues about the world's largest Ponzi scheme.
Caught at the end of a red carpet near Washington Square Park in New York, Richard Dreyfuss considered whether government regulators should have more aggressively pursued leads that Bernie Madoff was a fraud.
"Are you kidding?" Dreyfuss cackled. "We should have demanded more of the regulators. We should have demanded that Wall Street behave like human beings."
Dreyfuss, known more for his acting and less for his opinions on the financial markets, plays the lead role in ABC's Madoff, a mini-series about the affair that airs on Wednesday at 8 p.m., eastern time. With hindsight being as it is, Dreyfuss isn't alone in thinking authorities could have done more.
The Securities and Exchange Commission missed multiple signals that Madoff, the affable and powerful Wall Street player, was running the largest Ponzi scheme in history. It all unraveled, of course, in late-2008 as stocks tumbled in the wake of the Lehman Brothers bankruptcy, the closing of Bear Stears and the government takeover of mortgage giants Fannie Mae and Freddie Mac.
By the time Madoff's bewildered and emotionally broken sons Mark and Andy turned him in to federal agents on Dec. 10, 2008, the one-time Nasdaq president's mountain of fabricated paper had consumed more than $65 billion of investor monies. Even now, the numbers seem too large to believe. A Ponzi scheme of that size maintained over some four decades? Who was this man? Who else knew about it? And what was the SEC thinking?
"It was an easy thing to catch if the SEC had really been focused on catching people," said the show's writer Ben Robbins at the show's premiere, held Feb. 27 at New York University's Skirball Center for the Performing Arts. 
For a while, many of his investors lived spectacularly lavish lives as a result of Madoff's consistently too-good-to-be-true stock returns. The list of Madoff's victims read like a who's-who of wealthy Jewish Americans. The art collector Norman Braman, Nobel Peace Prize recipient and Holocaust survivor Elie Wiesel, real estate billionaire Mort Zuckerman, baseball star Sandy Koufax and New York Mets owner Fred Wilpon. But it should be noted that he also bilked less-wealthy folks.
"There's a knee-jerk response to Madoff's victims where people who aren't wealthy say 'they deserved it,'" Madoff director Ray DeFelitta said. "There's not a lot of sympathy for them. But the truth is that a lot of the victims were invested in other funds that handed their money to Madoff -- they didn't even know they were invested with the guy."
In one of those cameo scenes, a woman in her 90s, who together with her son, lost their life's savings, is asked her reaction to Madoff being found guilty on 11 counts of fraud, money laundering, perjury and theft, and sentenced to 150 years in prison.
"I never met him," she says, "but if I did, I'd just spit on 'em."
And then there's Ruth Madoff, who was never acquitted in the court of public opinion of the crime of knowing that her lavish lifestyle was a bold lie.
Blythe Danner plays Ruth. Danner recounted that Ruth, whose oldest son Mark committed suicide at age 46 on the two-year anniversary of his father's arrest and whose younger son Andy died in 2014 after a long battle with cell lymphoma, remains "fragile, probably still numb and trying to adapt to a new life."
"I felt that she was a victim herself," Danner said. "I really don't believe she knew. Bernie was just such a sociopath that he could keep it from just about everyone, including his own family."
But that was just the kind of diabolical villain Madoff was, the show creators learned.
"Bernie would never have been able to pull this off if he didn't have certain unique personality traits and skills," said Joe Picharello, co-executive producer for the show, in an earlier interview. "Traits that allowed him to con people and also to not have the level of guilt that all of this would normally cause."
Ultimately, though, Madoff escaped scrutiny from authorities empowered to monitor giant investment firms. The show, which was produced by Lincoln Square Productions in association with ABC Entertainment, gives considerable room to Harry Markopolos, the vexing and brilliant accountant who alerted his employer at the time and the SEC to Madoff's shenanigans.
But the SEC turned a blind eye. Seven years later, calls for heightened enforcement of Wall Street regulations are mired in partisan politics. Madoff, coincidence or not,airs right between the Iowa Caucus on Feb. 1 and the New Hampshire primary on Feb. 9.
"Financial regulation should be something that the American people are talking about," said the actor Tom Lipinski, who plays Mark Madoff. "If this show plays a role in sparking that conversation, that would certainly be great."