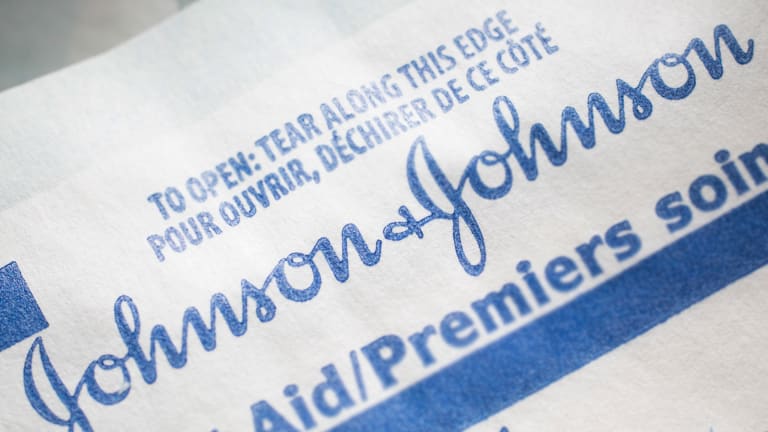 DepoMed, Opioid Makers Fall After Trump's FDA Pick Says America's Drug Addiction Is Out of Control
Washington needs to do more, Gottlieb says at his confirmation hearing.
Shares of some of the leading makers of painkillers fell in mid-day trading Wednesday after President Trump's pick to run the Food and Drug Administration called the opioid crisis a "public health emergency on par with Ebola and Zika."
"We don't fully recognize the addictive nature of these products," Scott Gottlieb, nominated to be FDA Commissioner, told members of the Senate Health Committee.
Gottlieb said Washington has a role to play in preventing overuse of the opioids but said the FDA will need help from Congress to take meaningful steps against abuse, which is blamed not only for destroying lives in its own right but also for being the major cause of rising heroin addiction in the U.S.
Gottlieb didn't spell out the specific steps Washington should take but suggested Congress could give the agency authority to consider the broader public health impact of opioids when considering approvals of new painkillers.
Shares in some of the leading opioid producers fell after he he made his remarks shortly before noon. Johnson & Johnson (JNJ) - Get Johnson & Johnson Report , whose Janssen division is a leading painkiller producer, fell from $125.59 at 10.40 a.m. to $125.09 at noon before rebounding some. Insys (INSY) dropped from $10.51 to $10.21 through mid-day trading and Depomed (DEPO) dropped from a high of $12.73 this morning to $12.21
Those three companies, along with privately held Purdue Pharma and Mylan (MYL) - Get Viatris, Inc. Report , were the subject of a demand for information about their sales and marketing practices, internal studies on addictions, details on their compliance with legal settlements and donations to advocacy groups late last month by Sen. Claire McCaskill, ranking Democrat on the Senate Homeland Security and Government Affairs Committee. Mylan shares were largely unchanged after Gottlieb's remarks.
Lawmakers in Washington and in the states are considering a number of measures to combat opioid addiction, including making anti-overdose drugs like Naxalone more widely available, limiting the amount of opioids a doctor may prescribe and expanding state-run prescription monitoring databases.
Gottlieb's comments also hit shares of two companies that make Naxalone products, such as Pfizer (PFE) - Get Pfizer Inc. Reportsubsidiary Hospira and Amphastar Pharmaceuticals  (AMPH) - Get Amphastar Pharmaceuticals Inc Report, producers of injectable naloxone for years and the targets of ire for Naxalone price hikes that have seen the price hike of a Naxalone price hike rise from $690 for a two-pack in 2014 to $4,500 today.
Gottlieb suggested that the FDA could help lower the price of Naxalone products by finding ways to speed the approval of generic versions of the drug.
Pfizer shares dropped from $44.50 around 11 a.m. to as low as $34.27 in early afternoon trading. Amphastar dropped from $14.41 at 9.50 a.m. to $14.10.
Shares of Lightlake Therapeutics (LLTP) , which developed the intranasal opioid antagonist platform technology used in Adapt Pharma Ltd.'s NARCAN Nasal Spray formulation, share its shares spike from $7.21 to $7.36 before falling off to $7.24 later in the afternoon.
Democratic Sen. Al Franken of Minnesota tried in vain to get Gottlieb to speak against GOP lawmakers plan to let states drop drug treatment from the list of mandate coverage that must be included in health insurance policies under legislation being negotiated to repeal and replace Obamacare. A compromise package being worked out between the Trump Administration and Republican moderate and conservative wings would reduce or eliminate the rundown of coverages that must be included in health insurance packages eligible for federal subsidies.
Gottlieb said he was "reluctant to opine" on matters outside the scope of the FDA's jurisdiction, which insurance is. 
Franken countered: "Residential treatment is a really good thing. If you're talking about a crisis the scope of Ebola and you don't keep residential treatment as part of the essential benefits package of insurance I don't think you're taking it as seriously as Ebola."
Much of Gottlieb's hearing was taken up by Democrats' questioning about potential conflicts of interest posed by his work as an investor an venture capitalist. Gottlieb has promised to recuse himself from FDA decisions involving 20 companies affiliated with venture capital firm New Enterprise Associates, where he has been a partner. Gottlieb said those 20 companies are ones in which has had direct involvement with. Democrats suggested he should recuse himself from decisions involving all 82 NEA portfolio firms with matters pending before the FDA.
"I do struggle to see how this will ensure your views and decisions will not be shaped by your investments," said Sen. Patty Murray of Washington, the committee's top Democrat.
But Health Committee Chairman Lamar Alexander, R-Tenn., said Gottlieb's experience should be a benefit. "In my view it helps to have somebody who knows something about the subject."