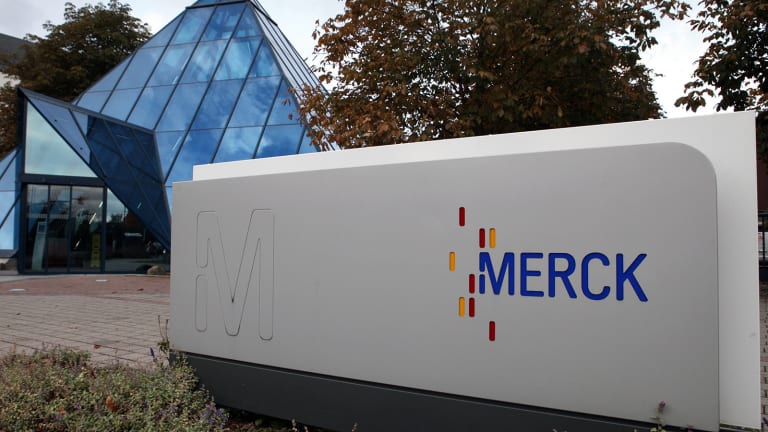 U.S. Senator Cory Booker Criticizes Pharma Companies in New Tax Report
The Trump Administration cut corporate taxes and U.S. Senator Cory Booker hoped pharma companies would cut drug prices. That didn't happen and Booker's new analysis hammers those drug companies.
Merck & Co. (MRK) - Get Merck & Company Inc. Report , Johnson & Johnson (JNJ) - Get Johnson & Johnson Report and Celgene Inc. (CELG) - Get Celgene Corporation Report may be wondering what has gotten into U.S. Senator Cory Booker, who represents their home state of New Jersey.
Booker released a detailed report taking the three companies to task -- along with seven other pharmaceutical companies -- for failing to cut drug prices following a corporate tax cut that delivered billions in savings for the companies.
In the past, Booker was a solid vote for the interests of the pharmaceutical industry and the jobs that they created in the Garden State. And his critics were quick to point out that the Big Pharma firms were generous with their support of Booker, sending more than $400,000 in contributions his way since 2013.
But the romance has soured. Booker, a leading new voice in the Democratic Party, announced last June that his acceptance of political donations coming from the pharmaceutical industry were being put on hold because they were becoming a distraction in his efforts to bring down drug prices. In February Booker said he was done taking political donations from political action committees, or PACs.
It has been rumored that Booker is among a small group of Democrats considering a run for the White House in 2020 and his new position on political donations may be a nod to that effort.
But that doesn't explain the 16-page report that not only criticizes 10 pharma companies for not lowering drug prices but outlines billions in stock buybacks as well as actual increases in drug prices. "Instead of using the windfall to benefit consumers in the form of lower drug prices, they're using their savings to line the pockets of wealthy shareholders and executives. That's unacceptable."
Booker points out that the tax cut that dropped the corporate tax rate from 35% to 21% benefited the pharmaceutical sector in particular. It not only shaved 14% off the tax rate but also gave companies that had cash stashed overseas a one-time tax break on the repatriated money, dropping the rate to 15.5% to bring those dollars home. The report pointed to the New Jersey companies Merck, J & J and Celgene, as having $21.9 billion, $41.3 billion and $6.1 billion respectively deposited overseas, according to a 2017 Credit Suisse report.
The report also noted that Merck plans a $10 billion stock buyback program and Celgene a $5 billion program because of the tax break.
Booker's report took on other companies as well. Pfizer (PFE) - Get Pfizer Inc. Report , Gilead Sciences (GILD) - Get Gilead Sciences Inc. Report , AbbVie  (ABBV) - Get AbbVie Inc. Report , Amgen (AMGN) - Get Amgen Inc. Report , Bristol-Myers Squibb (BMY) - Get Bristol-Myers Squibb Company Report Eli Lilly & Co. (LLY) - Get Eli Lilly and Company Report , and Mylan NV (MYL) - Get Viatris, Inc. Report are cited for everything from raising drug prices, to stock buybacks and putting shareholder interest before that of the public.
Merck, J&J and Celgene did not respond to a request for comment on Booker's report.
The pharmaceutical advocacy organization, Pharmaceutical Research and Manufacturers of America, took issue with the report, saying that Booker failed to point out that the same companies did use tax savings for research and development, employee bonuses and capital improvement projects.
Jim Cramer and the AAP team hold a position in Eli Lilly & Co. for their Action Alerts PLUS Charitable Trust Portfolio. Want to be alerted before Cramer buys or sells LLY? Learn more now.
Watch all of Jim Cramer's full NYSE live shows right here: