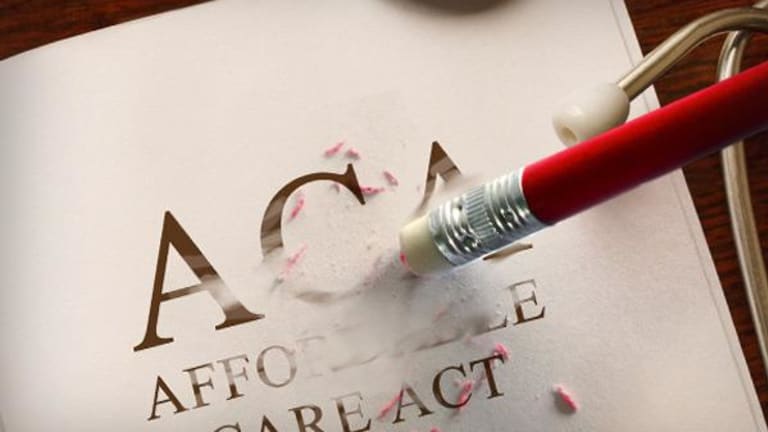 Senate Votes to Approve Motion to Proceed on Health Care
Majority Leader Mitch McConnell needed 50 out of the 52 Senate Republicans to support him.
The Senate voted Tuesday afternoon to approve the motion to proceed to debate on the House-passed health care bill, also called the American Health Care Act. While no Democrats voted in favor of the bill, 50 Republicans voted for it while two --  Senator Susan Collins of Maine and Lisa Murkowski of Alaska -- voted against it. The resulting 50-50 tie was broken by Vice President Mike Pence, who serves as president of the Senate.
Republicans are scrambling uphold their promise to "repeal and replace" the Affordable Care Act. Senator John McCain of Arizona, who was recently diagnosed with brain cancer, returned to the Senate floor to cast his vote.
The Senate will now be able to consider amendments to the bill. The second-ranking Republican, Senator John Cornyn of Texas, has said there would be "endless amendments" if the motion to proceed was cleared.
Notably, the Health Care Select Sector SPDR ETF (XLV) - Get Health Care Select Sector SPDR Fund Report  has risen about 15% since President Trump's inauguration in January, and 12% since Election Day. The top holdings in the ETF are Johnson & Johnson (JNJ) - Get Johnson & Johnson Report , Pfizer Inc. (PFE) - Get Pfizer Inc. Report , UnitedHealth Group Inc (UNH) - Get UnitedHealth Group Incorporated Report and Merck & Co. Inc. (MRK) - Get Merck & Co., Inc. Report .
Ahead of the health care vote, the XLV is down about 0.6% at around $80.45 at 3 p.m. during the trading session on Tuesday.
The vote ostensibly sets the stage for the Senate to craft a healthcare reform bill during a vote-a-rama on a series of amendment votes associated with the budget reconciliation process after 20 hours of debate. But the process could collapse on the Senate floor.
Since the House passed its version on May 4, Senate leaders have tried to craft their own repeal-and replace bills in closed-door meetings. Two attempts to bring those bills to a vote were cancelled when it became clear there were not enough GOP votes to secure passage given that all 48 Democrats had lined up in opposition.
The Senate would consider several different possible overhauls to the health law during the upcoming debate. There are competing proposals to kill parts of the health care law that was President Obama's defining legislative achievement. In some there would be replacements for Obamacare's provisions for expanding healthcare coverage but not in others.
Most of the buzz centers around "skinny repeal" that would end the law's individual and employer mandates and the tax on medical devices. That plan would be considered if other proposals failed.
During Tuesday's proceeding, Republican Sens. Susan Collins of Maine and Lisa Murkowski of Alaska voted against starting debate.
The day's most dramatic event was the return of Sen. John McCain, R-Ariz., to the Senate floor, his first appearance there after announcing last week that he has been diagnosed with brain cancer.
McCain has said he would offer amendments to protect Arizona's Medicaid program. He voted in favor of starting debate.
After senators voted on beginning the legislative debate, McCain delivered remarks on the Senate floor recounting the legislative battles he's participated in over the years and lamented the gridlock caused by the current, hyper-partisan atmosphere.
McCain vowed to return after receiving cancer treatment.
 To present a bill that can be considered by the House and then laid on President Trump's desk for signing, Senate Majority Leader Mitch McConnell, R-Ky. will need to keep up pressure on his GOP colleagues.
This story has been updated to reflect that Vice President Mike Pence was not a Senator. 
Watch More with TheStreet:
5 Senators Who Risked Their Health to Take a Stand
5 Outrageously Expensive Jimmy Choo Shoes and Bags That Should Scare Coach