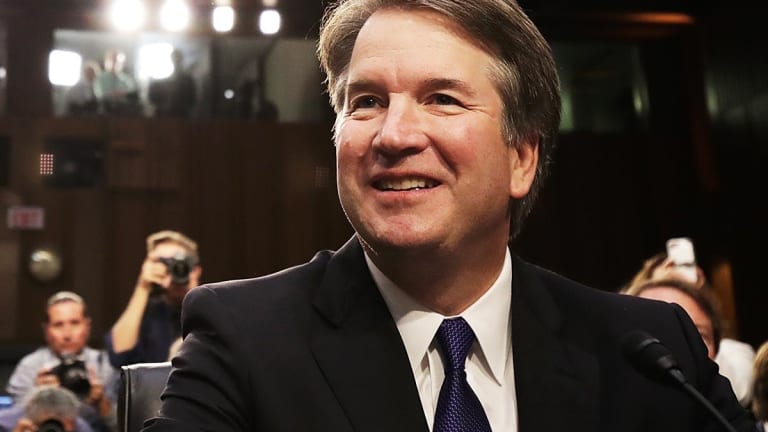 Kavanaugh Expected to Win Supreme Court Confirmation on Saturday
Key senators back embattled judge, making his elevation to nation's highest court appear likely.
Controversial U.S. Supreme Court nominee Brett Kavanugh appears poised to win Senate confirmation Saturday to the nation's highest court after a bruising battle that erupted after a woman accused him of attempted date rape when both were in high school in 1982.
Kavanaugh's confirmation, which requires the backing of at least 50 senators plus Vice President Mike Pence casting a tie-breaking vote, became likely after two undecided senators announced plans Friday to support his appointment. Sen. Susan Collins (R-Maine) said she would vote yes, detailing why in an emotional 43-minute speech. Shortly thereafter, Sen. Joe Manchin -- a West Virginia Democrat facing re-election in a state that went for President Donald Trump in a landslide in 2016 -- announced plans to cross party lines and back Kavanaugh as well.
Collins used her speech Friday to decry the confirmation process for being hyper-partisan, while also casting doubts on the claims of sexual assault that have been levied against Kavanaugh in recent weeks. 
The Maine senator also pointed to Kavanaugh's judicial record to suggest that he would not vote to dismantle the Affordable Care Act, as opponents on the left have feared, and even suggested that he is likely to uphold Roe v. Wade, the judicial precedent that legalizes abortion. 
The U.S. Senate voted Friday morning to advance Kavanaugh's Supreme Court nomination process to the next, and final step. A vote on his nomination is expected to occur within the next 30 hours based on Senate rules. 
Three of the four key swing votes went in Kavanaugh's favor with Sens. Jeff Flake (R-AZ), Joseph Manchin (D-WV) and Collins voting yes. Lisa Murkowski (R-AK) voted no. 
Following Collins' announcement, Manchin also said that he would vote 'yes' on Kavanaugh's nomination.
Kavanaugh's nomination moved forward with a 51-49 vote. Republicans hold a 51 to 49 seat advantage in the Senate, giving Kavanaugh a slight edge.
Kavanaugh's confirmation has been slowed down in recent weeks by allegations of sexual assault from multiple women. 
Christine Blasey Ford accused Kavanaugh of sexual assault when she was 15 and Kavanaugh was 17 in 1982. Ford testified in front of the Senate Judiciary Committee last week, leading the committee to delay the vote in order to allow for an FBI investigation into the accusations. 
The FBI concluded its investigation earlier this week. Senate Democrats criticized the investigation, saying that the scope of the inquiry was too narrow. 
Want to Buy $1 Worth of Stock for 90 Cents or Less? You can with certain so-called "closed-end" mutual funds - an often overlooked investment class. Click here to register for a free online video in which TheStreet's retirement expert Robert Powell and an all-star panel tell you all you need to know. The webinar is sponsored by Nuveen.