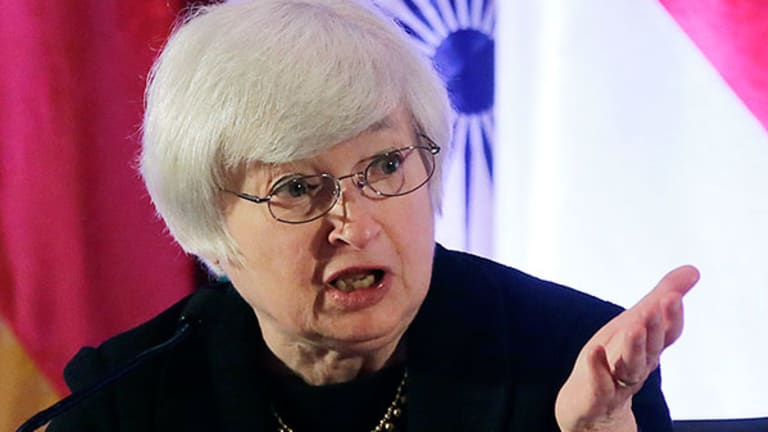 Senate to Press Janet Yellen on Whether Fed Members Should Have Community Bank Experience
Federal Reserve Chairwoman delivers her first Senate Banking Committee testimony on Thursday, and she can expect questioning about the Fed's attention to community banks and expanded role in preventing too big to fail.
NEW YORK (TheStreet) -- Community banks will receive some attention Thursday when Federal Reserve Chairwoman Janet Yellen delivers her first testimony to the Senate Banking Committee.
Popular topics such as the pace of the Fed's pullback in economic stimulus and "too big to fail," will be in the spotlight, but Sen. David Vitter (R., La.) intends to ask the central banker if she thinks Fed governors should have more community bank experience.
Vitter, who with Sen. Sherrod Brown (D., Ohio) last April proposed a bill to eliminate too-big-to-fail banks by requiring larger capital ratios, plans to outline precedence with the Fed for a requirement that more central bankers have community bank or community bank supervision experience, Vitter's office wrote TheStreet in an email.
The questioning comes as the Fed expands its role in the banking sector and continues to increase regulatory oversight, with the help of legislation like Dodd-Frank, to prevent large banks from overleveraging.
On Wednesday, Rep. Dave Camp (R., Mich.) proposed new tax reform legislation that would increase the share of taxes paid by Wall Street banks, while softening the burden on community banks.
"[T]he bank tax could benefit community banks since their larger competitors would be saddled with the tax while community banks derived the full benefits of tax reform," Brian Gardner, senior vice president of Washington Research at Keefe, Bruyette & Woods, wrote in a research note.
Yellen addressed concerns about containing mega banks two weeks ago to the House Financial Service Committee, but investors can expect to hear more questions about too big too fail initiatives, especially with Sen. Elizabeth Warren (D., Mass.) sitting on the Senate panel.
Warren, who helped craft the consumer financial protection legislation in the aftermath of the financial crisis, approaches financial services lawmaking from the vantage of constituents unconnected from Wall Street. And while Yellen has said she would like to better address how the Fed can relieve labor concerns -- the chairwoman in 2008 FOMC transcripts released last week repeatedly worried about the deteriorating jobs market as many other members contended that the U.S. economy wasn't headed for a deep recession -- she likely won't avoid attacks about how the central bank's quantitative easing programs have failed to help Main Street.
Vitter, according to his office, will ask Yellen whether regulators will finalize a supplementary leverage ratio and whether the Fed plans to vote to adopt it.
The Fed will report results of its so-called Stress Tests in March as to what banks could withstand a 2008-like financial crisis.
Yellen speaks at 10 a.m. EST from Washington. TheStreet will be at the Fed chair's testimony for you to follow along.
-- Written by Joe Deaux in New York.
>Contact by Email.