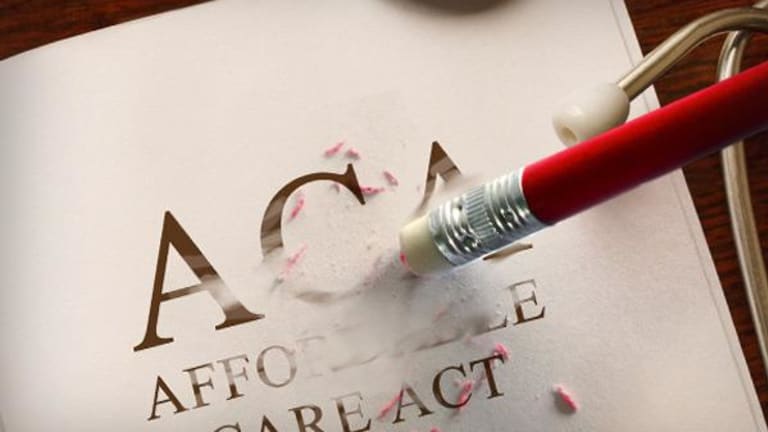 Senate Poised to Hold Procedural Vote on Health Care
Majority Leader Mitch McConnell needs 50 out of the 52 Senate Republicans to support him.
The Senate is set to vote Tuesday afternoon on a motion to proceed to debate on the House-passed health care bill, also called the American Health Care Act, as Republicans scramble uphold their promise to "repeal and replace" the Affordable Care Act. Senator John McCain, who recently underwent surgery after being diagnosed with brain cancer, announced Monday night that he will return to Capitol Hill to cast his vote.
McCain's return means Majority Leader Mitch McConnell has a little bit more wiggle room for the vote to pass, but he still needs 50 out of the 52 Senate Republicans to support him. In a deadlock, Vice President Mike Pence would break the tie in favor of proceeding.
President Donald Trump has ratcheted up the rhetoric surrounding the vote this week. On his preferred medium, Twitter, the president said in a series of tweets that Republicans can have a great victory for the people while calling the Democrats "obstructionists."
Already, however, Republican Senator Susan Collins of Maine indicated that she would vote any against proceeding. At least two other Republicans, Shelley Moore Capito of West Virginia and Lisa Murkowski of Alaska, suggested last week that they will not vote to proceed if Senate leaders put forth a plan to repeal without a replacement.
On Monday night, Trump was in West Virginia to give an address at the National Scout Jamboree, where he took a moment to pressure Health and Human Services secretary Tom Price, saying, "You better get Senator Capito to vote for it."
The Mountain State, however, relies heavily on Medicaid. About 28% of West Virginians are on Medicaid, one of the highest percentages in the nation.
There are a handful of other Republican senators who have been skeptical about the health care bill and haven't said whether they would support the motion to proceed. No Democrat is expected to vote for the bill.
If the procedural vote passes, the Senate would then be able to consider amendments to the bill. The second-ranking Republican, Senator John Cornyn of Texas, has said there would be "endless amendments" if the motion to proceed was cleared.
Notably, the Health Care Select Sector SPDR ETF (XLV) - Get Health Care Select Sector SPDR Fund Report  has risen about 15% since President Trump's inauguration in January. The top holdings in the ETF are Johnson & Johnson (JNJ) - Get Johnson & Johnson Report , Pfizer Inc. (PFE) - Get Pfizer Inc. Report , UnitedHealth Group Inc (UNH) - Get UnitedHealth Group Incorporated Report and Merck & Co. Inc. (MRK) - Get Merck & Co., Inc. Report .
Ahead of the health care vote, the XLV is down nearly 0.7% at around $80.42 at 11:30 a.m. during the trading session on Tuesday.