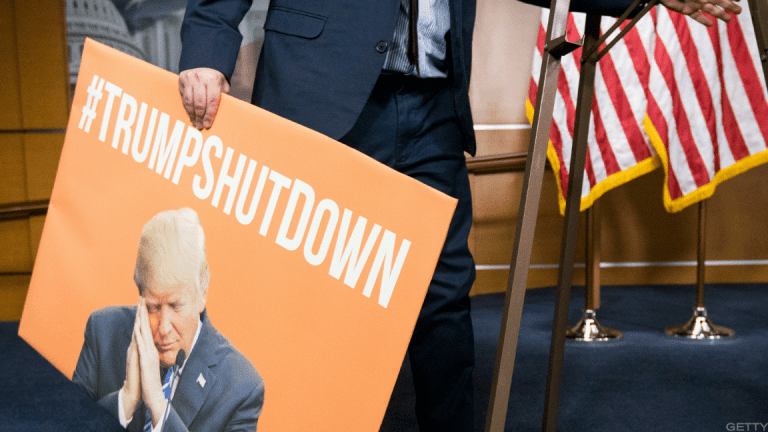 Senate Rejects Republican and Democratic Bids to End Shutdown
The U.S. Senate is planning to vote Thursday on two proposals to end the partial government shutdown, one from Democrats and the other from Republicans, neither of which is expected to resolve the impasse.
The U.S. Senate on Thursday voted against two proposals to end the partial government shutdown, one from Democrats and the other from Republicans, leaving in place an impasse that has left 800,000 federal workers were either furloughed or forced to work without pay.
The effects of the shutdown are beginning to be felt across the U.S. economy, ranging from the spectacle of U.S. Coast Guard members and their families being forced to resort to food banks to the prospect that income tax refunds won't be processed because many Internal Revenue Service employees are refusing to show up if they're not getting paid.
The shutdown started after President Donald Trump said he would close the government if Congress didn't meet his demand for $5.7 billion for a U.S.-Mexico border wall. Congressional Democrats have responded by insisting that the government be reopened before resuming negotiations about border security. Democrats oppose the building of new walls on the Mexican border, a view that polls show most Americans agree with.
The Republican bill failed by a vote of 50-47, then the Democratic bill lost by 52 to 44. There's also a prospect that Democrats will propose yet another measure that will give Trump the sum of money he wants for border security, as long as there isn't any funding for the wall.
The Democratic proposal was to fund the government for three weeks to gain time to negotiate but doesn't include wall funding. 
The Republican bill that Senate Majority Leader Mitch McConnell of Kentucky also brought to a vote includes wall funding and a temporary extension of protections for "Dreamers," hundreds of thousands of people brought to the United States illegally as children, part of a proposal Trump made on Saturday. 
Democrats have said they won't negotiate on border security before reopening the government and would not trade a temporary extension of the immigrants' protections in return for a permanent border wall they have called immoral.
One compromise option may be the idea, discussed by some Democratic leaders, of giving Trump most or all of the money he seeks for security along the Mexican border but those funds could not be used to build a wall.
Democrats could approve $5.7 billion for border security with technological tools such as drones, X-rays and sensors, as well as more border patrol agents, said Representative James Clyburn, the No. 3 House Democrat, according to Reuters.
In the meantime, House Speaker Nancy Pelosi of California, the most powerful Democrat in Congress, denied Trump the opportunity to come to the House chamber next week to deliver the State of the Union address until the government reopens. Trump late last night agreed that he wouldn't give his speech until after the shutdown ends.
More than half of Americans blamed Trump for the shutdown even as he has sought to shift blame to Democrats after saying last month he would be "proud" to close the government for border security, according to a Reuters/Ipsos poll last week.