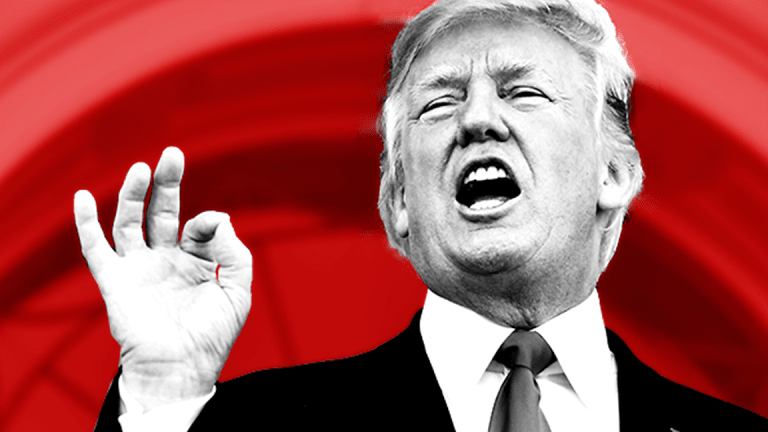 Senate Budget Paves Way for $1.5 Trillion in Tax Cuts
The Senate's budget resolution must ultimately be reconciled with the House's version, which passed through its own budget committee this summer.
The Senate Budget Committee released their 2018 budget proposal on Friday, opening the door for a $1.5 trillion tax cut over the next decade.
The proposal, which covers fiscal 2018 starting Oct. 1, sets the stage for Republicans to pass tax legislation they've been promising all year. The budget is a key step in laying out the reconciliation process that would allow the GOP to pass a tax bill with a simple majority and skirt Democratic opposition.
The resolution charts a path for the Senate Finance Committee and House Ways and Committee to draft tax legislation that costs no more than $1.5 trillion in lost revenue. It also instructs the Senate Energy and Natural Resources Committee to identify at least $1 billion in revenue and seeks to reduce federal spending by $5.1 trillion over the next 10 years. It appears to set aside efforts to repeal and replace Obamacare.
The Senate's budget resolution must ultimately be reconciled with the House's version, which passed through its own budget committee this summer.
"This budget resolution puts our nation on a path to balance by restraining federal spending, reducing tax burdens, and boosting economic growth," said Senate Budget Committee Chairman Mike Enzi (R-WY) in a statement. "It is also the first important step in providing Congress with the tools it needs to enact tax reform that will grow America's economy and strengthen hardworking families and small businesses."
The resolution lands just two days after the White House unveiled its latest framework for tax legislation. Put together by a group of administration and Congressional leaders known as the "Big Six," the nine-page proposal lays out in broad strokes ideas for a tax overhaul while leaving it up to Congressional committees to fill in the blanks, of which there are many.
"This is a series of what we used to refer to as 'BOGSAT' proposals. Bunch of guys sitting around a table," said David Rosenbloom, tax attorney at Caplin & Drysdale and director of the International Tax Program at the New York University School of Law.
But now, lawmakers will have to get to work. The Senate budget asks tax writers to draft a tax bill by November 13, though that deadline is not firm. Moreover, the tax cuts proposed by the Trump framework are potentially much larger than what the Senate budget calls for. The Committee for a Responsible Federal Budget estimates Trump's plan calls for $5.8 trillion of tax cuts and would have a net cost of $2.2 trillion by 2027.
Treasury Secretary Steven Mnuchin said this week that the tax cuts will spur more than enough economic growth to actually cut the deficit -- a claim most economists dispute.
President Donald Trump touted his tax framework in a speech to the National Association of Manufacturers on Friday. "At the very center of that plan is a giant, beautiful, biggest-ever-in-our-country tax cut," he said.
The Senate budget does not specify how to go about cutting $5 trillion in spending. Unlike the House budget, it does not call for cuts to Medicaid or Medicare's partial privatization. It proposes a balanced budget but leaves it up to other committees to figure it out.
More from TheStreet: 
WATCH: Trump's Proposed Tax Plan Makes These 5 Stocks Big Winners