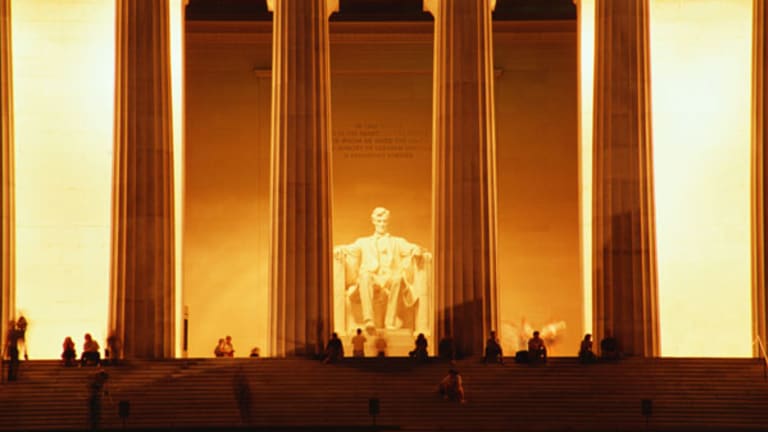 Santorum's Fate Left to Holidays
Rick Santorum's big evangelical endorsement on Wednesday could give him momentum in Iowa.
NEW YORK (
) -- Rick
Santorum's big evangelical endorsement on Wednesday could be the final Iowa headline ahead of the holiday lull, and that might bode well for the struggling candidate.
Santorum currently sits at
7% average share among GOP voters in the latest Iowa polls, which puts him ahead of only Jon Huntsman, who has been virtually absent from the state.
Former Pennsylvania Sen. Rick Santorum
But Iowa Republicans say that they've never seen so much fluctuation before the Jan. 3 caucuses, which leads many to think it's too early to begin speculating who will end up where.
"To tell you the truth, we're just as confused as everybody else is," Jeff Jorgenson, Pottawattamie County chair in Iowa, said. "Thank God for Christmas. ...There's two weeks until the caucuses -- a lot of people still haven't made up their minds -- so we're going to spend some time re-evaluating things."
This could be promising for Santorum, who has campaigned heavily on a skeleton budget throughout the Hawkeye State's 99 counties, but whose physical presence hasn't translated into first-choice favor among voters, at least according to polls.
It's difficult to use Iowa polls as a barometer for how the
Iowa caucuses will conclude as the process differs drastically from the traditional primary.
"What's the biggest plus is that
Santorum hasn't had his moment in the limelight yet," Jorgenson says. "He hasn't had his 15 minutes yet to go up and down ... so people are more or less going and taking another look at Sen. Santorum and saying he is somebody we could support."
What, specifically, makes the former Pennsylvania senator an attractive choice?
For one, he appeals to social conservatives who haven't heard much of a message from other candidates about pro-life, faith and traditional marriage being between a man and a woman. Santorum is vocal on those policies which could nudge Iowans to perceive
him as a true conservative.
He also has incredible reach on the ground in Iowa.
"I know all the others are trying to hit all 99 counties, but
Santorum has already done it," Judy Davidson, Scott County Republican chair, said. "He's, I think, on his second round."
Davidson says that voters in her county don't gauge their support based on the polls, and that's why she thinks Santorum's persistence to shake hands and meet people across the state will pay off when it comes time for the caucuses.
Pottawattamie County's Jorgenson says Santorum's hard work demands respect, which he believes Iowans are giving him.
Though Iowa GOP voters might seriously consider shifting to Santorum during the holidays, some Republican leaders are skeptical because Santorum still isn't competitive outside Iowa.
"He
Santorum still doesn't have the money to go all the way, and when you look at what
Newt Gingrich has accomplished with no money and just great ideas -- he's in it in all the states," Kevin McLaughlin, Polk County Republican chair says.
Bob Vander Plaats (who endorsed Santorum Wednesday) and his The Family Leader organization (which chose not to endorse a candidate in 2012) endorsed former Arkansas governor Mike Huckabee in 2008, which helped him cruise to the victory in Iowa that year. The endorsement rallied Republican voters in Iowa, but it didn't translate beyond the state borders.
McLaughlin said that Santorum could likely face the same fate as Huckabee in 2008: Losing in New Hampshire and South Carolina, which would make his victory inconsequential.
A problem with Plaats' endorsement is that it didn't come with his organization's support. That support, says one seasoned Republican activist, could splinter to four candidates in 2012: Michele Bachmann, Gingrich, Santorum and Perry.
"It tells me that the candidates have done a very good job of campaigning among the social conservative groups and the evangelical groups, and they're splintered," Darrell Kearney, Polk Country GOP Party finance director, says.
A four-way split among evangelicals and social conservatives would almost certainly prevent Santorum from grabbing the coveted Iowa victory, but Kearney thinks the former senator might receive a lifeline.
"There are three first-class airline tickets out of Iowa to New Hampshire after the Iowa caucuses: first, second and third place," Kearney says. "If Ron Paul is the winner of the Iowa caucuses, then maybe the fourth-place becomes more important."
This is because Kearney says that most people don't consider Paul a serious candidate.
If the fourth place candidate is close, and if Plaats' endorsement bumps Santorum into at least fourth, the former senator could be riding first class to New Hampshire.
-- Written by Joe Deaux in New York.
>Contact by
.
>Follow Joe Deaux on
. Subscribe on
.