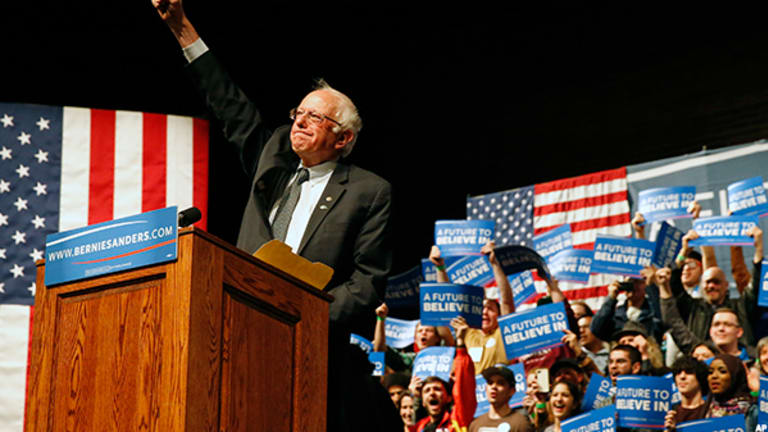 Sanders Under Scrutiny for Interview, but His Remarks Tap Into Deep Concern
The Democratic Presidential candidate has echoed the call of Pope Francis for a more 'moral economy.'
Democratic presidential primary candidate Bernie Sanders came under scrutiny last week for what appeared to be either a lack of command or evasiveness regarding his position on big banks.
In an interview with the New York Daily News, Sanders' seemed unable to articulate how he would break up too-big-to-fail banks. "How you go about doing it is having legislation passed, or giving the authority to the Secretary of Treasury to determine, under Dodd-Frank, that these banks are a danger to the economy over the problem of too-big-to-fail," Sanders told the News editorial board.
But Sanders remains in touch with deep-rooted concerns about how these banks conduct business. Although a heavy underdog to former Secretary of State Hillary Clinton, and far behind in the count of delegates that will determine a winner for the general election, Sanders has won six of the past seven primaries. He has vowed to fight to this summer's Democratic convention. 
To be sure, the Daily News board has received some criticism for apparently mixing up the capabilities of the Treasury Department and Federal Reserve. Consider the exchange below, in which questioners seem to interchange one of the agencies for the other in the questions.  
Many banking industry observers say that the banks are as potentially damaging as they were prior to the 2008 Great Recession. Critics say that they hold too much power, despite Dodd-Frank's efforts to curb them. Sanders' efforts will continue to find support until there is fundamental change. Below is a recap of the problem and some thoughts on reigning in big banks. 
In an interview with the UK's Daily Mail, Sanders said people had suffered "the results of the greed, recklessness and illegal behavior on Wall Street." The banking industry implosion of 2008 is a stark reminder of this, and banks have been involved in a number of multibillion-dollar scandals. A number of them continue to operate divisions that function as investment banks or similar to them. 
Dodd-Frank has been ineffective in preventing or limiting this function. Moreover, banks' continued power suggests that the industry is oblivious to criticism that it often acts more with its margins in mind than the good of consumers. President of the Federal ReserveBank of Minneapolis, Neel Kashkari, said earlier this year in a speech at the Brookings Institute that 'too big to fail' banks continue to exist despite Dodd-Frank. 
In his speech at Brookings, Kashkari said," When Congress moved quickly to pass the Dodd-Frank Act (the Act) in 2010, I strongly supported the need for financial reform, but I wanted to see the Act implemented before I drew firm conclusions about whether it solved TBTF." He believed that despite implementation of the regulations of the 2010 Dodd-Frank, the TBTF issue exists. "I believe the biggest banks are still too big to fail and continue to pose a significant, ongoing risk to our economy," he later said in his speech.
In the Daily Newsinterview, Sanders discussed having "what Pope Francis calls a moral economy.
In his speech, Kashkari seemed to hint as much, saying, "Now is the right time for Congress to consider going further than Dodd-Frank with bold, transformational solutions to solve this problem once and for all."
 It is a change of attitude that may be the key to generating real reform and that will remain a Presidential campaign frontburner issue. 
This article is commentary by an independent contributor. At the time of publication, the author held no positions in the stocks mentioned.