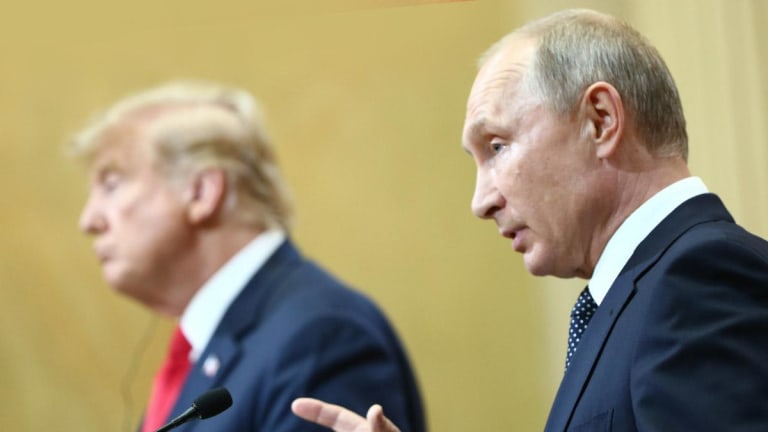 Russia Risk: What You Need to Know About the New 'Reset'
Here's what investors need to know following the interesting meeting between Trump and Putin.
Cold War is out, the new reset is in.
The Trump-Putin meeting in Helsinki was the kind of warm, friendly "reset" that Hillary Clinton as U.S. Secretary of State could not even imagine of when she presented a misspelled "reset" button to her Russian counterpart in 2009.
The summit was all friendly tones, pledges of cooperation, mutual respect, and hopes of a new chapter in US-Russian relations.
"Today's meeting is only the beginning of a longer process, but we've taken a step towards a brighter future," Trump said at the joint press conference. "This was a very constructive day. I'm sure we'll be meeting again in the future, often."
It is almost as if there wasn't an ongoing investigation into Russian interference and indictment of 12 Russian intelligence officers last Friday, a 29-page document from the Special Counsel Robert Mueller's team. The indictment said Russia's intelligence unit, the Main Intelligence Directorate of the General Staff (GRU) ran cyber operations and "staged releases of documents through computer intrusions" to interfere with US elections in 2016.
While Russian-U.S. relations and the ongoing investigation into Trump administration collusion with Russia is often dismissed as political noise, here is what investors need to pay attention to.
Political Storm Is Not Over
Despite the reconciliatory tone of the summit, the Robert Mueller investigation is still ongoing.
Trump said he brought up the allegations, but expressed his annoyance with the investigation and frustration with the FBI.
"I hold both countries responsible. I think we're all to blame," he said in response to a Reuters question about what Trump holds Russia accountable for. "We have a chance to do some great things. I do feel that we both made some mistakes. I think the probe is a disaster for our country. There was no collusion."
Putin said he would create a "high-level working group" of American businessmen and an expert council of political scientists and diplomats as a result of the summit.
Still, Devin Nunes, chairman of the House Select Committee on Intelligence, said over the weekend that a second independent commission is necessary to get to the bottom of the Russian interference, mounting evidence and potential abuse of power.
"You're only going to see accountability if there is a second (Special Counsel) investigating all of this or there is someone outside the leadership of the Department of Justice (running) a real investigation of abuse of power and other issues," he told Fox News on Sunday.
Meanwhile, Russia has been pursuing political independence in the Middle East, capitalizing on the U.S. isolationist policies, and asserting "economic sovereignty" by dumping half of its U.S. Treasury holdings in recent months, as TheStreet has reported.
 A Win for Putin
The meeting was a win for Putin, but this is not the end of the road.
"For Putin, meeting Trump on a formal bilateral basis is a way to demonstrate that Russia is not as isolated as its opponents claim," says Seva Gunitsky, a politics professor at University of Toronto. "It's also a way to claim that his policies are being indirectly legitimized by the most powerful country in the world."
At $1.3 trillion, Russia's GDP is smaller than Canada's, a country that Trump often dismisses as insignificant on a global stage.
The recognition and deference from a U.S. president, in contrast to criticism of historic European allies, is in line with Trump policy.
"The relationship has never been worse," Trump said. "However, that changed as of about four hours ago."
In response to the conference, some lawmakers called for an investigation.
On Monday, Mariia Butina, a Russian woman who tried to arrange a secret back channel between Trump and Putin, was charged and accused of working with Americans "to penetrate the U.S. national decision-making apparatus to advance the agenda of the Russian Federation."
Remaining Russia Sanctions
Trump has been reluctant to impose sanctions on Russia and Russian companies in relation to election interference investigations.
At the summit in Helsinki, Putin offered Trump a deal. He said he'd be open to extraditing the officers in exchange of U.S. giving up individuals involved in the William Browder case.
"We can let them into the country, and they will be present at the questioning, but in this case there is another condition," Putin said. "We would expect that the Americans would reciprocate.We can bring up Mr. Browder."
Bill Browder is a London-based investor and Putin foe who went to Russia in 1998 and cheered for Putin during his early years as a reformer of Russian economy. As an activist investor who took one some of the strategic state companies, he was pushed out and his lawyer Sergei Magnitsky languished in a Russian prison.
Browder was instrumental in the introduction of the so-called Magnitsky Act and the sanctions, which were the subject of the infamous Trump Tower meeting between the Trump campaign and the lawyer affiliated with the Russian government.
"Putin is a guy who is running a country with a budget 90% less than the U.S. military budget... the fact that he has a summit with the most important man in the free world when it comes to such a second-tier country with so little influence other than negative influence is a big win for Putin," Browder told CNBC on Monday.
Browder did not respond to a request seeking comment.
Energy Security
Warmer relations between U.S. and Russia could potentially mean more tensions in Europe and could push U.S. natural gas suppliers to look to Asia.
"While Trump continues to alienate European trade partners with his approach to Russia, natural gas and NATO, the US natural gas industry will continue to look to Asia for long-term off-take agreements instead of Europe," Eliecer Palacios, the managing partner for PetroRock Energy LLC, an oil and gas investment advisory firm, wrote in a Real Money column Monday.
Ongoing Political Threat
The Russian hackers and government-affiliated agencies will continue to present a threat in upcoming elections, according to several U.S. officials and cybersecurity agencies.
The Mueller indictment revealed more details about the scope of Russian operations, including names of Russian military officers and individuals who, according to the document, supervised "co-conspirators who targeted the Democratic Congressional Campaign Committee, Democratic National Committee, and individuals affiliated with the Clinton campaign." 
The Russian government has denied involvement in the U.S. election.
Companies like Facebook (FB) , Twitter (TWTR) and Alphabet (GOOGL) will have to continue to devise new ways to combat Russian cyberattacks, even in the absence of broader sanctions or counter-measures.