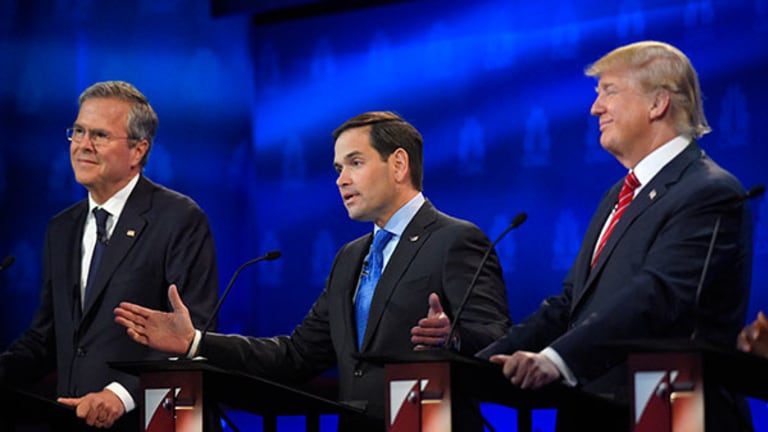 Rubio Deftly Counters Trump by Bashing Media at #GOPDebate
Marco Rubio chose not to talk immigration, or even punch back at Donald Trump, and instead slammed the media's support of Hillary Clinton.
When in doubt, bash the press.
Florida Senator Marco Rubio generated his biggest applause of the Republican Party's third presidential debate on Wednesday when he changed the subject from immigration to that all-purpose political punching bag, the media. 
"The Democrats have the ultimate Super PAC -- it's called the Mainstream Media," Rubio said, in a subtle counter to Donald Trump who had earlier railed against his rivals for accepting millions of dollars in contributions for Super PACs that aren't required to divulge where they get their money.
Clearly ready for criticism that his campaign is largely funded by a Super PAC, Rubio countered by changing the subject entirely to the evening's biggest and easiest target, Hillary Clinton. Rubio charged that the former Secretary of State's testimony before a House committee a week ago investigating the attack on the 2012 U.S. embassy in Benghazi, Libya had revealed herself to be a "a liar."
"And yet the mainstream media is going around and saying it was the greatest week in Hillary Clinton's campaign," Rubio said. "It was the week she got exposed as a liar, but she has her Super PAC to help her out."
Rubio's remarks came in response to a question about Trump accusing Rubio of being "Mark Zuckerberg's personal senator" for supporting an increase in the cap on H-1 visas. The visas allow U.S. employers to recruit and temporarily employ foreign workers. Trump, however, opposes such a program, saying the program hurts U.S.-born workers in a position statement on immigration reform on his website.
For Rubio, who earlier had been asked to explain why he's missed more than a third of Senate votes and received millions of dollars in personal donations from a campaign donor, it appeared to be a deft move. After all, Rubio has received millions of dollars through a Super PAC that counts among its donors Norman Braman, a billionaire auto dealer and longtime friend and patron who is all but underwriting the senator's Republican presidential campaign.
Rubio is a co-sponsor of a Senate bill, the Immigration Innovation "I-Squared" Act of 2015, which would increase the annual H-1B visa cap from 65,000 to 115,00, or up to 195,00 "depending upon market conditions and existing demand."
Oddly, Rubio didn't speak to that point, opting instead to take a jab at "the media." Even odder still, Trump denied having called Rubio "Zuckerberg's personal senator," even though it's contained in his own policy statement. 
"Mark Zuckerberg's personal Senator, Marco Rubio, has a bill to triple H-1Bs that would decimate women and minorities," says the statement.